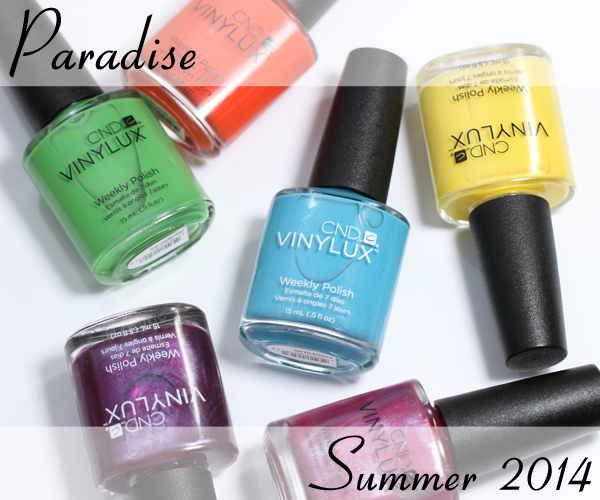 This summer, CND is taking us on a tropical adventure with the CND VINYLUX Paradise collection for Summer 2014. Pairing four new VINYLUX shades with two existing colors, Bicycle Yellow and Electric Orange, the bright cremes and sexy shimmers make me want to grab my beach bag and head to the Caribbean.


Formula & Application
CND VINYLUX Weekly Polish is 5-Free (Formaldehyde, DBP, Toluene, Formaldehyde Resin and Camphor). It comes in the old school CND polish bottle (pre-Colour & Effects) but with the thin, flat, flexible brush from the C&E bottle. It's the best of both worlds. The only thing I miss, the rubberized cap and the labels that designated opacity and undertone (neutral/warm/cool).
The Paradise collection polishes are all thin and smooth but some apply better than others. The yellow is a challenge as is Sultry Sunset. The chrome quality makes it hard to get an even finish and if you have any nail imperfections, expect them to be magnified. The pigmentation wasn't quite what I expected. With the exception of Tango Passion (a lovely two coater), I needed three coats for full coverage.
Note: In press materials this collection is described as "tropical neons and sultry shades." To be clear, none of these polishes are a traditional neon in that they don't dry satin or need a white base to become opaque.
CND VINYLUX is different than your average polish in that you wear it without base coat and must use the accompanying Weekly Top Coat. The result is a 8 & 1/2 minute dry time and seven days of wear. For more info on the product and wear time, check out my original CND VINYLUX review.

CND VINYLUX Bicycle Yellow is a shocking lemon with a subtle crystal shimmer. The shimmer is visible in direct light but otherwise disappears into the background. As I mentioned above, the application isn't the best. As we've come to expect from yellows, it can be streaky and requires a certain finesse.
CND VINYLUX Cerulean Sea is bright sky blue creme. If you were a fan of CND Hot Pop Blue, this is an electrified version. For a more current color reference, think of Cerulean Sea as a lighter version of Revlon Brilliant Strength Mesmerize.
CND VINYLUX Electric Orange is an orange creme, pretty true to the color wheel version of the shade. It's even brighter in person. It's just a step or two down from traffic cone orange.
CND VINYLUX Lush Tropics is kind of an astroturf green creme. It's rich and vivid and, to my eye, a lighter version of Sally Hansen Triple Shine Kelp Out.
CND VINYLUX Sultry Sunset is a chrome fuchsia with silver micro-glitter sparkles. The application issues that plague this one can make it look streaky if you don't use thin, deliberate strokes (see ring finger below). I swear, I reapplied it three times and couldn't get it to look better than this, ugh!
CND VINYLUX Tango Passion is a plum shimmer with silver foil micro-glitter. This shade would have fit quite nicely with the CND Imperial Anarchy collection, an old favorite of mine.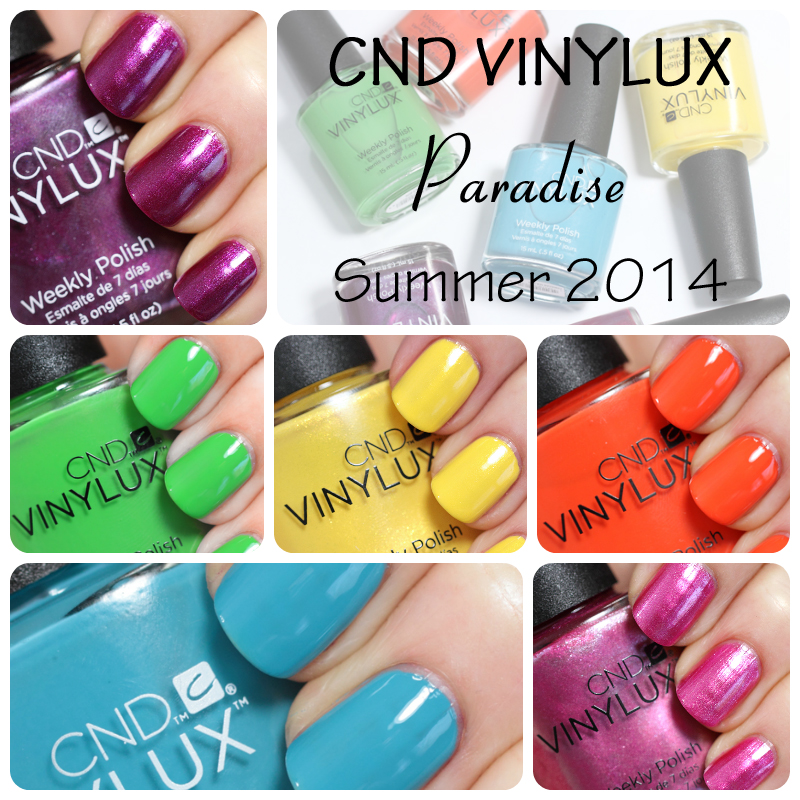 Bottom Line: Is it really shocking that I love Lush Tropics and Cerulean Sea? I mean, if you know me at all, it takes a lot for me NOT to like a blue or green. Now, there are easier to apply yellows than Bicycle Yellow so I can't say I'd recommend it and that goes for Sultry Sunset, thanks to a difficult to work with finish. Tango Passion and Electric Orange are pretty and fun but not life changing.
CND VINYLUX Paradise collection is available as a service at professional salons and spas nationwide with product available for purchase. Visit CND.com to locate a salon near you. Service prices will vary by location. CND VINYLUX Weekly Polish and Weekly Top Coat retail for $9.90/ea for a .5oz bottle. I've also seen VINYLUX sold on Amazon.com and BeyondPolish.com.
Have you tried VINYLUX yet? Thoughts? Which colors from Paradise do you plan to get?
Disclosure: Product samples were provided by reps for CND. Affiliate links appear in this post. When you purchase through an affiliate link, you help support this site. For more info view my
Disclosure Policy
.