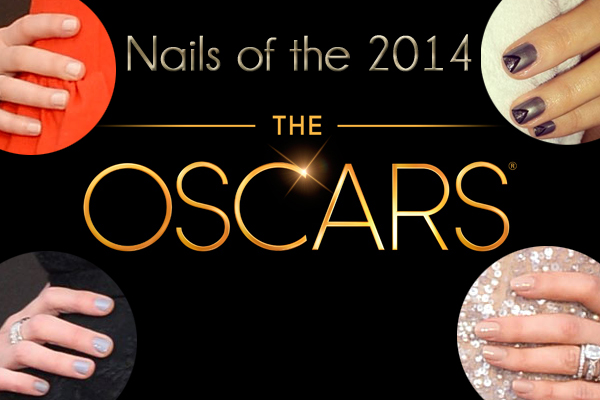 If there's one big color trend from The Oscars 2014, it would be a lack of color, as nudes ruled the day. From barely there lips and tips to flesh-toned gowns, this is one Oscar year when the red carpet didn't have a lot to compete with. Of course, there were a few standout moments but they were few and far between.


Bare-ly There Hues
As I watched The Oscars on Sunday, with my pal Stephanie from Short N Chic, we kept our eyes peeled for some nails of interest. But, over and over again, the E! mani cam proved to be a sea of sheers and neutrals. As Steff put it, "They'll all wearing the same shade. They're all wearing Essie Minimalistic." When even Lady Gaga is rocking a nude nail, you know it's getting serious!
Get The Look: Try Essie Sugar Daddy (worn by Angelina Jolie), L'Oreal Paris Colour Riche Sweet Nothings (worn by Anne Hathaway), Essie Blushing Bride (worn by Idina Menzel), Deborah Lippmann La Vie En Rose (worn by Lupita Nyong'o), Chanel Ballerina (worn by Sarah Paulson).

A Few Pops of Color and Nail Art
Thankfully there were a few standout ladies when it came to nail color and art but, overall, The Oscars were kind of a snooze-fest. That goes for the show as well. While I adore Ellen Degeneres, I even got to see her perform live (hilarious!), I can only watch her hand out pizza for so long before wishing the fast forward button on my remote would DO something. The selfie seen round the world couldn't even save that bit.
Charlize Theron – Am I the only one who thought Charlize would much rather be ANYWHERE else than The Oscars? Her expression said I'd rather be spelunking than looking fierce with my shiny, jet black mani.
Jennifer Garner – As I said to Steff on Sunday, I need to know the architectural work and product involved in making Jen Garner's perfectly swooped bang situation stay in place. Those hairs didn't move for fear of their lives.
And she wore one of my fave gowns of the night. Sparkles and flapper fringe… I'm so in. Add in a glistening berry manicure of Chanel Coup de Coeur by Chanel Celebrity Manicurist Ashlie Johnson and she gets a Best Dressed nom from me!
Julia Roberts – I'm not quite sure I get the doily covering Julia's decolletage, as she has no need for modesty, but the grey nail color was a standout. At first, I thought we had a gri-olet on our hands though, thankfully, her manicurist, Lisa Jachno, set me straight. As a Lancome Ambassador Julia wore Lancome Gris Angora, which I swatched for you below. It's a stunning, blue-toned grey creme.
Kate Hudson – Hands down, my favorite gown of the night. She found a way to work a cape in a different way than the other major cape moments of the season. Combining the plunging neckline trend with a swooping cape made me swoon. She's immaculate and I love that she carried the metallic sheen of her dress into a silver tipped manicure. ps, did you notice her dancing, barefoot, on stage with Pharrell? Made me love her even more.
Kerry Washington – It seems unfair to pregnant women worldwide that Kerry Washington looks this fantastic so close to her due date. butter LONDON Global Colour Ambassador Katie Jane Hughes, created Kerry's nail look to match her deep wine lip hue. She layered bL Saucy Jack over two coats of La Moss, sealing it with Matte Finish Shine Free Topcoat for a velvety appearance.
Maria Menounos – Our lone nail art appearance. At least it's a good one. I love an art deco, chevron which is what butter LONDON's Katie Jane Hughes created as a bold, statement accessory to Maria's white gown. She custom mixed Union Jack Black and Pearly Queen for the base color, then used Union Jack Black for the chevron, filling in the tip with Gobsmacked.
Sandra Bullock – While I normally don't like when nails are too matchy-matchy with an outfit, I'm loving how this rich navy nail compliments Sandra's silky blue gown. The simplicity and elegance of her overall look drew me in and now I need to know more about that nail polish color.

Did you watch the Oscars? Who wowed you on the red carpet. Which nail look is your favorite? Do you think this award season is a sign that celebs are moving more and more away from nail color and art?
Disclosure: Product samples were provided by reps for Lancome. Affiliate links appear in this post. When you purchase through an affiliate link, you help support this site. For more info view my
Disclosure Policy
.
  Image credit:
Celebutopia