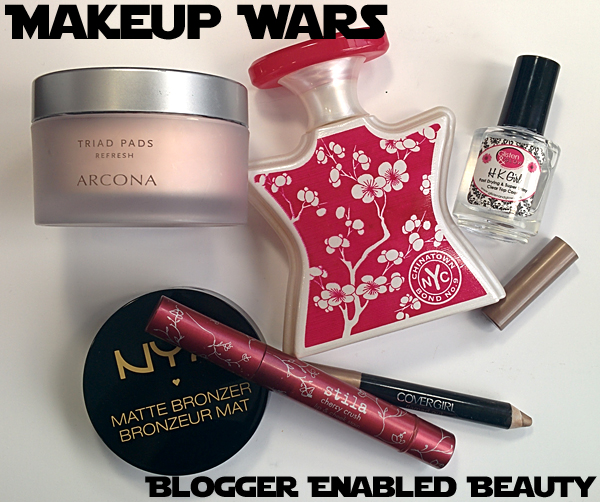 I've been involved in the world of beauty blogging for longer than the 7+ years I've been writing All Lacquered Up. I started reading beauty blogs when I was an active member of Makeup Alley and 9 times out of 10, I still opt for reading blogs over books or magazines.
So, narrowing down the products to feature in this week's Makeup Wars topic, Blogger Recommendations, was a challenge, to say the least. Um, what don't I use that I haven't read about on a blog? To keep this from becoming a book, I chose the products that I use on the regular that were enabled by some of my fave beauty/nail bloggers.




I initially received a tub of Arcona Triad Pads backstage at a fashion show. They were being used on the models so the rep gave me a jar to try. I was rooming with my best blogging buddy, Nancy from Beauty411, who went on the extol the virtues of the cleansing wipes.
And, of course, Nance was right. These pads are amazing and remove every stitch of makeup. What I love best is that they come in a jar so the pads never dry out. I'm on my third tub and it's been open for months without losing a drop of moisture.
They're definitely pricey so I don't use them every day but when I have a full face of makeup and want it off, like NOW, this is what I reach for.
Bond No 9 Chinatown ($195, Nordstrom.com)
I learned about Bond No 9 fragrances from one of the godmother's of beauty blogging, Annie from Blogdorf Goodman. Talk about a woman who can wax lyrical about fragrance. Oh how I miss Annie's blog.
Anyway, I remember her posting about a Saks F&F sale and after reading her many glowing reviews of Bond scents, I decided it was time to take the plunge. I instantly fell for Chinatown with its notes of peach blossoms, gardenia, tuberose, patchouli and cardamom. ps I normally hate patchouli in any fragrance but I love Chinatown. West Side is another fave of mine but I don't own a full-size bottle, yet!
COVERGIRL Flamed Out Shadow Pencil ($6.49, Drugstore.com)
While at the BlogHer Conference last summer, I had the chance to catch up with some of my fave beauty blogging pals including Teri from Beautiful Makeup Search. She raved about how long lasting the COVERGIRL Flamed Out products are so I had to give the Shadow Pencils a try.
Well, Melted Caramel Flame has become my go-to shadow product. In fact, it's clawed its way into my 5-Minute Makeup Routine for the fact that it's so blendable and easy to apply. Even better, I don't need to use primer as it doesn't crease!
I blame this recent acquisition on Kellie Gonzo. I ordered this top coat immediately after reading her review and I'm definitely a fan. It hasn't replaced Rock Top Coat as my all-time fave but I love using it over nail art. It floats over the design without any smearing. Plus it dries super fast. I don't get the same wear as I do with Rock but overall I'm pretty happy with it.
NYX Matte Bronzer ($8.99, ULTA.com)
This bronzer, which I now use for contouring, came into my life in a roundabout way. It wasn't exactly a direct recommendation but a blogger is still responsible for me finding it.
Miss Hollyberries mentioned a NYX blush (Taupe) in one of her videos as being a great contour shade for fair skin so I immediately ran to ULTA in search of it. While my store has a decent NYX display, they don't carry that shade. Instead, I took a look at the NYX Matte Bronzers and brought the "Light" shade home to try. If it wasn't for Holly, I never would have seen it so, for that, I thank her.
Stila Cherry Crush Lip & Cheek Stain ($24, Sephora.com)
I've purchased this stain over and over again and I have Amber from Rouge18 to blame. I spent a day on a beauty tour of LA with her many moons ago. And while half the day seemed to involved me reapplying lip color, Amber's lips were a constant, perfectly ripe shade thanks to Stila Cherry Crush. So, it was off to Sephora for me.
Given that my lips lack pigmentation naturally, I wear this under most lippies to make sure I still have some color, even if my lipstick wears off. I also have the Pomegranate and Raspberry hues and they're all fabulous.
Verge by One Styling Bubble Wand ($99, Folica.com)
Okay, so technically this rec didn't come from a beauty blogger, more like a blogger obsessed with beauty. My good friend, and local Cleveland food blogger, Katrina from Bite Buff, has what you might call a Bubble Wand obsession. I can only recall two days in the past few years where she hasn't used the Bubble Wand. She even bought a back-up, no joke!
If that isn't a ringing endorsement, I don't know what is. I had to have one of my own and it totally lives up to the hype. Of course, there are less expensive versions on the market but One Styling is a hometown brand so I'll continue to give them my support. ps I've seen it sold at my salon, John Roberts in Mayfield, for half the retail price online.

Loading InLinkz ...

So, now I'm curious, what things have I enabled you to buy? Do you tend to buy based on reviews alone or do you still need to see the items in person?
  Disclosure: Product samples were provided by reps for Arcona, COVERGIRL and ONE Styling. I have repurchased the Arcona pads since. Affiliate links appear in this post. When you purchase through an affiliate link, you help support this site. For more info view my
Disclosure Policy
.