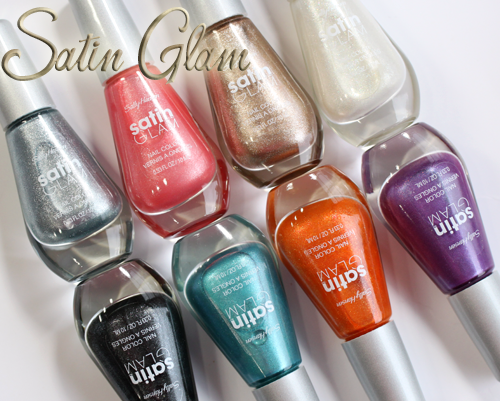 Sally Hansen is launching a slew of new products this year. From a full suite of I Heart Nail Art tools, polishes and accessories to Sugar Shimmer glittering textures there is a lot to look forward to. Today, I have their new Satin Glam shades that combine sparkle with a satin finish for an understated glamorous look.


Formula & Application
Sally Hansen Satin Glam is 5-Free (Formaldehyde, Toluene, DBP, Formaldehyde Resin, Camphor). The tapered bottles are similar to the Sally Hansen Lustre Shine bottles except the cap is shiny plastic with a speckled, satin look.
The brush is attached to a long stem that requires a good wipe against the rim to avoid excess polish dripping down. The brush itself is flat, long and medium in width with soft, flexible bristles that are cut straight across. Outside of needing to remember to wipe it off, the brush fans out easily and allows for precise polish placement.
The formula of all the polishes is a bit squishy but smooth. For the most part, they pack enough pigment to give full coverage in two coats with Crystalline and Chic Pink being the exceptions. Because they are satin finish polishes, they dry semi-matte with a wax coat sheen that is intended to be worn without top coat. Of course, due to the metallic shimmer inside, they look gorgeous with a glossy top coat.

Sally Hansen Satin Glam Chic Pink is a bubblegum pink with crystal clear flecks intermixed with the pink sparkle.
Sally Hansen Satin Glam Crystalline is and icy white filled with pink, blue, purple and gold flecks that add a ton of dimension and elevate it from your average white. Even though it's a bit sheer, it's truly stunning as is or with top coat (below).
Sally Hansen Satin Glam Go Gold is somewhat of a misnomer. It's definitely more bronze than gold, thanks to the silver, gold and bronze metallic glitters. It actually looks much better in person than in my shot. I couldn't quite capture it.
Sally Hansen Satin Glam Metal Iced is a blue-based silver. You could call it an icy blue though it tends to look more blue in indirect lighting and more silver in direct sunlight.
Sally Hansen Satin Glam Silk Onyx is a charcoal shade with flecks that look blue, green and purple, depending on the angle. A glossy top coat really brings that quality out (see below).
Sally Hansen Satin Glam Sun Sheen is a super ripe orange with gold and pink flecks.
Sally Hansen Satin Glam Taffeta is a mid-tone red violet with silver, light purple and blue flecks. It tip toes on Radiant Orchid territory though it's not quite pink enough for that.
Sally Hansen Satin Glam Teal Tulle is a bright turquoise with light blue and silver flecks. It's a bit too bright and too blue to be considered a teal.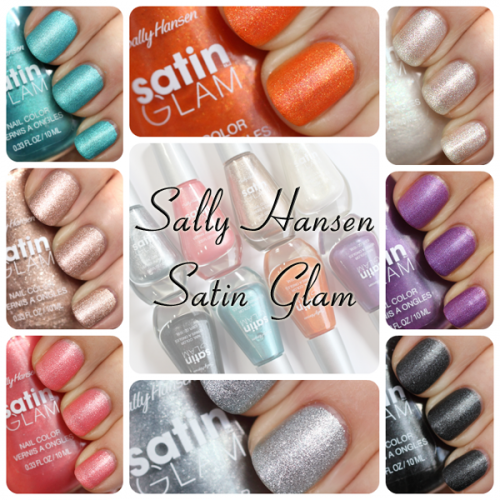 Bottom Line: I like these type of satin polishes as they have enough sparkle and sheen to make them interesting and not a boring flat, matte. Of course, a satin top coat over your favorite glass fleck polish can achieve the same effect. My faves of the bunch are definitely Crystalline, Silk Onyx due to the multi-colored glitters and Metal Iced for its blue tint. As much as I normally love purple, Taffeta fell flat for me (no pun intended).
Sally Hansen Satin Glam officially launches in March 2014 but it is currently rolling out to mass retailers nationwide. It's available now online at Target.com and ULTA.com. Satin Glam retails for $5.49-5.99/ea for a .33oz bottle.
Are you liking this new Satin Glam line? Which shades will go on your shopping list? Will you wear them as is or with a shiny top coat?
  Disclosure: Product samples were provided by reps for Sally Hansen. Affiliate links appear in this post. When you purchase through an affiliate link, you help support this site. For more info view my
Disclosure Policy
.