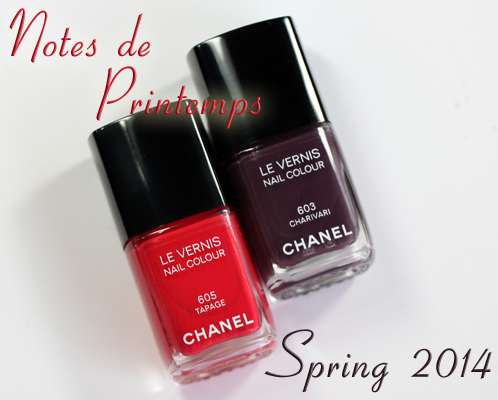 In what seems like another world, a long, long time ago, I was somewhat of an accomplished musician (aka band geek). I have stacks of music that I leave in a visible place, as a promise to practice in hopes of joining a community orchestra, someday. I really miss playing.
Which is why the musical theme of Chanel's Notes de Printemps (Notes of Spring) Spring 2014 collection resonated with me. Playful pinks and purples are at the core of the collection and that theme comes through in the two new shades of Chanel Le Vernis, Charivari (pandemonium) and Tapage (noise).


Formula & Application
Chanel Le Vernis is 5-Free (free of DBP, Toluene, Formaldehyde, Formaldehyde Resin and Camphor). The signature square glass bottles are topped with a black square outer cap that is removed to reveal a stubby, round, ribbed inner cap. The brush is round, medium in length and width and reminds me of the old OPI brushes. It easily fans out and covers the nail without much resistance.
Both of these polishes apply extremely well. They are packed with pigment yet smooth and creamy. I only needed two coats with both shades and they dry nice and glossy, even without a top coat.

Chanel Charivari is a smoky browned plum creme. It dries quite a bit darker than the bottle color suggests, with a depth that doesn't quite come through until the polish is dry. While I don't own any exact matches for this shade, RBL Recherche is pretty darn close, though Charivari is lighter. If you mixed Zoya Monica and Essie Carry On you could probably come close thanks to Monica's strong warm purple tone and Carry On's browned red base.
Chanel Tapage is described as a bright pink but I find that to be far from the truth. The shade is actually more of a pinky red coral creme. It's VERY hard to capture accurately on screen, though I tried my best. In looking for dupes I found that most shades were either too red or too pink, there are very few shades that walk this line though CND Flashpoint
is close. It's not quite as pink but if you're looking to save some $$$, it's a great substitute.

Bottom Line: While both polishes are of excellent quality, I don't find them overly unique to my collection. Though if you missed the boat on RBL Recherche (now discontinued), Charivari will satisfy that need. Tapage is just not my style and considering that I have a comparable sibling, it's not a must-have for me. I think I had higher hopes based on the initial imagery and they just didn't deliver.
Chanel Spring 2014 Notes de Printemps Le Vernis is available now at Chanel counters nationwide and online at Chanel.com, Nordstrom.com and Macys.com. Chanel Le Vernis retails for $27/ea for a .4oz bottle.
Are you feeling these spring shades from Chanel? Do you plan to pick up either one? What would you like to see next from Chanel Le Vernis?
Disclosure: Product samples were provided by reps for Chanel. Affiliate links appear in this post. When you purchase through an affiliate link, you help support this site. For more info view my
Disclosure Policy
.