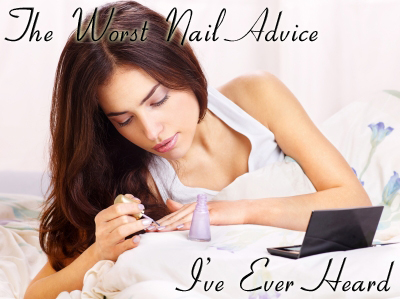 Last week I went out to dinner with a friend who told me about the ridiculous advice a "nail professional" gave her during a recent manicure. It was so unbelievable that it got me thinking about the other bad nail tips, tricks and facts I've heard over the years, from pros, beauty insiders and consumers alike. To be honest, some of them have been debunked so many times, it amazes me they're still being told.
The Worst Nail Advice I've EVER Heard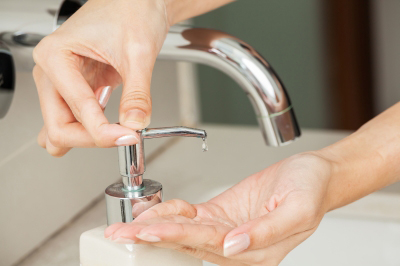 The Backstory: My friend, Katrina, has horrible luck wearing regular nail polish. It chips on her within days whether she gets a professional manicure or does it herself. After trying numerous base/polish/top coat combos she now relies on gel polish, which gives her a week of wear, tops. I chalk it up to her nail chemistry.
The Bad Advice: So, she relays this info to her manicurist who proceeds to tell her that washing your hands removes layers of nail polish so you need to apply a top coat EVERY DAY! Seriously? Washing your hands removes polish? I'd love to see the book where that nugget of wisdom exists. Is this not the craziest nail myth yet?
The Truth: Repeated water exposure does wreck havoc on a manicure but it's not removing layers of polish. As your polish naturally wears at the edges, water can seep in and promote chipping.
The Good Advice: Re-applying top coat will help extend a manicure's life and restore shine. However, if you apply it every day, your polish will get so thick, it will start chipping. To reduce damage due to water exposure, wear gloves when cleaning and cap your free edge.
The Oldies But Goodies of Bad Nail Advice
The Bad Advice: Your nails need to breathe so take breaks from wearing polish.
The Truth: When will people stop purporting this nonsense?? Once the nail grows out past your cuticle, it is dead. Just like hair. So, no, nails do not need to breathe.
The Good Advice: If your nails are dry and brittle (like mine), wearing polish will help protect them from breakage. Can we put this one to bed now?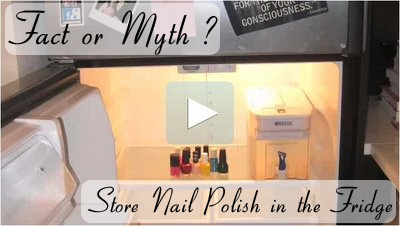 The Bad Advice: Store nail polish in the fridge to extend its life.
The Truth: This is such an unnecessary storage solution. Extreme temps, cold or hot, can damage nail polish. The refrigerator is way too cold to be an ideal environment. In fact, I recently tried using a bottle that was left in my car, on an above freezing day, and it was too gooopy to work with.
The Good Advice: The best way to store your polish is in a cool, not cold, dark place. UV exposure does way more damage, breaking down pigments over time and causing separation.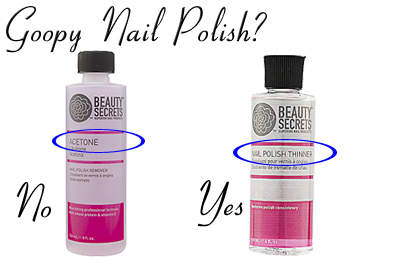 The Bad Advice: Use nail polish remover to thin out thickened, dried-up nail polish bottles. Just last week, a fellow blogger saw this gem being handed out on social media.
The Truth: Nail polish remover breaks down nail polish, so adding it to your bottle will only ruin it.
The Good Advice: Buy a nail polish thinner, not paint thinner (I've seen that recommended as well), at a beauty supply store. It's so cheap and a giant bottle will last forever. Just use it in small doses. We're talking drops. Though the best way to avoid even needing it is to tightly cap your bottles. Air exposure thickens polish.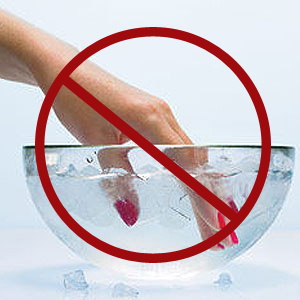 The Bad Advice: Plunging your nails into an ice bath dries them faster.
The Truth: The solvents in nail polish are what determine the dry time. Air exposure helps the solvents evaporate, drying your polish. Plunging nails in an ice bath just slows down the process.
The Good Advice: Quick dry top coats and drying sprays/drops contain ingredients to accelerate the evaporation rate. Outside of a heat lamp, they are your best bet to increasing dry time.
Okay, now it's your turn. Share your bad advice stories with us. Have you read some inaccurate tips or tricks in a magazine? Been told some downright wrong info by a pro? Been the receiver of a nail falsehood from a friend?
Or, is there a tip/trick/technique you want debunked?