Neutral, natural, nude, whatever you call it, the Spring 2014 runways made "50 Shades of Beige" one of the dominating trends of the season. The Zoya Naturel collection is hoping to capitalize on that trend by offering six new nail polish shades to flatter a wide range of skin tones. The idea is to compliment, not match, your coloring. Warm/cool, pale/tan, Zoya Naturel has a lacquer for you.


Formula & Application
Zoya nail polish is 5-Free (free of Formaldehyde, Toluene, DBP, Formaldehyde Resin & Camphor). Their signature Italian glass bottles have a tapered, shiny black plastic cap that rests comfortably between the thumb and index finger while polishing. The brush is short, round and medium in girth with flexible bristles that allow for ease of control.
The Zoya polishes feel a bit thin and watery but they spread easily and, for the most part, have great pigmentation. In this collection I could get away with two thin coats with all the shades except the lightest two, Chantal and Taylor. For those, I felt a third coat was necessary. As I shared in my Zoya Ivanka Wear Test, Zoya nail polishes wear best with the full Zoya Color Lock System or top coats that exclude Cellulose Acetate Butyrate.

Zoya Chantal is a pale, creamy beige. I like Zoya's description of French vanilla as it does remind me of ice cream. It's the lightest shade of the six and probably the closest I've come to finding my "Mannequin Hands" shade. All my fellow porcelain fanatics, check this one out.
Zoya Taylor is a light sandy hue with yellowish undertones that make it best suited to neutral/warm skin tones.
Zoya Rue is a rosy blush creme. The name makes me think of The Hunger Games though the shade would be better suited to Katniss' sister Prim, no?
Zoya Brigitte is a dusty mauve creme though it leans stronger towards pink than your traditional mauve. It's quite flattering and doesn't fall victim to the grandma-ish connotation usually associated with mauves.
Zoya Normani is a cool, taupe creme. It's in the same shade family as Essie Merino Cool with a hint of pink/purple to it.
Zoya Odette is unusual as it's not quite purple, not quite pink, not quite mauve. It's an amalgamation of all three. Maybe describing it as a dusty plum would be a good fit. Thoughts?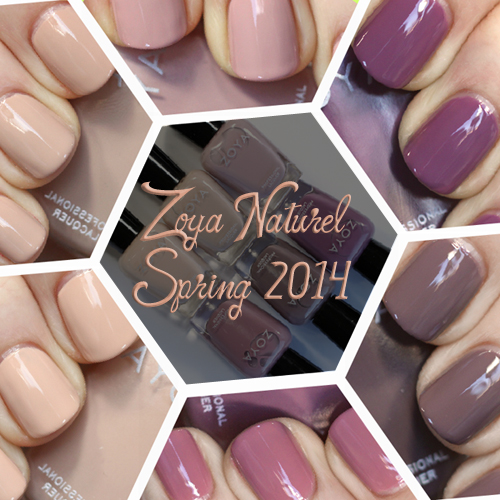 Bottom Line: Even though I live for bold nail shades, I was taken aback at how much I love the clean look of Chantal with my coloring. And Odette is feminine yet striking with its depth and unique tone. The great thing about the Naturel collection is that there is a varied range of undertones and depth of color to allow most people to find a flattering neutral. Something work-safe and fresh for those days when you want your nails to compliment, not dominate, your look.
The Zoya Naturel collection is available on Zoya.com. Zoya nail polishes retail for $9/ea for a .5oz bottle. Don't forget, you can try before you buy with the Zoya Color Spoon program.
Are you feeling the neutral trend for spring? Which of these shades do you plan to pick up? Do you have a go-to nude?
Disclosure: Product samples were provided by reps for Zoya. For more info view my
Disclosure Policy
.