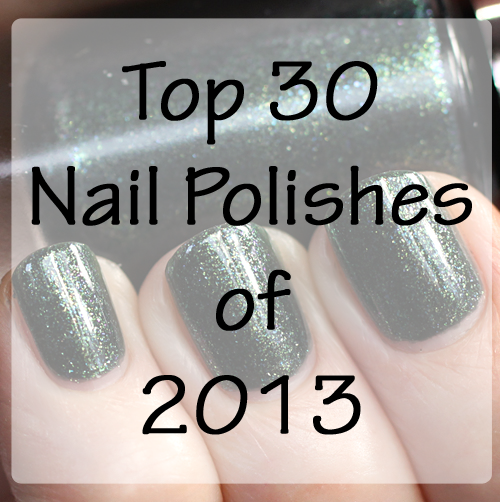 It's been a pretty stellar year for nail polish. In 2013, we've seen new technologies, new finishes and tons of new colors. So you can imagine what a task it's been trying to narrow down my favorites.
The new textured polishes really helped invigorate my passion for polish. Unlike other fad-type finishes of the past few years (crackle, matte, magnetic, etc), I'm so not tired of texture and I don't see my love waning anytime soon.
After an unexpectedly long break from ALU, I came back this year with a vengeance and I've been loving every second of it. A huge part of that is you. Your comments, emails, tweets, etc. mean so much and encourage me to share my love of nail color. So without further ado, I give you my Top 30 Nail Polish Colors of 2013.


Cremes
It takes a lot for a creme to grab my attention and obviously I have my color preferences but all four of these shades are visually arresting, incredibly smooth, easy to apply and non-staining (so key for a blue!). That last part is especially impressive when it comes to CND VINYLUX Seaside Party since you wear it with no base coat.

Shimmers
Whether it was that subtle Chanel shimmer we all know and love, the icy flecks that Essie wowed us with or the shade shifting pigments of JINsoon, OPI and Urban Decay, these shimmery shades were all the rage in 2013. Taboo is seriously one of the best shades Chanel has ever created and WORTH.EVERY.PENNY! Whether it's Essie For the Twill of It or OPI Peace, Love and OPI, that duo-chrome shade is a must-have. And even though it feels like forever and a day since China Glaze Fancy Pants came out, it still a stands out in my mind all these months later.

Glitters
Glitters kind of took a backseat this year to make room for the texture parade but the ones we did see, rocked the house. From the unexpected holo glitter by Bobbi Brown to the funky Maybelline Polka Dots to the pink Deborah Lippmann that captured this girl's pink-hating heart, we weren't lacking when it came to making a sparkle party happen.

Textures
Textured nail polish was the big trend of 2013 and even though there were a few variations on the theme, the sparkly textures were definitely my faves. Zoya is the clear winner of the glittery texture smackdown as every single PixieDust is a stunner. However, L'Oreal's Gold Dust collection is a close second. I can't get enough of The Statement Piece! Simply for its layering capabilities, Sally Hansen Sugar Coat Royal Icing  had to make my list and OPI Alcatraz Rocks is, hands-down, my favorite texture of the year!

Honorable Mention
I would be a fool not to mention the collection I created for Sally Beauty's FingerPaints line as it's one of the things that made my 2013. I'm so proud of A Pair Affair by All Lacquered Up and I truly love every single shade. Seeing my creations and blog name on displays in a store I've been shopping at all my life was unreal.
So which of my selections would make your "Best of 2013″ list? Is there a favorite of yours that you think I overlooked?  
I will start the nominations for the Fanatic Favorites of 2013, where you get to vote on your favorite colors and collections from the past year, soon so start thinking of which brands and colors you want to nominate!
Disclosure: Product samples were provided by reps for the brands featured. Affiliate links appear in this post. When you purchase through an affiliate link, you help support this site. For more info view my
Disclosure Policy
.