Outside of nail polish, my hair is probably my biggest beauty obsession. You see, I have one giant, hard-to-tame mane that is both a blessing and curse. When I get it under control, it's my favorite feature. When left to its own devices (which no one but the boyfriend gets to see), it's a hot garbage juice kind of mess. And that's not me being self-deprecating. The boyfriend jokingly calls me "wookiee," when I let my hair air dry. It's serious, people.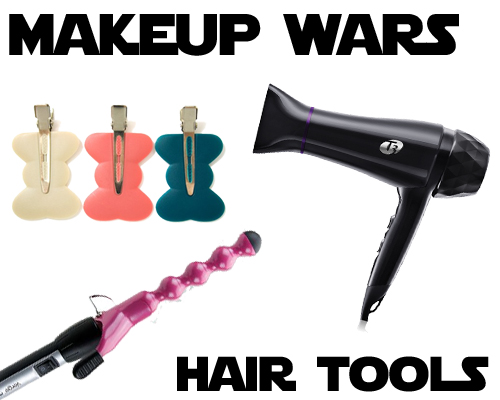 Affiliate Link|I Bought That|Press Sample
Thanks to my lifelong search for the perfect potions and gadgets to take my locks to the next level, I have a bevy of tools in my hair arsenal. If it's been on an infomercial, I've either tried it or have it on my to-do list, with the exception of the flowbee. I can't with that.
Today I'm going to share some of my faves as part of this week's Makeup Wars challenge. I'll also let you in on some of the fails in my hair care graveyard.

My Hair History
I am the product of two parents with thick heads of hair. My father's coarse, poodle-like curls combined with some crazy, Jewish, wavy hair gene, that apparently skipped my mother, left me with hair that frizzes in even a drop of humidity, creating waves that NO ONE would be jealous of.
What's funny is, I remember my hair being stick straight as a child yet, once I hit puberty and got my first perm, it was game on for the frizz monsters. From then on, I tried tool after tool to get the beast under control.
I slept in pink sponge rollers. Frizz + Shirley Temple curls… not a winning combo.
I tried the Caruso steam rollers which definitely hold a curl but I would get creases from the clips and who can travel with that set? I tried once and had salt spill all inside my luggage.
I owned a number of Conair hot tools, including the hot air brush and spiral curling iron, and I recently found these old Clairol Lock N Roll curlers in a storage box in my basement.

I even bought the Revo Styler, in an attempt to alleviate the pain in the ass that is round brushing my hair. All that accomplished was tangling my hair in the rotating bristles to the point that I had to cut myself free.
Needless to say, none of them did the trick so my hair tool quest continued.

Now for the hair tools that are working for me.
First and foremost, it all starts with the hair dryer. I've been through my fair share of inexpensive dryers to know that they're worth the investment. If I had hair that dried super fast, I probably wouldn't care as much but it used to take me anywhere between 30-45 minutes to dry my hair properly before venturing into the world of high end dryers 10+ years ago.
My latest and greatest love is the T3 Featherweight Luxe 2i ($250). You guys, this is serious hair drying business. I first spied it backstage at a fashion show last fall. When told it was created after seeing stylists tape two dryers together to shorten dry time, I was intrigued. I've owned T3 dryers for years but worried about what all that power would do to my hair.
I'm happy to report that I've been using this dryer for over six months now and my hair is excellent shape. More importantly I can be COMPLETELY DRY in 10 minutes flat, 15 if I need to really work the round brush. That's life changing!
Speaking of round brushing, I discovered this fantastic brush company through my stylist, Shannon at John Roberts. She uses the Phillips Monster Vent MV-P 2 ($24.99) which gives great bend and polish to the hair without tangling it. Added bonus; Phillips Brush is a local, Cleveland company.
This is how my hair looks using just a round brush and hair dryer. We'll call this the "control hair" for the tools I'm about to show you.
The InStyler ($97.99) is one of the "As Seen On TV" products that actually made it to the real world of retail. Why? Because it actually works. The rotating, heated barrel polishes and curls the hair while the brush smooths out any tangles.
On days when I'm too lazy to wield a round brush, I plug in the InStyler to give my hair the look of a fresh blow-out.
The trick is to hold the hair straight out to the side, clamp the InStyler vertically on the hair, near the root, and give it a half twist away from your face. Then pull the InStyler through the piece, slightly tilted down and away from you. It waves the hair back without making you a full-on Farrah.
Traditional curling irons and I are not friends. With my layers, I always have pieces falling out or I get marks from the clamp. The Enzo Milano Clipless Curling Iron ($149.99) is the solution to all my curling iron problems. It comes with a glove so you won't burn your hand and you can create so many different curl patterns with just one tool.
I prefer to use my Enzo Milano for soft waves. I hold the iron over my head with the tip pointing down. I wrap sections around the iron, away from my face, starting the curl at about eye level. I typically don't wrap the ends around the barrel which creates a natural, beach-y look but for Jump Back Ball (right) I curled the entire section to create polished, glamorous waves.
The Verge Bubble Wand ($99.99) from One Styling is another hometown product. This Cleveland-based company has a line of texture wands to create unique shapes in the hair.
The Bubble Wand, which I often describe as looking like a sex toy, creates a perfectly imperfect curl. As the hair falls over and between the bubbles, it creates a curl that is part wave, part ringlet.
When I want loose, bouncy curls I turn to the Bubble Wand. There is a small clip at the base to secure the hair and then you just roll up the section, away from the face. Because my hair is so thick, with mushrooming tendencies, I only curl the sections to cheekbone height, with the exception of the shorter layers at the front.
If you're like me and you do your hair before your makeup, no doubt you've ended up with foundation on your strands at some point. My shorter layers always fall on my face and it's tricky to pin them back without screwing up my 'do. Well, Ricky's NYC has a cure for that.
These adorable No-Crease Butterfly Clips ($5.99 for 3) have a traditional metal clip on the bottom and a flat, plastic butterfly that sits against the hair. This allows you to pin hair back without fear of creasing.


Bottom Line: I realize when it comes to hair tools, I have pretty high-end taste and that's not in everyone's budget. But for me, it's worth it to spend a little extra to keep my hair healthy and get the results I want. Of course there are lower cost alternatives, like the Revlon Spiral Styling Wand and Conair YOU Textured Waves (similar to the Verge Bubble Wand). And plenty of brands make clipless wands like TIGI Bed Head but I draw the line when it comes to hair dryers. That is one place I will not skimp.
Are you a hair tool junkie like me? What are your fave hair gadgets? Have any hair tool horror stories to share?
ps I'm currently eyeing the Perfecter and the Beachwaver from Sarah Potempa. Have you tried them? Thoughts?
Disclosure: Product samples were provided by reps for T3 Micro, InStyler, One Styling and Ricky's NYC. I purchased the Enzo Milano curler and Phillips Brush. Affiliate lines appear via Skimlinks and rewardStyle. For more info view my Disclosure Policy.