CND revolutionized the nail salon industry when they brought Shellac into the world and they're poised to do it again with a new product called VINYLUX.
I've long been a fan of the CND Colour & Effects nail polish line for its quality formula but it was overshadowed by the popularity of Shellac. When I inquired about the state of Colour & Effects last fall I was told to get ready for an amazing new technology come spring and it's finally here.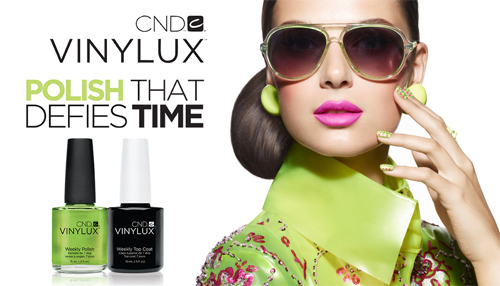 VINYLUX is a Weekly Nail Polish that uses no base coat and a top coat that gets more durable with natural light exposure. Are you getting what I'm putting down? That's right, this is technology that gives long lasting, high gloss wear with no UV/LED exposure and it removes like regular nail polish!

What It Is
VINYLUX is a breakthrough polish that endures a week of fashion perfection…without a base coat!
Exposure to natural light secures the patent-pending ProLight technology, creating an enduring, long-lasting polish. While ordinary polishes become brittle and deteriorate over time, VINYLUX dries naturally to a flawless finish and strengthens its resistance to chips over time.
Finally a polish that ensures—your nails will never let you down!
Prolight Technology from the makers of CND Shellac — The Original Power Polish!
How It Works
VINYLUX Weekly Polish and Weekly Top Coat are a system that is uniquely designed to work together. Patent-pending ProLight technology creates a powerful network of cross-linked polymer bonds that build resistance to chips and enhance durability with exposure to natural light over time. Really!
Easy Application
1. Change it when you want to, not because you have to.
2. Apply two thin coats of VINYLUX Weekly Polish.
3. Finish with one coat of VINYLUX Weekly Top Coat.
4. For best results, use CND Shellac Nourishing Remover on a cotton pad to easily and gently remove VINYLUX.
FEATURES/ BENEFITS
Innovative system includes a self-adhering Color Coat that eliminates the need for Base Coat, and a Top Coat with new ProLight Technology which enhances durability with exposure to natural light over time
In consumer testing of hundreds of manicures, more than 80 percent of clients had no chipping after seven days
VINYLUX dries completely in just eight and a half minutes compared to standard nail polish that dries in 15-20 minutes on average
62 fashion-forward polish colors to suit weekly desires, over 30 colors match popular CND Shellac™ shades, for at-home touchups and pedicures
Steadfast — Delivering week long wear of fresh, flawless color without chipping. Better performance than leading polish.
Enduring — Top Coat actually toughens over time with exposure to natural light with ProLight technology.
Efficient — The self-adhering color coat means faster service time.

Fun — A full range of runway inspired shades to accessorize every outfit and enhance any mood, including CND Shellac matched shades for touch-ups and toes


Sounds pretty incredible, no?
As amazing as Shellac is, it's not for everyone. I'll wear it for trips but I generally like to change my nail color more often and I'm just not a salon manicure girl. I prefer playing with polish myself. From what I understand VINYLUX will be sold to consumers through professional salons so you can buy it for use at home. It's set to launch at the end of May 2013. VINYLUX Weekly Polish and Top Coat will retail for $9.90/ea.
What are your initial thoughts on VINYLUX? Do you think it will become the consumer version of Shellac? I know I can't wait to test it out!
product images: The Industry Source