Happy Monday Fanatics! Do I have a treat for you. The lovely and talented Sarah from Chalkboard Nails has whipped up one of her amazing nail art creations just for us.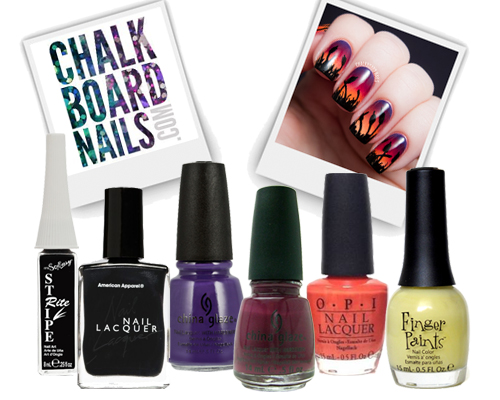 I've been an admirer of Sarah's from afar for a while now and recently got to know her through a blogging group I belong to. Her artistic skills leave me and my unsteady hands in awe. She has a creative eye for color and a skill level I could only hope to aspire to. I'm honored to be able to share her work with you.


My name is Sarah, and I've been writing the nail art blog Chalkboard Nails for almost two years. I'm so thrilled to be posting on All Lacquered Up today! Show me a group of nail polish addicts and I'd be hard-pressed to find one of them who isn't familiar with Michelle and her blog. I'm thankful to her for giving me this opportunity to share my passion for nail art with you.
We don't have a lot of cattails where I live, but they always seemed kind of strangely beautiful to me. So instead of admiring them in person, now I can admire them on my nails! I am a lover of all nail art styles — from subtle to noisy — so for this particular look I attempted to find a happy medium that I hope most will enjoy.
The manicure began with a gradient. I sponged on four different polishes to achieve a moody sunset:
Finger Paints Lemon Sour (pale yellow)
OPI Call Me Gwen-ever (dusty orange)
China Glaze Purr-fect Plum (velvety plum)
China Glaze Grape Pop (rich purple)
Next, I used an It's So Easy Nails striper in black to paint on the stems and the tall grass along the tips. I finished painting on the fat parts of the cattails with American Apparel – Hassid and a small nail art brush.
Of course, you can't forget a good topcoat to seal it all in! My favorite is Seche Vite.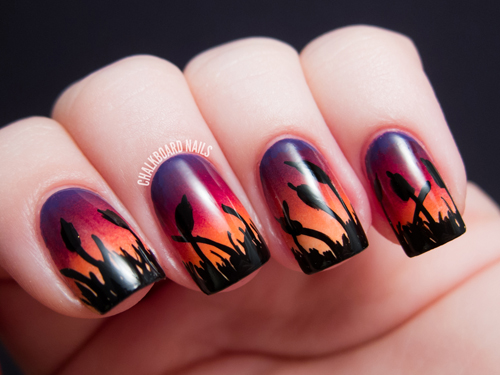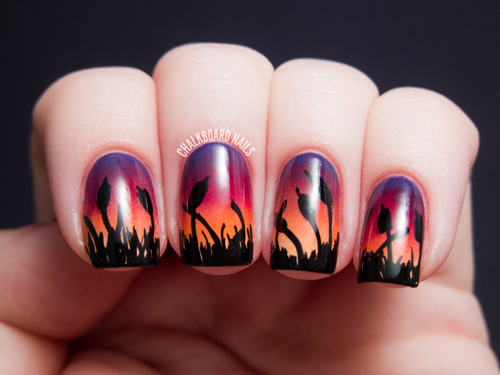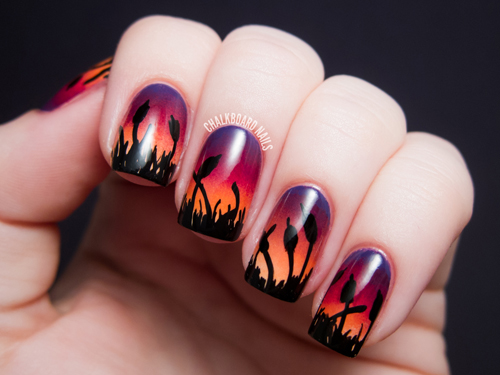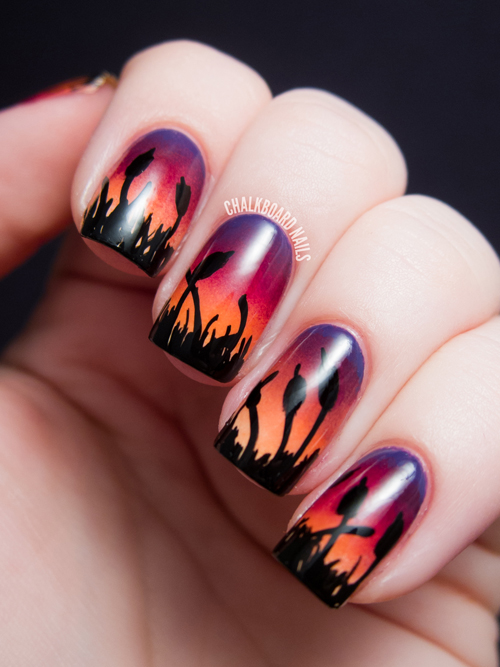 I'd love to hear your thoughts on this manicure! Is this something you'd wear on your own nails, or do you prefer a simpler style? The bolder the better, in my opinion!

Stunning, no? While I doubt I could recreate this look in its entirety, I would definitely wear the gradient on its own. The colors meld to create a perfect Midwestern sunset.
If you enjoy this type of guest post, let me know in the comments.
Disclosure: Affiliate links may appear via a third party link service. For more info view my Disclosure Policy.