Saturday night, the boyfriend and I headed downtown to Cleveland's Playhouse Square for the 22nd Annual Jump Back Ball and we had a blast. At least what I can remember of it. I may have mixed wine, beer and liquor and that just may have resulted in a slightly fuzzy memory of the night not to mention the worst hangover ever, oy! Lesson learned… eat more prior and HYDRATE, HYDRATE, HYDRATE.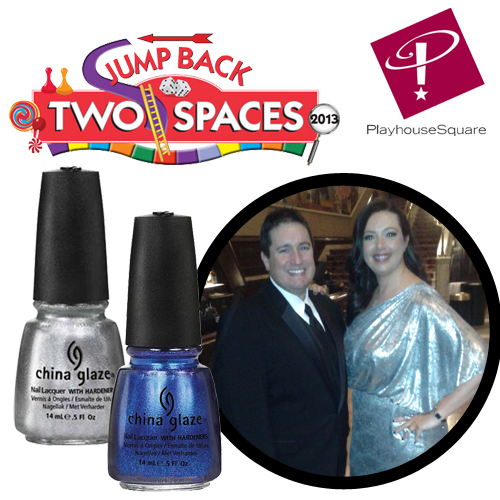 Regardless of my alcohol intake, mistakes were made, I had a fabulous time with my boyfriend and friends at what is one of the best parties in Cleveland. And thanks to all of your fantastic suggestions, I rocked a manicure worthy of a Penny from Happy Endings "ah-MAH-zing."

You submitted so many creative and chic manicure ideas that it was hard to choose. Though it was Maureen's comment that included the words "Art Deco" that spoke to me the most. That is exactly the style I was aiming for and her suggestion of a chevron moon manicure, perfectly complimented my overall look. I combined her comment with Whitney's color concept of a silver foil moon with a blue/green nail, I opted for blue, and my manicure was complete.
I started with a two coats of China Glaze Icicle from the 2011 Holiday collection. It's gorgeous foil, similar to Orly Shine, that gives great coverage. I debated using China Glaze Millennium, a chrome, but the bonus of a foil is that it dries fast and is more forgiving of application errors.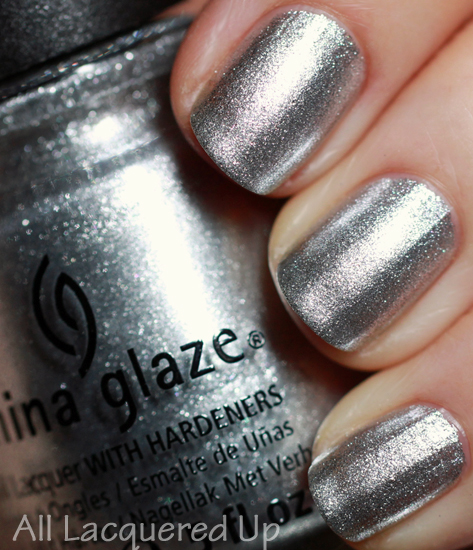 Once Icicle was dry, I used blue painter's tape to create the chevron moons. I cut the tape straight across to create a right angle and placed it about a third of the way up the nail. I applied two coats of China Glaze Blue Year's Eve, also from the 2011 Holiday collection, and pulled up the tape immediately after the second coat. Tip: I cut the tape at a slightly wider angle for the thumbs, to keep the moons looking balanced.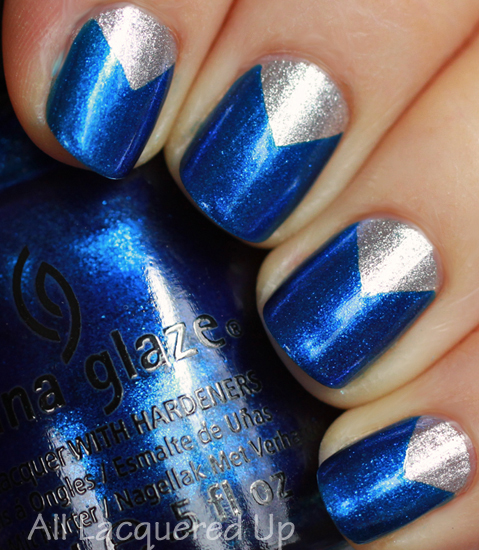 I did my nails early Saturday morning so I could focus on getting the rest of me Jump Back Ball ready. First stop, the MAC Cosmetics counter at the Beachwood Place Nordstrom. My good friend Christine works there on weekends and she created a stunning blue-grey smokey eye with lashes (#36 are the business) and a beautiful berry Pro Longwear Lipcreme, Positively Dashing. Fun fact: I met Christine over 8 years ago on Specktra (a MAC makeup forum) and she has a salon size OPI rack full of nail polish. Love her!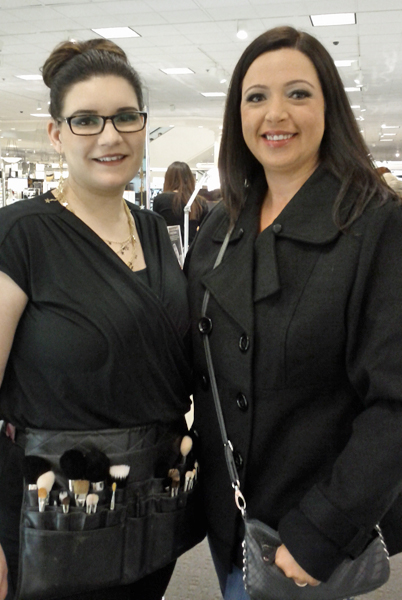 Post makeup, I curled my hair with my Enzo Milano Clipless Wand and clipped one side back with the brooch turned hair comb I showed you on Thursday.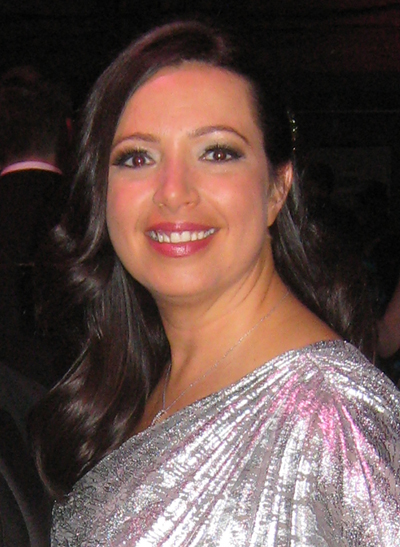 A little accessorizing and I was ready to go.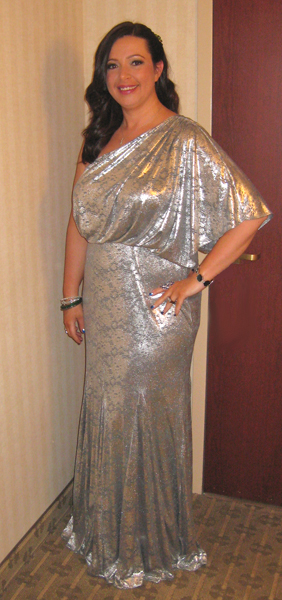 The boyfriend and I pre-partied with friends at the hotel and between the pudding shots (champagne and fireball flavored), the bubbly and an "icing" for a recently engaged couple, we were already in high spirits before we even arrived at Playhouse Square.
Each year, the event has a theme and this year it was Jump Back Two Spaces, so all the board games we grew up loving were represented in some way. Candyland, Clue, Monopoly, etc. And what's really fun is that some people opt to come in costume instead of formal wear. There were a lot of Clue characters, naturally, but I spotted some more obscure and creative costumes in the crowd.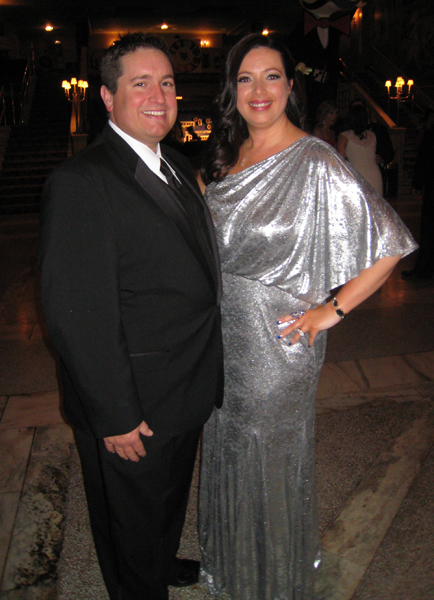 All said and done, it was a fabulous night spent chatting, dancing and drinking with great friends. Pictured below: Allison from Confessions of a CLE Habitant, Tabitha from Fabulously Tabitha, Lisa aka Lzone (follow her on Twitter, she's hilar!) and Alexa from Cleveland's A Plum and Jen from Sports Stole My Man. I loved getting to meet new people as well, like fellow blogger, Nadine from Blog – The New Black and readers who recognized me and wanted to see what I selected for my nails. So cool!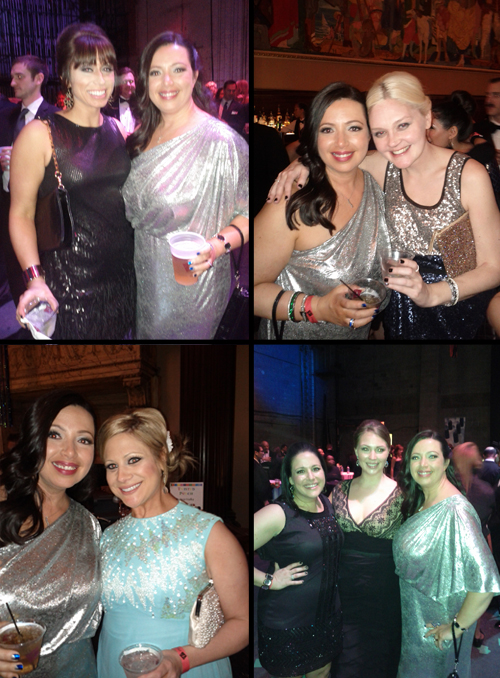 So what do you think of my final nail look? Did I make the right choice? What type of moon manicure do you prefer, the more traditional curved moon or the angular chevron style?
Maureen and Whitney, I'll email you soon. Thanks again to everyone who submitted a manicure idea. You all are the best!
Disclosure: I paid for everything mentioned in this post except the two China Glaze nail polishes which were provided by reps for China Glaze. For more info view my Disclosure Policy.