Rescue Beauty Lounge announces L'Oiseau de Feu, Ji Baek's Pre-Fall collection inspired by the metamorphosis of colors brought on by Hurricane Earl.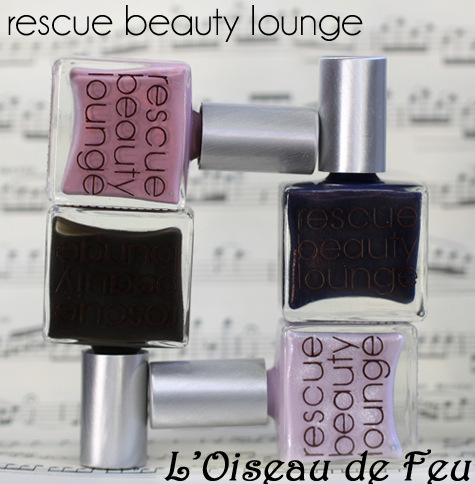 "During my St. Barts vacation last August, I felt a frantic energy that I had never before witnessed in that familiar, peaceful paradise. There were scattered chaotic rhythms of energy as Hurricane Earl approached. As the storm unfolded, my inner dramatic stage director's heart started to beat to the rhythms of Igor Stravinsky's L'Oiseau de Feu (The Fire Bird). The honking brass section mirrored the hysteria on the island and the wind started to howl irksomely, just like Stravinsky's French horns and bassoons. I peeked out the door and was mesmerized by the colors of a romantic and moody sky."
As a former band geek, I even marched for one horrifying football season, I totally get associating music with life's major events. There are certain songs or pieces of music that throw me back into another time and place, even for just a split second. Having been caught in a water spout on my parents' sail boat, I can't imagine letting go of the fear to hear the music in a storm but reading Ji's take on her experience with Hurricane Earl, you can almost see the notes as she describes her latest nail polish collection.

Formula & Application: Rescue Beauty Lounge nail polish is 4-Free (includes formaldehyde resin).  The square glass bottles are thick enough to feel sturdy but thin enough to properly show off the color. The smooth brushed metal cap is easy to hold and polish with while the brush is round, of average length and on the thicker side. It's a bit more flexible than most which makes application a breeze.
While I am usually impressed with Rescue's impeccable formula and pigmentation, only Fortissimo and Piu Mosso were two coat wonders. I had major streaking issues with Poco a Poco so I needed three coats to get it even. I thought it might be the base coat I used (Gelous) so I tried another (CND Sticky) and both ended up with some unevenness and the need for a third coat. Pizzicato is semi-sheer, and it's probably intentional, but I like to wear my polishes opaque and used three coats with it as well.

"I envisioned my first color—Pizzicato—inspired by the gentle tiny taps of rain droplets as they hit the tin roof, reminiscent of plucked strings. A misty white with the faintest hint of lavender, Pizzicato has a shimmer that acts like prisms of light in a sun shower."
Rescue Beauty Lounge Pizzicato is a semi-sheer, lavender tinted white with silvery flake glitter. In the bottle you see specks of pink and blue but they don't really show up on the nail. While I normally shy away from anything resembling lavender, this is white enough that it doesn't give me alien hands.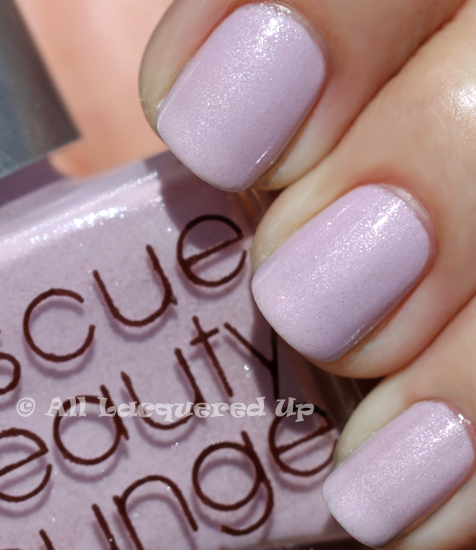 "When the wind picked up, I saw Poco a poco, "little by little." This is a shade that changes from moment to moment. It's the stunning, sparkling pink of a fanning cloud when the red and orange rays of the sun are trying to burst through."
Rescue Beauty Lounge Poco a Poco is a muted carnation pink with rosy pink micro-shimmer. On the nail, the polish looks like it has a subtle cast or heathering that makes the shimmer more subtle and hazy. There's just something about this shimmer that makes me think of OPI Windy City Pretty. I just hope I still have the color to show you a comparison.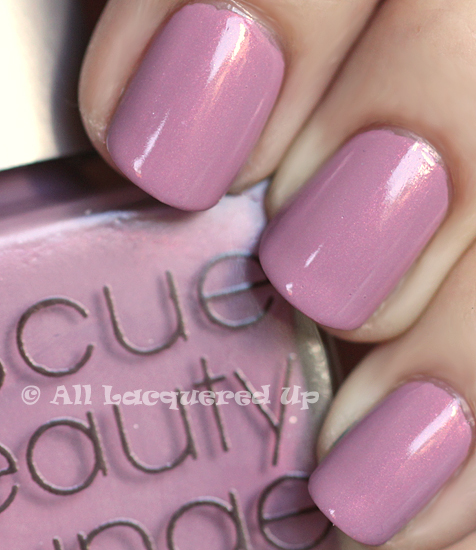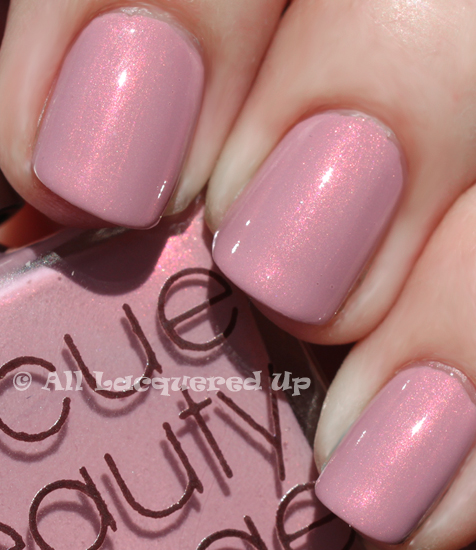 "Later, the ominous dark clouds bled into the sky with a fast-moving wind. Piú Mosso is an inky, blue-black that shoots through a flash of orange, the last glow of sunlight."
Rescue Beauty Lounge Piu Mosso is a blackened navy with reddish orange micro-shimmer. It's pretty dark indoors but not so much that you can't tell it's blue. Also, the shimmer isn't as pronounced as the RBL Tudors polishes, it's more reserved, like Insouciant. What I love is that Piu Mosso gives you two totally different looks in one bottle. It turns from a playful, fiery shimmer in the sunlight to a chic, creamy blue indoors and at night.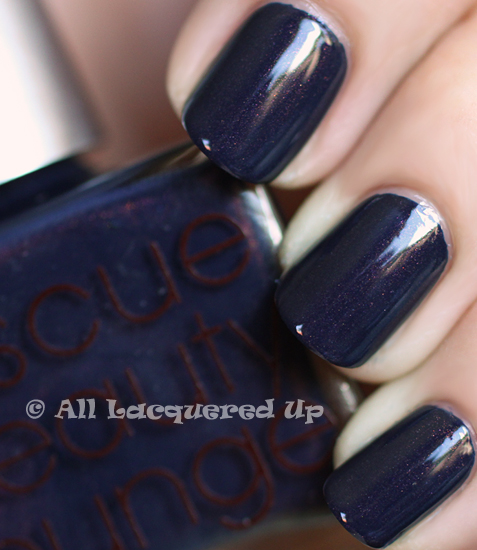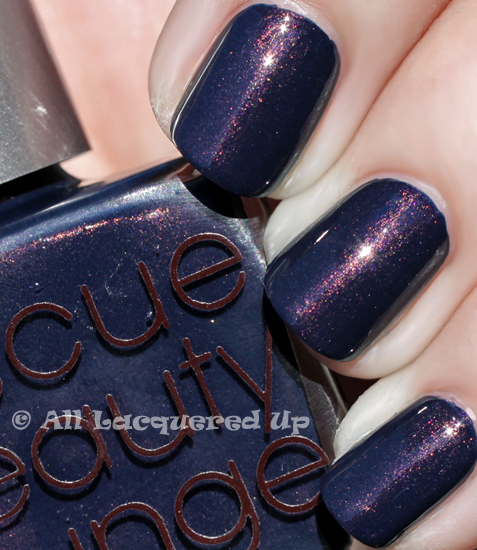 "At last, when the light left the sky and the wind started to roar, the sky turned into a shade beyond description—a dark greenish, blackish, brown, leading to a powerful Fortissimo, the finale chord of The Fire Bird."
Rescue Beauty Lounge Fortissimo is a blackened brown creme with green undertones that give it a greyed cast indoors. At first sight, I wondered what this muddy liquid would look like on my nails but it turned out much better than I expected. Think of it as a dirty espresso bean. It doesn't have that rich, warm chocolate goodness. It's grittier with edge.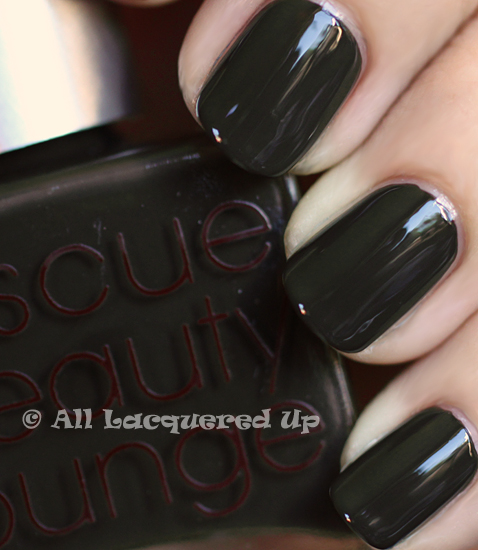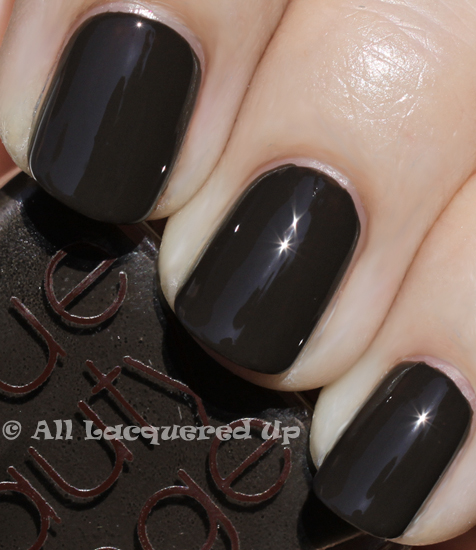 Bottom Line: While I love the story behind these colors, overall the collection didn't wow me. I wanted to be Tudors wowed and it just didn't happen. Piu Mosso is my hands down favorite from the collection and "must have" in my book. It's a challenge to add orange shimmer to blue and not have it take over the base color. Ji accomplished this with her usual finesse and style. Pizzicato surprised me with its stunning shimmer and unique take on white.
Fortissimo is interesting and well formulated but it doesn't make my pulse race and I honestly wonder how flattering it will be on most people. Now I've said it many times and I'll say it again, I'm not a pink girl. Despite Ji's best efforts to make a pink I would fall in love with, Poco a Poco made me work too much. To make the effort worthwhile it would have to be one special pink  and unfortunately, this one just isn't.
The Rescue Beauty Lounge L'Oiseau de Feu collection will go on pre-sale before the end of July.  Make sure you're signed up for the RBL newsletter to be notified of the sale dates.  Rescue Beauty Lounge nail polishes retail for $18/eafor a .4oz bottle and can be purchased online at RescueBeauty.com.
What are we thinking about the colors? Which polishes do you plan to order? Where are my fellow band/orchestra geeks?
I will be doing comparisons of these so if you have a specific comparison request, leave it in the comments.
Disclosure: Product samples were provided by Rescue Beauty Lounge. For more info view my Disclosure Policy.