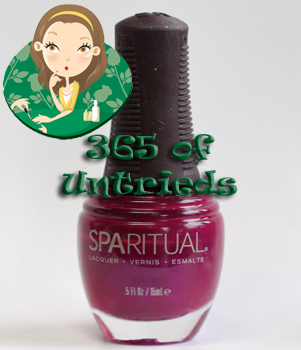 365 of Untrieds is my personal challenge to weed through the polishes in the ALU stash that I've been wanting to try but just haven't gotten around to.
Why is it that holiday weeks throw everyone completely out of whack? It's not like they don't come back every single year. We as a people should be used to it by now but wow, oh wow, am I tired and continually forgetting what day it is.
Thankfully I'm in a world where time doesn't matter. No, not Vegas though I'll be there at the end of the month. I'm actually back at Put-In-Bay for a night. One of my childhood besties is visiting so we escaped the CLE for a little girls getaway.
To make up for lost time in the land of ALU's red and pink nail polishes, I'm hitting you with back to back untireds from those color families. Today we travel to berry-ville with SpaRitual Primitive.

Formula & Application: Sparitual nail polish is 4-Free (including formaldehyde resin), vegan and excludes camphor which can be an irritant. Their round bottles are capped with a tapered rubberized cap that includes four ribbed sides for a secure grip. I'm a big fan of rubber caps for ease of polishing and the ability to get a good grip when opening  tightly capped bottles.
The Sparitual brush is relatively short and very thin but wow do I love it. The bristles are so nice and flexible and they spread out over the nail so perfectly. It's such a pleasure to work.
The formula of this polish is kind of thin, watery and squishy but really pigmented. All I need is two coats for full coverage and it flows on the nail flawlessly, drying with a mirror-like finish. I have to give it up to SpaRitual, the consistency and color payoff of their polishes are really high quality.

SpaRitual Primitive looks like a cranberry creme in the bottle and, for the most part, that's exactly how it appears on the nail. The hidden surprise is the barely there light pink shimmer that gives the polish depth and peeks out under direct light.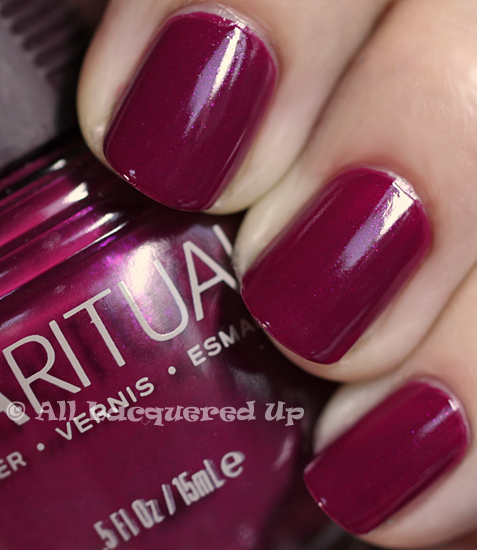 Bottom Line: The SpaRitual formula really is top notch. I have yet to be truly disappointed in anything they put out. The color is pretty and a great basic. The secret shimmer is an added bonus though not a selling point. Primitive is the sexy darker sister of OPI Miami Beet/Zoya Moxie/Misa Push Upon It. You know, that trifecta of dupes that came out for spring a couple years ago. Speaking of which…
365 of Untrieds Stash/Share Verdict: I know I said the reds & pinks were going to put me in SHARE overdrive but I'm STASHing Primitive. The formula is too fabulous to let that one go. To even things out, I'm sending Misa Push Upon It and OPI Miami Beet to the SHARE bin.
Sparitual Primitive is available at salons and spas nationwide but their distribution seems to be pretty limited. The closest salon to me is in Detroit. To locate a retailer near you visit Sparitual.com. Online shoppers can head to Amazon, Apothica, CosmeticMall and SkinStore to purchase. Sparitual nail polishes retail for $10/ea for a .5oz bottle.
Thoughts on SpaRitual Primitive? Since SpaRitual & Orly are owned by the same people, do you know of a dupe in the Orly line? If you haven't delved into the SpaRitual world as of yet, is it brick & mortar availability that is holding you back?
Disclosure: A product sample was provided by reps for SpaRitual. For more info view my Disclosure Policy.