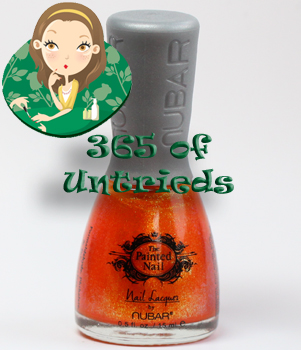 365 of Untrieds is my personal challenge to weed through the polishes in the ALU stash that I've been wanting to try but just haven't gotten around to.As I mentioned in a recent post, I'm in Vegas for Cosmoprof which is an annual trade show where beauty brands, typically professional salon & spa lines, sell their products to distributors & buyers all over the world. It's pretty amazing and after three years of attending it doesn't get any less overwhelming or tiring.

Today I met with some great brands including China Glaze, CND, Dashing Diva, Orly and Zoya and I finished out the day with a stop by the Nubar booth to meet Nail Files star Katie Cazorla, owner of The Painted Nail salon. I already adored Katie after speaking with her over the phone and, in person, she's even more adorable. Affable, hilarious, larger than life and yet totally down-to-earth. No matter what you think of her show or reality TV in general, you can't help but love Katie. She's a star and all you have to do is meet her and you can see why TV Guide Network would want to give her a show.

Now you know that I went all fangirl over Katie's gorgeous purple, Legendary Lavender. I'm actually rocking my second pedicure in a row with that color. This is no fling my friends. My love affair is strong. That left me curious to see how some of the other summer collection shades would fare so I decided to try The Painted Nail Citrus Sparkle next.

Formula & Application: The Painted Nail nail polish is produced by Nubar, therefore it is 4-Free (including formaldehyde resin), free of camphor, which can be an irritant, and cruelty free. The bottle is the signature Nubar shape with the silver caps that appeared on Nubar's Prisms collection and the same round brush that appears in the regular Nubar line.
As I mentioned in my previous review, the ingredients in The Painted Nail line is the same as Nubar but the texture is different. Katie wanted to make her line as user friendly as possible so there is a noticeable jelly feel to her polishes which in the case of Citrus Sparkle equaled a semi-sheer polish that requires three coats to get opaque. A bit of VNL (visible nail line) shows up in the swatch photos but in person it's negligible. My macro lens really accentuates things like VNL that the naked eye wouldn't detect.

Nubar Citrus Sparkle is a tangerine glass fleck polish. The gold and orange irregularly shaped flecks float in the polish like a high end version of pulp in a glass of OJ.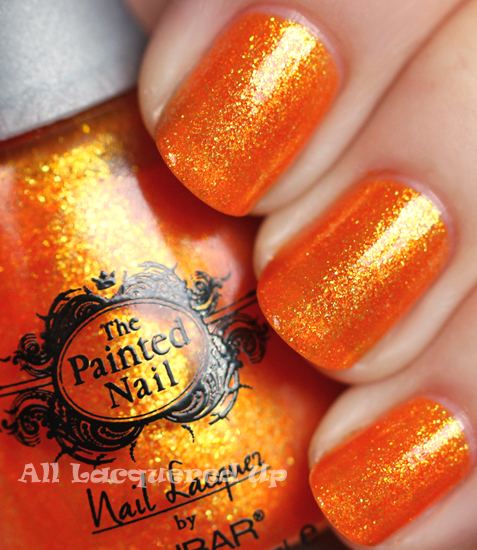 What shocked me about this color is how unique it is. When I first saw it, I imagined finding quite a few twins in my collection. Maybe not finish-wise but certainly in terms of base color matching. Um, WRONG! Citrus Sparkle is really intense without any red or yellow dragging it down. I feel I say this a lot and maybe that means my collection is lacking but I really DON'T have a dupe for this color.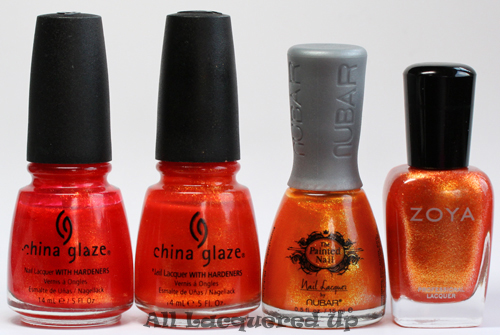 I pulled my two fave orange glass flecks, China Glaze Orange Pacific & Orange Marmalade as well as Zoya Tanzy just to give you an idea of how Citrus Sparkle stands out against the rest.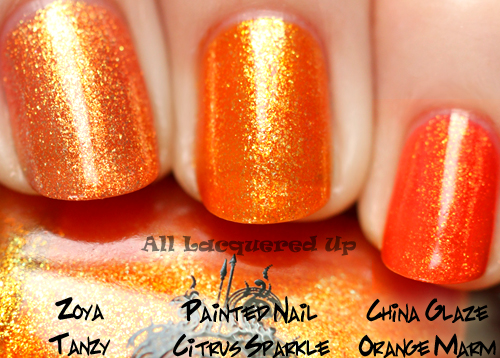 Bottom Line: This type of bright, frisky orange is perfect for summer. It doesn't have any pumpkin tones that scream fall, which is always something I worry about with certain oranges. The glass fleck finish is always a win in my book because it gives the luscious sparkle I love about glitter polishes without the pain of removal. Given the originality of the hue, the perfection of the formula and the finish, I don't see why you wouldn't love this color as much as I do.
365 of Untrieds Stash/Share Verdict: No doubt, this is taking up permanent residence in my STASH.
The Painted Nail Citrus Sparkle and the rest of the Spring/Summer colors are available now at The Painted Nail salon in LA and online RonRobinson.com and Amazon.com. The Painted Nail polishes retail for $12.50/ea for a .5oz bottle.
Are you loving Citrus Sparkle or what? Have you tried any of The Painted Nail polishes yet? Do you have polish at all similar to this? What's your favorite summery orange?
Disclosure: A product sample was provided by The Painted Nail. For more info view my Disclosure Policy.