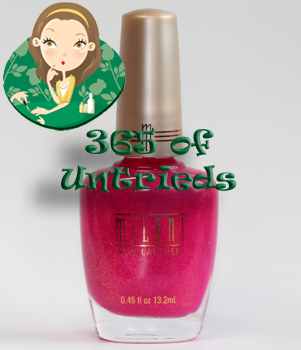 365 of Untrieds is my personal challenge to weed through the polishes in the ALU stash that I've been wanting to try but just haven't gotten around to.
Over the weekend I went to a party where quite a few of my blogger friends were in attendance. Of course I asked about my nail polish and I was curious to find out what they were wearing as well. Then the subject turned to my Untrieds series, specifically the "SHARE" polishes.
They were giving me a hard time about the fact that I keep STASHing my untrieds and sent a small percentage to the SHARE bin. The reasoning I shared is that, for the most part, I've been trying polishes based on my color mood rather than dig in to the pinks and reds where I know a lot of my SHAREs will come from.
Starting with today's untried, Milani Pink Out Loud, I vow to suck it up and start weeding through my pinks and reds, making sure I include at least one per week for the rest of the 365. I guess this means I'll have to organize them better. If there's anyone in the CLE with a good eye for color who wants to help, I sure could use it.

Formula & Application: Milani nail polishes are 4-Free (including formaldehyde resin). The bottles have a tapered, matte gold cap with a long, thick, round brush. The brushes on Milani polishes are longer than most and combined with the flexible bristles they allow for optimal coverage of the nail plate.
The consistency of Pink Out Loud is that of a squishy, jelly polish. It applies semi-sheer and with three coats a bit of VNL (visible nail line) peeks through. The finish is similar to Milani Totally Cool and I could be wrong but I'll bet they were released together.

Milani Pink Out Loud is a hot pink jelly polish packed with pink and gold micro-glitter. It has somewhat of a glass fleck look to it though it's missing the big chunks like the ones we saw in China Glaze 108 Degrees. Actually, the more I think of it, this looks like a cross between a bright bubblegum pink and the raspberry hued 108 Degrees.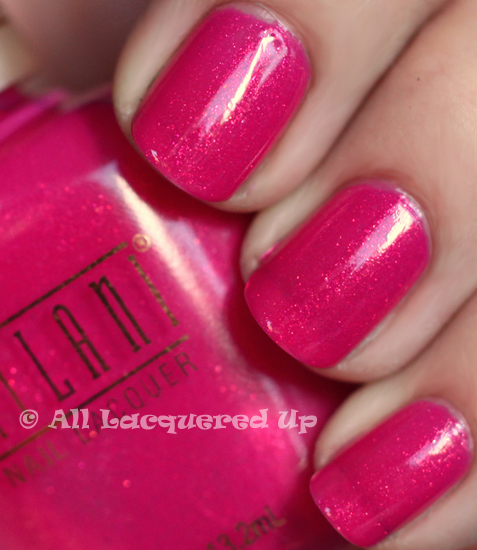 Bottom Line: The finish is lovely, no doubt, but I can't picture myself grabbing for this one anytime in the future. In spite of the barely noticeable VNL, I'm sure it would make for a fabulous summer pedicure and pop against a faux glow, it's just not my cup of tea.
365 of Untrieds Stash/Share Verdict: It's pretty but deserves a more loving owner. SHARE!
Milani Pink Out Loud is available at drugstores and mass retailers nationwide. Online shoppers can MilaniCosmetics.com and CherryCulture.com. Milani nail polishes retail for$4.99/ea for a .5oz bottle.
Does Pink Out Loud get your stamp of approval? How many of you already own this beauty? Am I wrong to share it?
Disclosure: I purchased this nail polish. For more info view my Disclosure Policy.