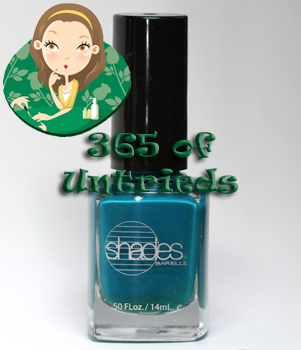 365 of Untrieds is my personal challenge to weed through the polishes in the ALU stash that I've been wanting to try but just haven't gotten around to.
Ah, where to begin. I'm not really one to overshare the details of my life that include other people but I've been kind of a mess the past of couple days. I came home Thursday from Put-In-Bay to find out that my dad went to the emergency room, thinking he had a heart attack.
As an only child with very little extended family, my parents are my whole world and my father is my rock. He may tease me like he's the older brother I never had and he may be more stubborn than me (which is a feat) but he's funny, smart, caring and, most importantly, always there when I need him.
So needless to say, I've pretty much been a crying mess ever since. Even now as I wait to see if he will be released, I'm crying just typing this. While I have every belief that he will be okay, if you could send a positive thought his way, it would mean the world to me.
As you can imagine, talking about polish is about the last thing I care about right now so I'm not even going to apologize for effing up my 365. Some things are just more important than polish.
Needing a little cheering up, I put on Barielle A Bouquet For Ava which came out with the Barielle Wildflower Collection last year and was created to benefit the Ovarian Cancer Research Fund. There's even a group that raises awareness for the disease through nail polish called Teal Toes.

Formula & Application: Barielle nail polish is 4-Free (including formaldehyde resin) and free of camphor, which can be an irritant. The long, thin plastic caps house a round, dense brush with flexible bristles. Barielle's brush was definitely developed with a professional in mind even though it is a consumer brand. It doesn't hold too much polish and it easily fans out, giving great coverage and control, without any resistance that could cause dragging.
The polish is highly pigmented, barely needing two coats, and has a thin, creamy consistency that allows you to lay down thin coats without streaking. The only downside I can see is that the color does stain a bit so be careful during removal to avoid smurf fingers.

Barielle A Bouquet For Ava is a medium teal creme that leans heavily towards blue. I wouldn't quite classify it as a "bright" even though it is rich and vibrant. I think that's what I like about it. It feels very season-less in that it isn't some moody muted color more suitable to fall/winter yet it isn't a screaming bright aqua that some may deem "too loud" outside of summer.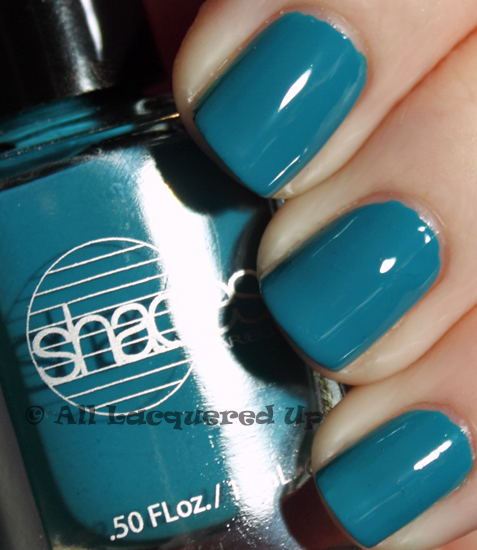 Back when I reviewed the OPI Hong Kong collection, I included A Bouquet for Ava in my Suzi Says Feng Shui comparison and against all the polishes featured, the Barielle shade is much brighter/greener than its competitors.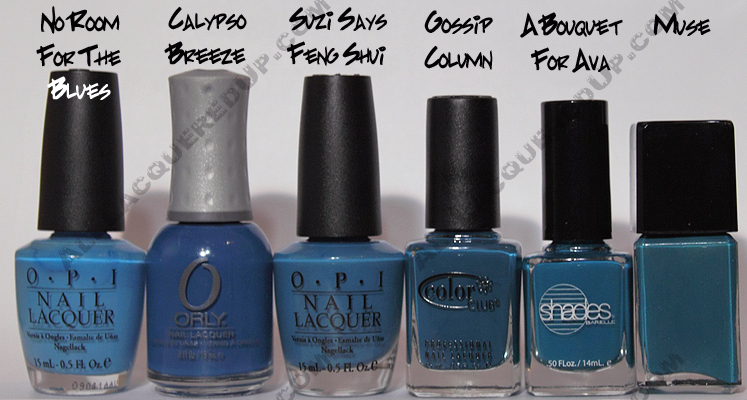 The closest I've come to finding a twin is MAC Morning After from the Alice & Olivia collection though A Bouquet For Ava isn't quite as murky or green.  Though, since that one is discontinued, it's kind of a moot point unless you own Morning After and want to avoid having too many polishes of that color family.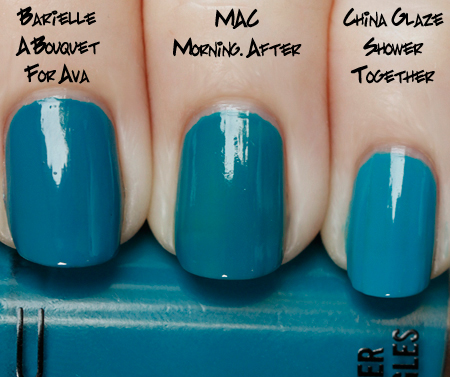 Bottom Line: The formula is full of win and the color is gorgeous. It's not the most unique shade I've ever seen and I certainly have plenty of teals but this one takes me to my happy place and right now, that's a very good thing. If you haven't tried Barielle before or you're looking to beef up your blue-green arsenal, A Bouquet For Ava won't let you down.
365 of Untrieds Stash/Share Verdict: I'm STASHing it.
Barielle A Bouquet For Ava is available online at Barielle.com. While Barielle treatments are carried in a number of retailers, Shades nail polish availability will vary by location. Visit their store locator for details. Barielle nail polishes retail for $8/ea for a .5oz bottle but they regularly offer specials to their email list and are always BOGO 50% off.
Thoughts on A Bouquet For Ava? Are you a fan of Barielle nail polish? What is your favorite teal? Have you ever polished your toes teal in support of ovarian cancer?
Disclosure: A product sample was provided by Barielle. For more info view my Disclosure Policy.