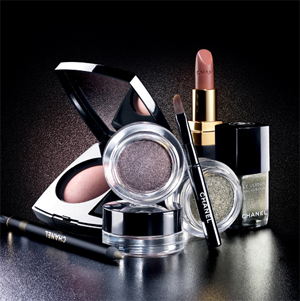 Last winter we got a peek at one of the Chanel Fall 2011 nail polishes when Chanel Graphite hit the runway but it's Chanel Peridot that seems to be getting all the buzz. Is it green? Is it yellow? Are we talking Chanel duo-chrome?
Inspired by the heritage and savoir faire of the artisanal craftsmanship of the House of Chanel, Peter Philips, Creative Director of Chanel Makeup, introduces new textures and makeup effects in a radiant Fall 2011 Collection, ILLUSIONS D'OMBRES DE CHANEL.
At the heart of this captivating colour story: Shimmering bronze, gold and platinum are the perfect complements to plum, khaki and copper shades on eyes and lips. Unique reflections of metallic green, silver and beige on nails provide the ideal counterpoint.
"Illusion d'Ombre is a new and exciting product, that's easy to apply," says Peter Philips. "I would suggest finger application. The texture is unique and has a very pleasant touch."

Chanel Peridot – Green-Gold, Chanel Graphite – Metallic Silver, Chanel Quartz – Silver Beige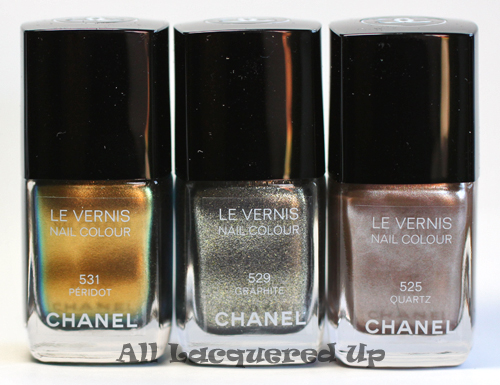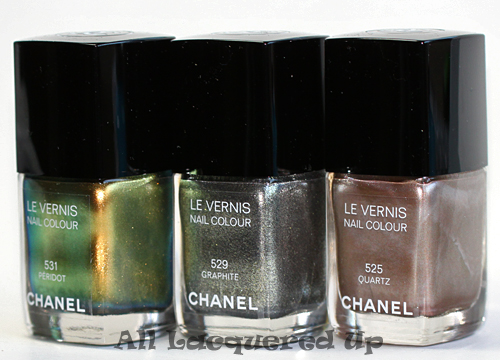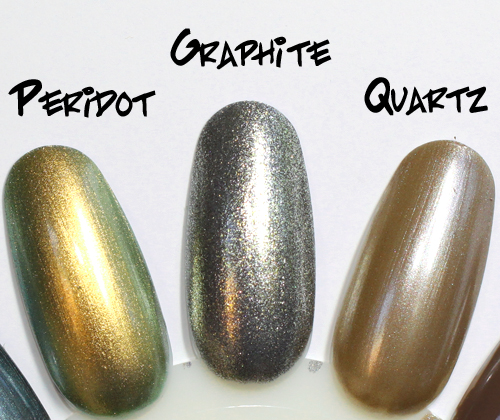 As you can see, Chanel Peridot reads very gold. It shows it's green base on the edges and at certain angles so it's definitely a duo-chrome but don't go expecting an overly green look.
Chanel Graphite has little gold flecks and to my eye it falls somewhere between OPI Your Royal Shine-ness and OPI Brand New Skates though I'll have to see all three on the nail to know for sure.
Chanel Quartz is unique in that typically when brands use the term it's in conjunction with pink. Based on the nail art swatch I"m not loving it and questioning whether it will clash with my skin tone but I'm going to keep an open mind until I wear it.
The Chanel Illusions d'Ombres de Chanel Fall 2011 collection is available now at Chanel counters nationwide and online at Chanel.com. Chanel nail polishes retail for $25/ea for a .4oz bottle. Both Peridot and Graphite are listed as Limited Edition colors.
What are your initial thoughts on the Fall collection colors? Will you be running out to scoop up any of these colors? Which of the three do you think will be the big hit? Are you into a green-gold duo-chrome?
Disclosure: I purchased these nail polishes. For more info view my Disclosure Policy.