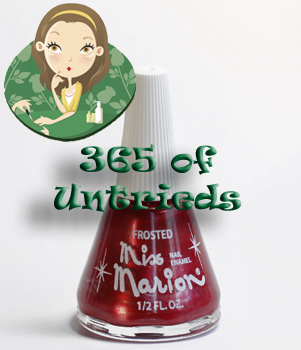 365 of Untrieds is my personal challenge to weed through the polishes in the ALU stash that I've been wanting to try but just haven't gotten around to.
Yesterday the boyfriend and I hit the 12-year mark in our relationship.  It's kind of unbelievable when I think about it. How young we were, even though I thought I had lived a thousand lifetimes.  How random our meeting was via an old high school friend I hadn't seen in years.  How we have built this wonderful life together with no real plan to it all.  I'm very lucky to have him in my life, though saying "12 years" sure does make me feel old.
Since the boyfriend is a fan of red nails, as many men are, I decided to polish them with a fiery red hue recommended to me by Athena Elliot host of Nail Talk Radio. She told me that Miss Marion Garnet has magical qualities so I just had to get a bottle and find out for myself.

Formula & Application: Miss Marion nail polish is 4-Free (includes formaldehyde resin). The bottle looks very old school with it's rounded pyramid shape and tall ribbed cap.  The brush is short and fat and picks up a lot of polish so make sure you wipe the brush well.
In terms of pigmentation, it gets the job done.  I only applied two coats, due to time constraints, and while to the casual observer my nails are covered, I can see the tiniest hint of VNL (visible nail line).  I would have applied three coats if I had time.

Miss Marion Garnet looks like a faded berry toned red when you first apply it to the nails.  As the bottle label indicates, it is very frosty and the brush strokes show.  Honestly after putting on two coats, I was all, "Where's the magic?"  THEN I added top coat and shock me, shock me, shock me with this electrified red hue.  We're talking bright candy apple red.  I took a pic of the polish before top coat, next to one nail with top coat to show how it transforms.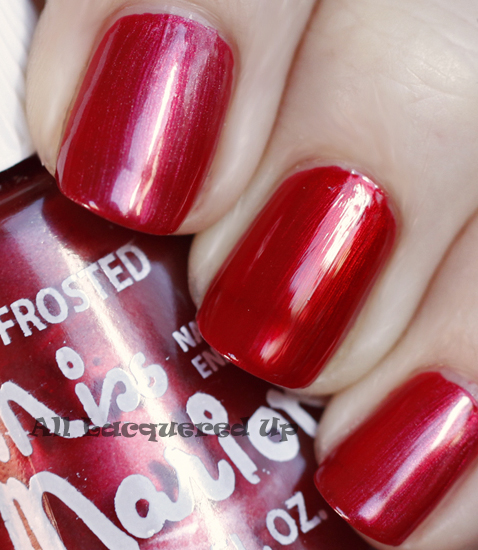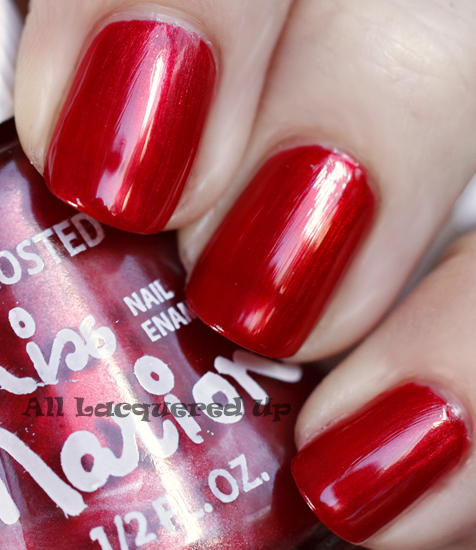 Bottom Line: The finish is a bit too frosty and brush stroke-y for my taste but it will be fun for our anniversary night out (we're celebrating a day late).  Plus, it is fun to watch the color change as the top coat dries.  If you can find it easily and are a fan of reds, pick up a bottle.  You won't be disappointed.
365 of Untrieds Stash/Share Verdict: STASH.  Even if I only wear it for our anniversary.
I found Miss Marion Garnet on eBay. I paid $9.99 for three bottles but Athena says you can find the brand in hair stores.  I don't remember seeing them in my area but maybe the brand is more popular in Texas where she lives.
Have you seen Miss Marion polishes before?  Thoughts on the brand?  Do they have any other colors that do this?  Would you pick up a bottle of Garnet if it was more accessible?
Disclosure: I paid for this polish. For more info view my Disclosure Policy.