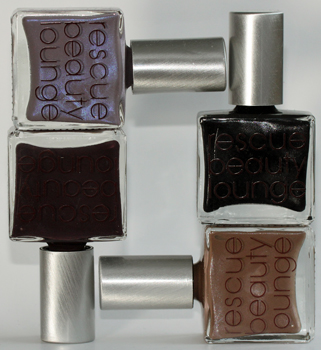 If you are signed up for the Rescue Beauty Lounge VIP email list then you know that the Iconic/Ironic Collection 48 hour Pre-sale started today.  If you're not on the list I don't know what you're waiting for.

To help make your pre-order decisions a bit easier I sorted through all your helpful comparison suggestions to give you a better idea of how the colors really look.  I wasn't able to address every request but I think I came up with some comps that will assist you.  One thing you won't find here is the use of the word "dupe."  As we've come to expect from RBL, these colors are un-dupeable.  Keep reading to see what I mean.

I've included my original swatch pictures as a reference. Due to daylight differences the colors may look a bit different in the comparisons but, if anything, it should give you more insight to the shades.
Iconoclast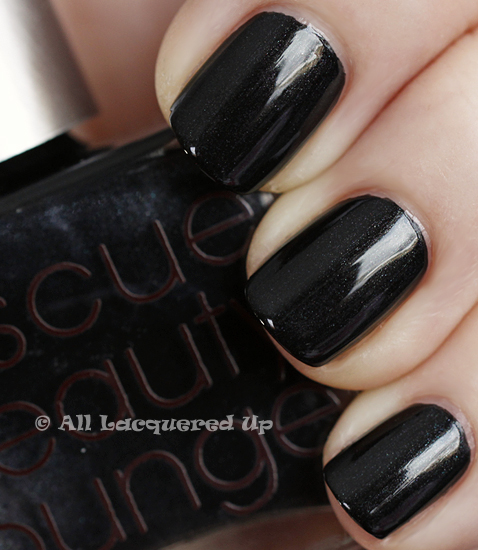 In sorting through your Iconoclast requests quite a few of you mentioned OPI Baby It's Coal Outside, Orly Goth and Lippmann Hit Me With Your Best Shot.  All of those shades were either too glittery (Iconoclast is a shimmer) or too grayed.  The closest I could come in finding a true black shimmer was Zoya Raven though it lacks the mutli-colored shimmer in Iconoclast.  Lancome Piha Black has too much micro-glitter to be a shimmer but it definitely has the same inky black base as Iconoclast.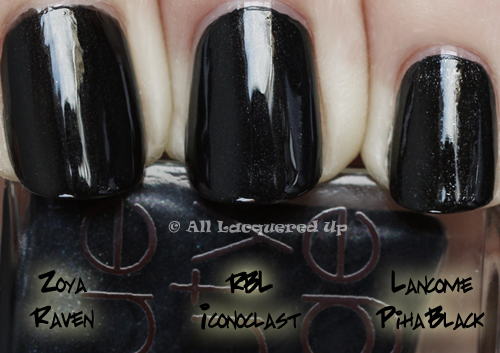 Decorous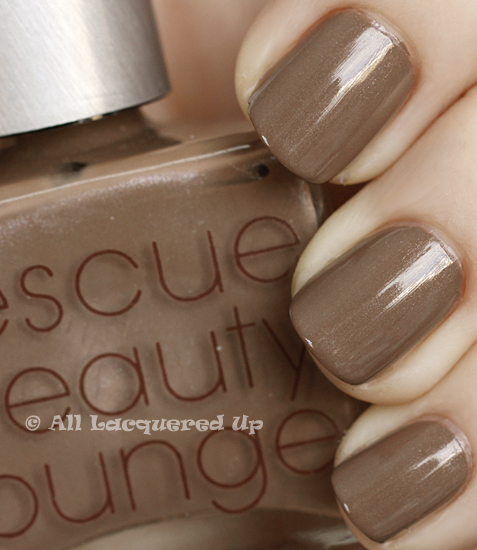 Decorous drew the biggest response and the requests were so varied and diverse.  The majority were either too warm or too cool in comparison.  This is a unique flower indeed.  I started with the cremes to take a look at the base color.  Essie Hot Coco is more red toned while Orly Prince Charming is a cooler taupe shade.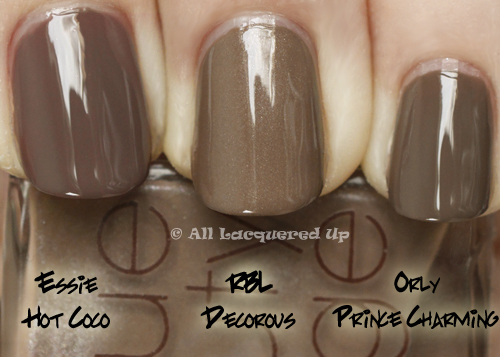 For some reason quite a few of you thought butter LONDON All Hail The Queen (formerly All Hail McQueen) would be a match but as you can see the two couldn't be more different.  China Glaze Ingrid on the other hand with its golden shimmer and dark brown base looks like a sunbathed version of Decorous.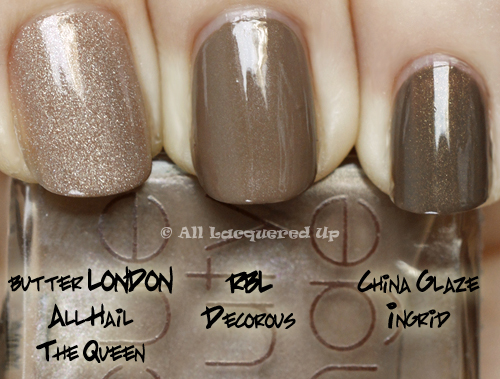 Insouciant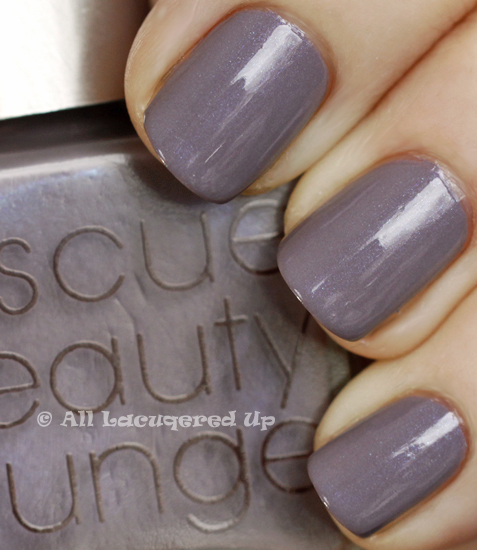 If you read my initial review you know that my love for Insouciant is strong and growing every day.  As I expected I was hard pressed to find anything that has the same grayed out lavender base.  My best comparison options were OPI Parlez-Vous OPI? and Essie Merino Cool though neither one stands up to my new light purple BFF.  Parlez-Vous is more vibrant with reddish undertones while Merino Cool crosses over to the dark gray side of purple.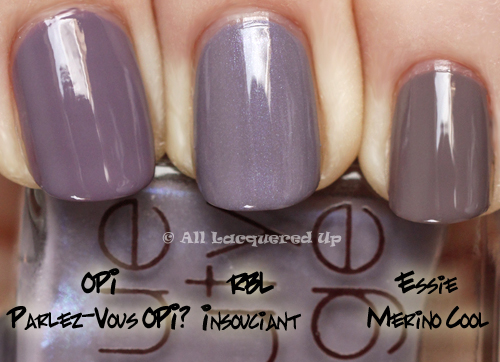 Recherche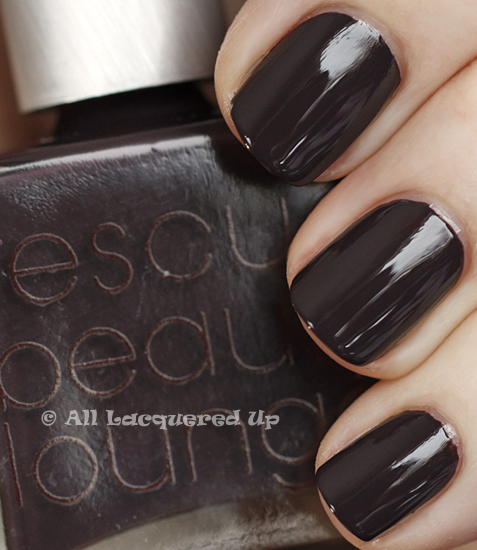 Recherché is a tricky girl.  The Beastie Boys could have been rapping about her.  No matter what polish I put next to her, she stands out from the crowd.  I tried with some of the berry based vamps you suggested (RBL Film Noir, OPI We'll Always Have Paris, Zoya Casey) and Recherché looked more smokey and purple based, a la Chanel Paradoxal.  Then I put her next to Paradoxal and your other request Essie Smokin Hot and she looked more plum/brown.  I told she is a chameleon!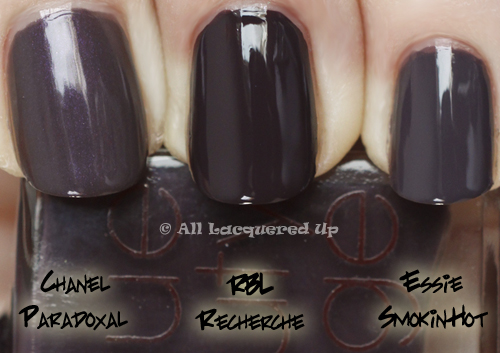 The Rescue Beauty Lounge Nail Polish 48 Hour Pre-Sale is going on now. You need to be on the VIP email list to receive the link to the sale. If you aren't on the list but desperately need to be a part of the pre-order contact customer service and see if they can get you in.  Rescue Beauty Lounge polishes retail for $18/ea for a .4oz bottle.
I hope my comparisons were helpful.  If you made up your mind based on one of my shots, I'd love to hear about it.  Also, I told Ji that I'm betting on my girl Insouciant being the top seller of this collection though she's betting on another.  Who thinks I'm right?  If you jumped on my Insouciant bandwagon during the sale, let me know!
Disclosure: Product samples were furnished by Rescue Beauty Lounge. For more info view my Disclosure Policy.