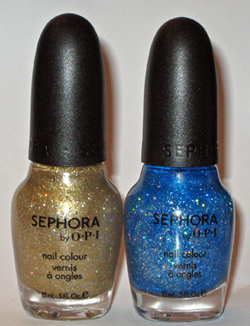 This past weekend the boyfriend and I went to Pittsburgh to visit with friends.  I also went to see Chelsea Handler's Chelsea Chelsea Bang Bang Tour Saturday night.

I am a religious Chelsea Lately watcher and I adore her on the show but her stand up was a REAL disappointment.  As Chelsea would say, "It's not great!" Her behavior was so manic you would think she was having an episode on stage. Like to the point that I was worried about her.  And her act was so old that I remembered some parts from her 2007 Comedy Central Presents show. Time for some new material Chelsea.

Anywho, I wanted a blingy manicure for the weekend and two of the Sephora by OPI polishes I purchased during the Friends & Family sale called out to me.  A reader suggested that I try Looks Like Rain, Dear but Midnight Mambo looked really pretty as well so I decided to combine them into a multi-colored mani.

Application & Formula: Sephora by OPI polishes are 4-Free (including Formaldehyde Resin).  The bottle design is unique to the SOPI with it's smooth rounded black cap and bulbous base.  The brush is round and flexible allowing for an easy application.  The brush reminds me of the old OPI round brush and I wouldn't doubt that they are the same.
Both of these polishes are opaque glitters so they apply pretty thick and gloopy but they're easy to control.  The polish doesn't spread out right away so it basically goes exactly where you place the brush.  I didn't experience any patchiness, unevenness, etc.  The only downside is that there is a LOT of texture due to the various amount of glitter particles in each polish.  So if you're looking for a completely smooth finish, be prepared to layer on the top coat.

In combining the colors, I made Midnight Mambo my accent color with Looks Like Rain, Dear on all my nails except the ring fingers.  Because I always have the same two rings on my ring fingers I tend to choose those nails for my accent color to draw attention to them.  Otherwise I make my thumbs the accent since I text a lot.
The concept of highlighting your thumb nails with an accent color or rhinestones was dubbed Blackberry Bling a couple years ago during fashion week and while I originally laughed at the idea, I must admit I like it from time to time.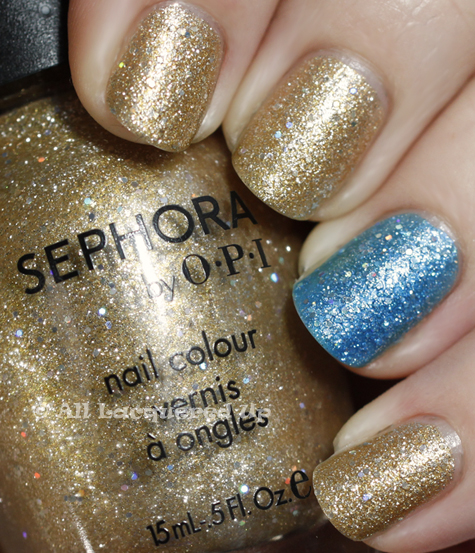 Looks Like Rain, Dear is a burnished gold glitter. It's packed with gold and silver micro-glitter and chunkier hexagonal glitter that reflects a rainbow of colors. Because there is pigment in the base, the color is pretty opaque with two coats though you might find a third necessary. My only complaint with this polish is the name. I find it utterly lame.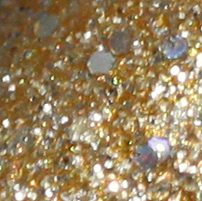 Midnight Mambo has an electric blue base and it's filled with blue & silver micro-glitter and blue and silver hexagonal pieces. The silver particles reflect the light making them look prismatic, similar to LLRD only a bit more noticeable. This one applied in an easy two coats.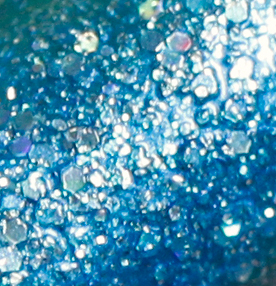 As you can tell from the close up swatches above, the finish is really chunky and that was with one layer of Prolana Quick & Slick top coat (the company changed its name).  I ended up pulling out the big guns, Seche Vite, and still felt some texture but it was definitely an improvement.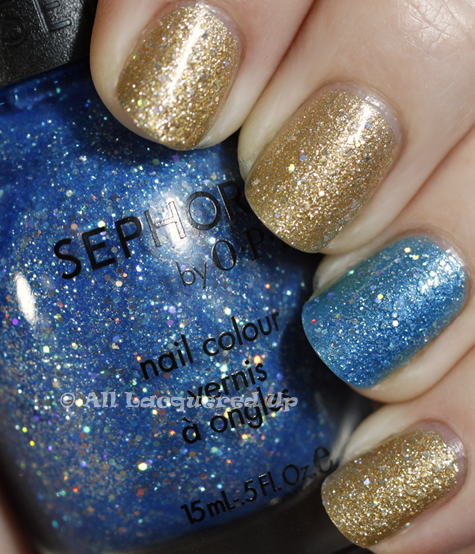 Wear Test: I wore this mani for a full five days before taking it off and to be honest, I really didn't want to.  It made it through bowling without a chip or sign of wear.  It wasn't until Sunday, while I was shopping at IKEA, that I got my first chip on my ring finger (figures!).  I went to grab a Helmer off the self-service shelf and totally biffed my nail. If that hadn't happened, I would have kept it going a few days longer.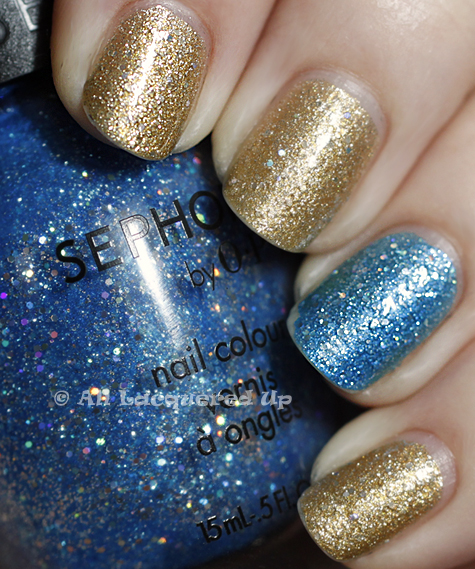 Bottom Line: If you're looking for two coat, full coverage bling, stop your search.  Midnight Mambo and Looks Like Rain, Dear are winners.  They make a great color combination for the holidays and give you sparkle without looking too young or like a total glitter party.  They are as big of a pain to remove as traditional glitters but it's the price you pay.
Sephora by OPI Looks Like Rain, Dear is available online at Sephora.com and in stores as part of the SOPI Holiday 2010 collection.  Midnight Mambo is an online exclusive.  SOPI polishes retail for $9/ea for a .5oz bottle.
What do you think of my multi-color manicure choices?  Are any of you rocking either of these colors?  If you haven't jumped on the glitter bandwagon, do more subtle, opaque shades like this pique your interest?
Disclosure: I purchased these polishes myself.  For more info view my Disclosure Policy.