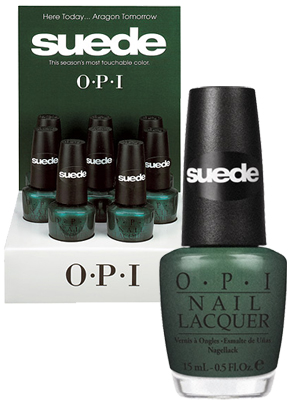 After a long and lovely Thanksgiving break, I'm back to blogging.  I took a bit of a break to give my nails a rest from swatching and to focus on enjoying the holiday with my family and friends.

The boyfriend and I hosted dinner again this year and all I can say is I am very thankful to have found a man who can cook, and cook well. I'm a disaster in the kitchen and he is a Turkey Day champ!

We packed our schedule pretty full including Cleveland's Winterfest Wine & Ale Fest downtown Saturday night. Naturally I was running late so I relied on my usual last minute manicure trick, matte nail polish.  It's a quick drying lifesaver.  Given the holiday theme of the event I opted for a green, OPI Here Today… Aragon Tomorrow, and it's the perfect shade for the season.

I know matte nail polishes are "so last season" but I'll tell you what… I love having them in my arsenal of lacquer.  When you're running late, as I often am, it's a great way to slap color on your digits without worrying about smudges or dents. The last thing I do before leaving the house, with my shoes & coat on, purse packed, keys out and easy to grab, is slap on a couple of coats of matte polish. It's dry before I get out the door.
Now I don't wear the truly matte colors, devoid of sparkle. The flat wall paint is look is not for me.  I opt for the shimmery colors, like the OPI Suede and Zoya Matte Velvet hues.  On Saturday I pulled Here Today… Aragon Tomorrow.  It's a rich emerald green that screams "HOLIDAY!"  It's a pretty true green, with more yellow than blue in its base.  The only problem is it's so stunning wet, that it looks boring and disappointing on its own.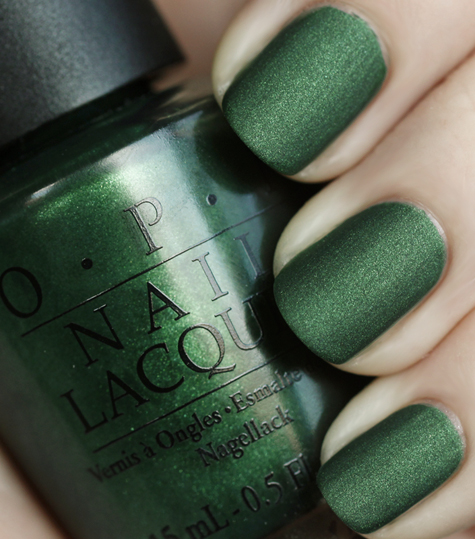 I remembered ALU Fanatic Cathy posted a pic of HTAT with top coat on the ALU Facebook page so I slapped on one layer of Olan Quick & Slick to bring the luscious shimmer to life.  Though as you can see below, one coat left the polish with more of a satin finish.  Since I was on the run, I didn't realize it until I arrived downtown but it got the job done.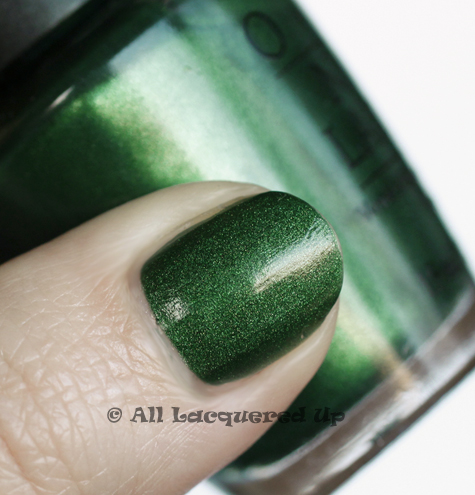 These last two images were shot two days later and the polish is holding up nicely. I'm wearing it tonight to a preview dinner for a new restaurant in town & have no tip wear or chips to repair. However I did add a second coat of Quick & Slick to maximize the glossiness.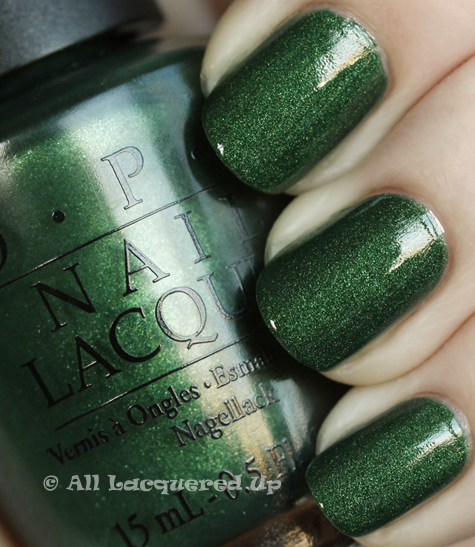 And here's a look inside the event. The Winter Wine & Ale Fest was held at 200 Public Square, the former BP Building. The Downtown Cleveland Alliance brought together 20 local breweries and wineries to sample their seasonal and most popular beverages. The proceeds from the event go to "Generocity Cleveland" which funds programs, services and a social worker to assist the homeless with documentation, job placement and permanent housing.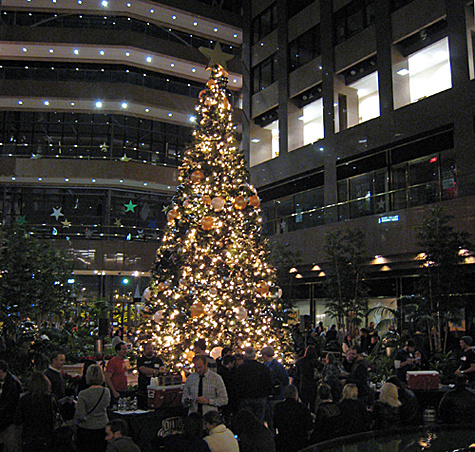 I discovered a new favorite holiday beer, Hoppin' Frog Frosted Frog, a spicy Christmas Ale with a lot of yummy clove, and sampled old faves from Thirsty Dog Brewing and South River Winery. I love an event that supports local businesses and works to build a better downtown CLE.

OPI Here Today… Aragon Tomorrow Suede was released in late summer for the fall and it can still be found online, including eBay, if you choose to go that route.
Other options include Zoya Veruschka and Revlon Emerald City. Veruschka is from the Winter 2009 MatteVelvet collection and looks very similar to OPI HTAT. Veruschka is a bit darker but the difference is negligible. I haven't seen the Revlon yet but since it came out for fall you may be able to hunt it down.
Does anyone else rely on matte polish for a last minute manicure?  What's your go to solution for looking polished when time is of the essence?  How many of you wear a glossy top coat over your matte/suede polishes? Is anyone still wearing mattes as mattes, just for fun and not because of necessity?
Disclosure: A product sample was provided by OPI. I purchased tickets to the Winter Wine & Ale Fest. For more info, view my Disclosure Policy.