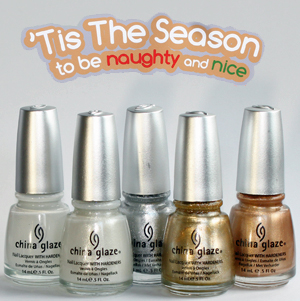 Celebrate the Holiday Season with Sugar, Spice and Everything In Between
If you missed the first part of my China Glaze 'Tis The Season To Be Naughty Or Nice review make sure you check it out to see the blue and greens from this collection.
Today we're talking about the Golds, Silver and Whites from the sixteen piece collection.  You may remember that my all time favorite white nail polish on the planet is China Glaze White-Kwik-Silvr.  It's white polish perfection.  So when I spotted a sparkly white coming out for holiday I hoped I would find a WKS twin.
Read on to see if Frosty lived up to my dream and to check out Cheers To You, Jingle Bells, Midnight Kiss and Snow.

Formula & Application: China Glaze is a 3-Free brand with a round brush that is both medium in length and firmness with enough give to allow for ease of control. The cap is slightly tapered and made of smooth plastic that is comfortable to hold. For the Holiday collection China Glaze brought back the brushed silver caps that were used on the Platinum/Urban Chic & Kaleidoscope collection bottles. It adds a little something special to look.
This section of the collection includes two foil finish polishes, one creme, one metallic and one smooth glitter.  With the exception of the two whites they all give full coverage with two coats.  The foils and smooth glitter applied phenomenally well, drying to an even finish while the metallic had some brush stroke issues and the creme had problems leveling out.

Cheers To You is a silver foil metallic that dries with a highly reflective, brushed finish.  This one along with its gold sister, Midnight Kiss, both have the same look as the Orly Foil FX polishes.  It's chrome without the mirror-like quality.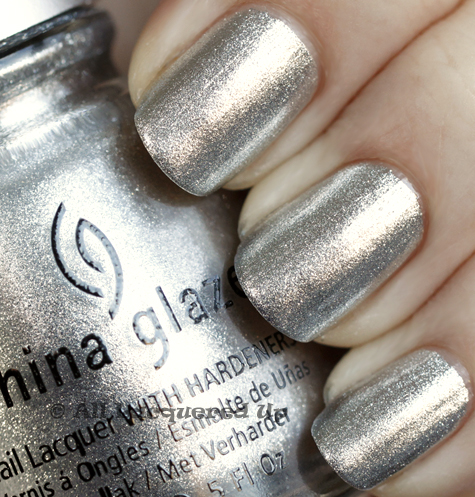 Of course I had to pull Orly Shine to compare it to and they are pretty much identical even if that doesn't show in the photo.  The shade and finish are pretty dead on.  The only major difference I see is that Cheers To You is more pigmented.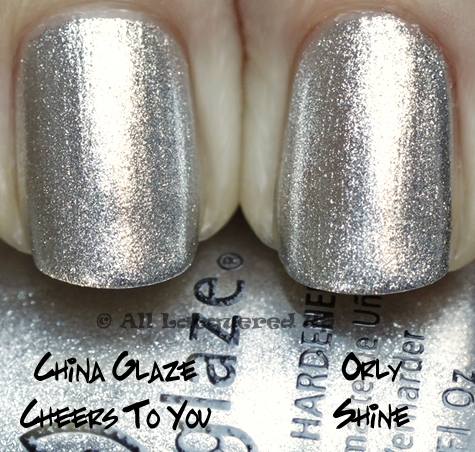 Frosty is the girl I was telling you about.  The potential WKS twin.  It's a creamy white with smooth glitter that becomes opaque with three coats.  The glitter is like a mini version of that flaky glitter we talk about in Nfu Ohs.  It lays flat but reflects light extremely well resulting in a high sparkle polish.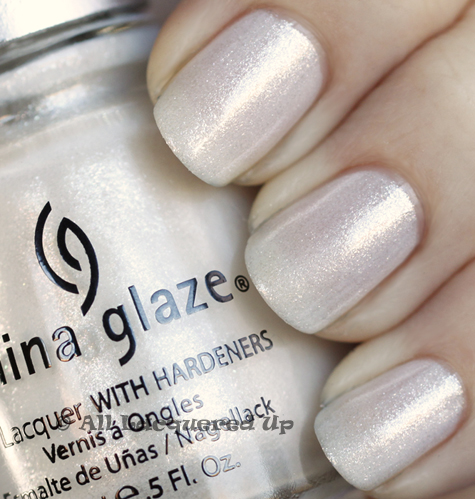 Now for the big question… is it a White-Kwik-Silvr dupe?  Almost but not quite.  The color is not identical plus there's just something about that glass fleck finish that sets it apart from the herd.  While it's not as noticeable in photos, in person I can see the slight difference.  Am I disappointed though?  Not really.  Frosty is a great substitute for WKS and is getting a permanent home in my collection.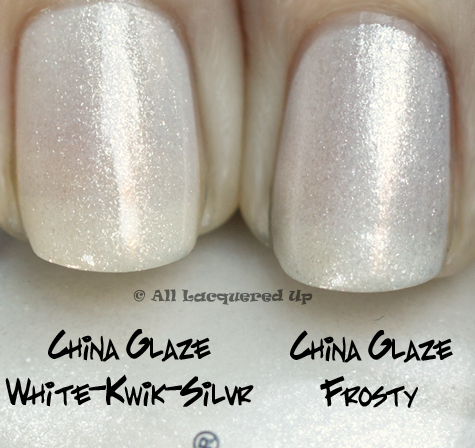 Snow is a basic white creme.  Great for layering but hard to pull off on its own.  Whites can tend to look like you took correction fluid to your nails (am I dating myself with that reference?).   The bonus of Snow is that it's not chalky but the formula could use some work.  It's pretty streaky and lumpy.  I prefer China Glaze White Out over Snow however if you end up getting Snow, I suggest using a thin first layer, thick second layer and thin third layer for the best finish possible. Make sure you wait between coats to avoid bubbles and brush drag.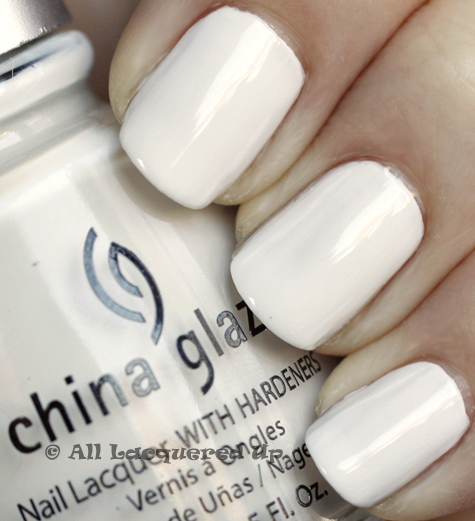 Jingle Bells is a reddish tinged gold metallic.  It's plagued with brush strokes but I've seen worse.  It's not like the Romantiques or anything.  The mini flecks of glitter break up what could be a brush mark nightmare giving it a more pounded metal look.  I know China Glaze describes this as a champagne color but to me it feels like a cross between champagne and bronze.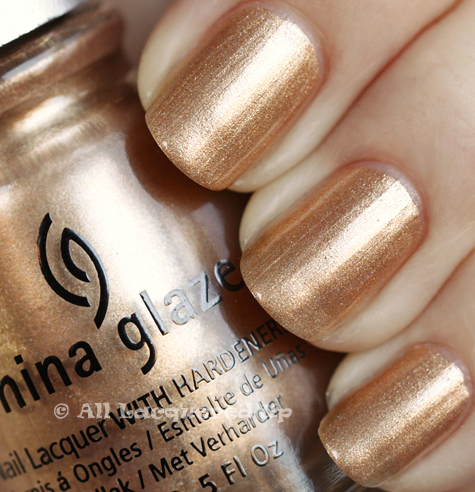 In the bottle, I thought Chanel Gold Lamé would surely be a twin but on the nail, it's much lighter, less bronzey and missing the micro-glitter in Jingle Bells' finish.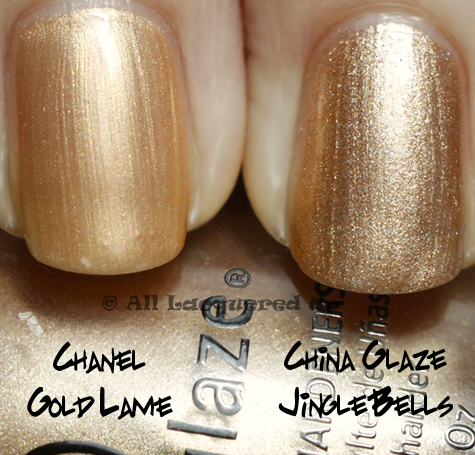 Midnight Kiss is a gold foil metallic like Cheers To You.  It's a pretty pure yellow gold but it's light enough that it will still work with cool skin tones.  It's a pale, blond version of gold.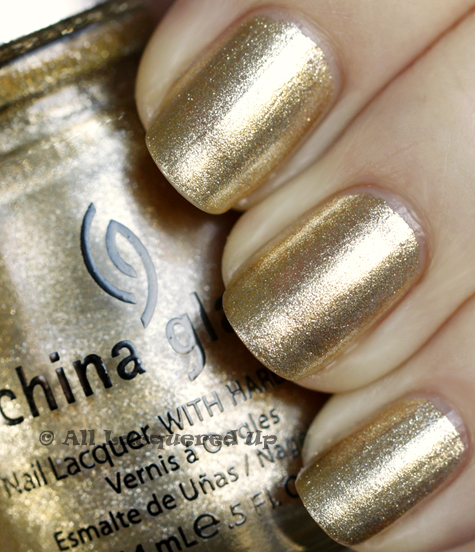 Again I went to the Orly Foil FX collection in my dupe search and this time I came up short.  Orly Luxe is also a gold foil but Midnight Kiss is a bit more beige.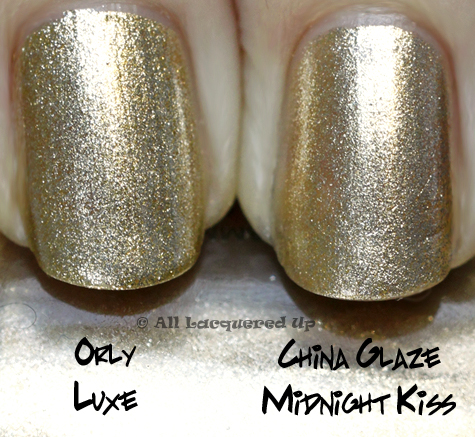 Bottom Line: If you're a foil finish fan and you don't have the Orly Foil FX polishes snap up the China Glaze versions.  Frosty is a must if you love whites, especially if you covet my beloved WKS.  Jingle Bells gets a pass from me.  It's not my bag and the finish throws me off.  If you need a white creme get China Glaze White Out instead.
The China Glaze Holiday 2010 Collection is available now and a limited release so scoop it up while you can. Retail prices vary by store but online pricing is around $3/ea and store pricing is around $6/ea for a .5oz bottle. You can find China Glaze polish online at Head2ToeBeauty.com, 8ty8Beauty.com and TransDesign.com and on shelves at Sally Beauty and ULTA.
You can also find these colors in some of the Holiday 2010 gift sets.  Snow & Frosty appear in the Peppermint Kisses with Holiday Wishes set, Midnight Kiss comes in the Cheers To You set (with Cheers To You) and the Dreamin' of a Green Christmas set and Jingle Bells is included in the Celebrate In Style set.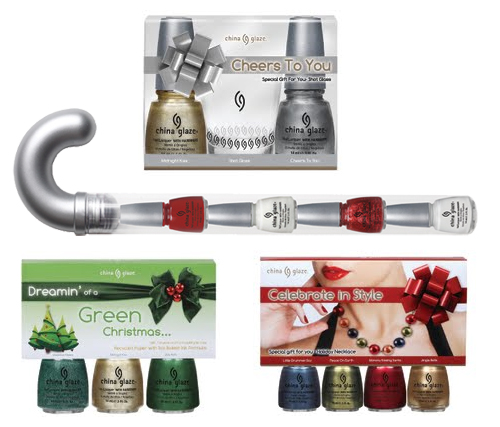 Are we feeling these?  Those of you who own White-Kwik-Silvr do you agree that Frosty is a good substitute if not a dupe?  Have you found a WKS twin?  Does anyone else agree that all metallics should be foils, like CTY & MK so the brush stroke madness will end?
Disclosure: Product samples were provided by China Glaze. For more info, view my Disclosure Policy.