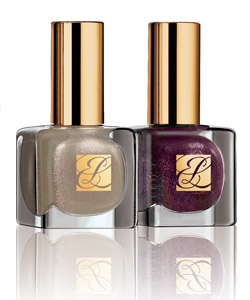 The Estee Lauder Holiday 2010 collection is filled with rich golds and reds that sound like your typical holiday fare but thanks to Creative Makeup Director Tom Pecheux, these traditional shades were given a glamorous twist.

"Fantasy, luxury and of course femininity were my inspirations for this Holiday collection. There are many lip and eye colors to play with and they all have a wonderful texture for an easy application." Tom Pecheux, Creative Makeup Director, Estée Lauder

It's been a while since an Estee Lauder nail polish has really grabbed me but Extravagant Night brings a sultry party to the nails.  And its pale gold counterpart, Extravagant Pearl, is the shade we saw gracing the Derek Lam runway just last month at New York Fashion Week.

There are very few things that can get me out of bed before 6am but watching Tom Pecheux work his makeup magic is one of them.  He's not only a talented artist but his sexy French voice is enchanting.  It's such a clichéd phrase but I really could listen to him read the phone book.  It ended up being a double bonus morning at Derek Lam with Jin Soon Choi working the nail scene.
I spoke with Tom about the graphic orange eyes he created using primarily lip products in lieu of shadows.  This was the third show where he incorporated white into the eye look so expect that to play into the Spring trends. Tom shared that Derek Lam's collection was based on a book about how the West coast interpreted the minimalist style of the East coast during the 60s.  To compliment the blues and earth tones in the clothes Tom paired a sun kissed face with nude lips and a strong, statement eye.
Using Double Wear Stay-in-Place Lip Pencil in Coral as a base he layered two new Pure Color Lipsticks over top.  He then placed an architectural white triangle on the inner corner under the eyebrow to change the shape of the eye using a new white shadow. The pretty, nude lip color is also part of Spring collection that will be launching in March 2011.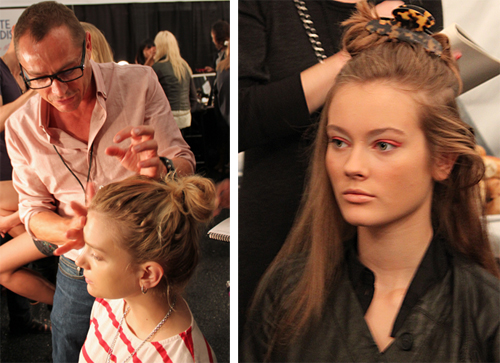 While speaking with Tom about the look I snapped a few shots of the Spring 2010 Pure Color eye shadows and two new Pure Color Lipsticks that were blended to create the bold orange eye.
Manicurist Jin Soon Choi tended to the models' fingers and toes using one coat of the Holiday 2010 Collection nail lacquer, Extravagant Pearl. She told me they decided on one coat of polish because they didn't want too heavy of a hand for Spring. The pearl color with its gilded tone complimented the orange in the makeup and clothes. It's minimalistic but the pearly sheen pops against the runway lights to create a finished look.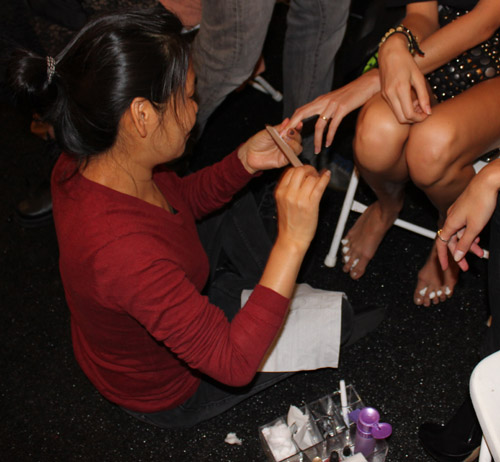 When I saw Extravagant Pearl backstage my initial thought was, "Boring!"  A pearly sheer; been there, done that.  However, it's much more pigmented than I expected as evidenced by the two coat swatch below.  With three thin coats the polish is completely opaque.  While this isn't really my kind of color it has a lot of depth thanks to the golden sheen and flecks of silver micro-glitter.  This isn't your grandma's pearl polish.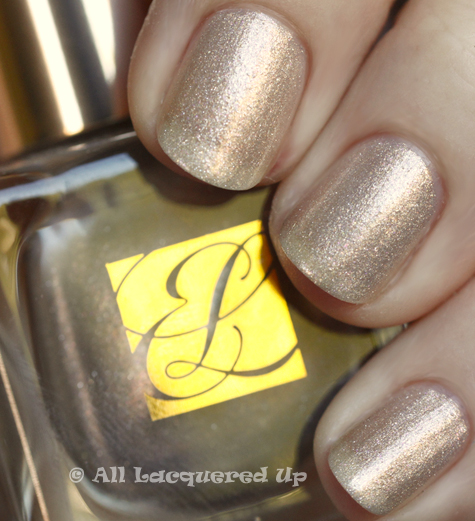 Now Extravagant Night got me so excited that I raced to put it on. In fact I wore it last weekend and have had a number of people ask me about it. Under the incandescent lights in my brow waxer's room she thought it was OPI Tease-y Does It. They're so not the same but I'm just as smitten with Extravagant Night as I am with Tease-y.
Extravagant Night made me think of NYC Cognac Sparkle a beloved shade in the nail community. While the polishes aren't the same, they have a similar feel. EN has a blackened base and needs three coats to become opaque but the final result is a mystical, plummy sparkler. There is a bit of gold pearl that can be picked up at certain angles and silver micro-glitter that looks like little twinkling stars.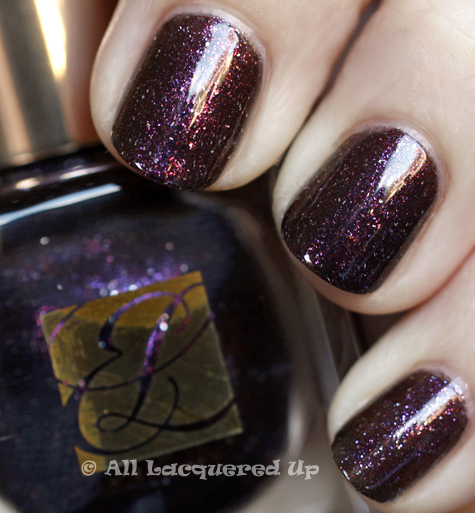 While we're talking Holiday, I just have to gush about the Extravagant Gold Eyeshadow Palette in this collection. As much as I love to buy bright colored shadows, and I have a drawer full of them, I wear neutrals more than anything. Browns, golds, taupes, etc.
For the past year if you looked in my makeup bag you'd see the Dior Holiday 2009 palette. It's been my go-to for just about everything.   I've used it so much I'm hitting pan.  I know it's lame sauce to wear the same look all the time but I'm a sucker for a well coordinated palette because it's no-brainer makeup.  Well now I can happily retire my well worn Dior for this beauty which is even more stunning in person.  The soft shimmer and silky, blendable texture just don't translate here but in person, it's a winner!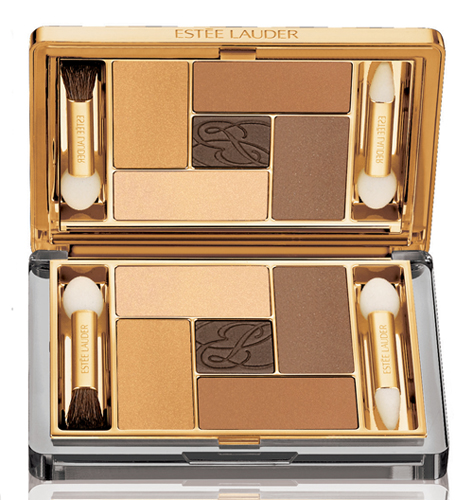 The Estee Lauder Pure Color Extravagant collection is on sale now on EsteeLauder.com. The Pure Color Nail Lacquers retail for $18/ea for a .3oz bottle and the Pure Color Eyeshadow Palette in Extravagant Gold retails for $42.
Have any of you spotted or purchased from the EL Holiday collection yet?  Are you loving Extravagant Night as much as I am?  Thoughts on the look at Derek Lam?
Disclosure: Product samples were furnished by Estee Lauder. For more info, view my Disclosure Policy.