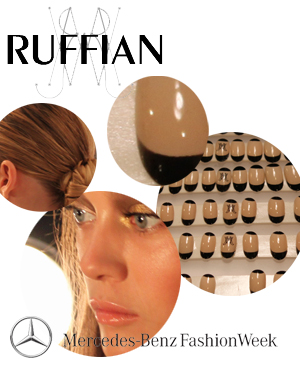 Ruffian is not just a clothing line, it's now part of the lacquer lexicon.  Last season's ridiculously popular moon manicure from the Ruffian FW runway with its matte blue base and chrome gold moon set the nail world a flutter.  Dubbed the Ruffian Manicure, numerous blogs have shared their take of CND's creation.  I especially loved Lacquerized's matte & glossy version (she posted a fab step-by-step).

Fast forward to Spring/Summer '11.  Ruffian and CND have done it again.  This season they go for a very French full moon manicure that includes colored tips as well.  I remember spying a similar look using pastels on the Christian Dior couture runway in 2007 which I believe CND created as well.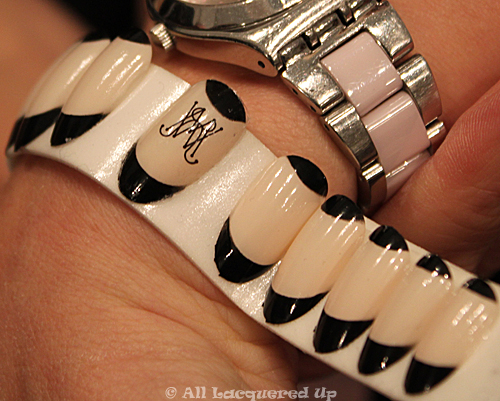 The Look
I spoke with CND's Amanda Fontanarrosa who told me that Ruffian, who have made the moon manicure their signature nail style, wanted a very sleek, elegant, 40′s vintage-inspired nail.  The base is a custom blend that you can recreate using one coat of CND Putty with one coat of CND Washed Down White on top.  The moon and tip are polished with CND Blackjack but Amanda suggested using a coffee or bronze shade to switch up the look.  To make the look completely signature a Ruffian logo was screened on the ring finger nails.
Designers Brian Wolk and Claude Morais pay amazing attention to the small details and were very specific about how deep they wanted the smile line on the nails.  In a typical French manicure the line is pretty straight across which flattens and widens the nail.  These smiles go right into the corners to create the illusion of a more sleek, elegant nail.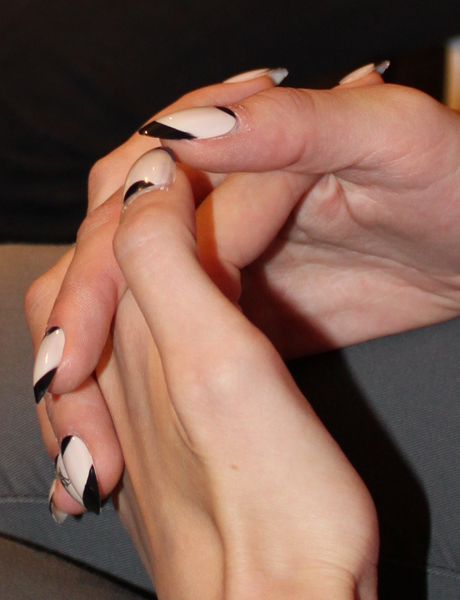 Creating A Moon Manicure
Moons are extremely intimidating to me and something I have yet to master.  The key to a moon manicure is good brush control, something I clearly lack.  Every time I've tried a moon, shaky is the best way to describe my lines.  Amanda recommends doing a little tiny swipe from one side to the other.  Don't go for full coverage, just make a clean line and then fill in.  A nail art brush/polish will make it easier to work on the smaller nails.
I asked Amanda if it's possible to create a moon without the polish hitting the skin and it seems that no matter how skilled you are, mistakes like that will still happen.  She recommends massaging cuticle oil, like Solar Oil, into the skin prior to polishing to make it easier to remove any errors.  It's actually a great tip that should be added to any manicure routine.  Let's face it, unless you are an extremely precise polisher, we all get lacquer on our skin from time to time.  Applying oil prior to polishing makes cleanup effortless.  It's actually something I've incorporated into my own routine ever since I tried the water marble technique.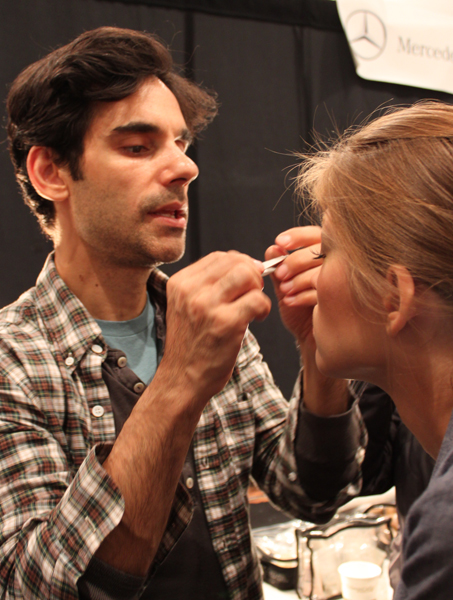 Makeup by James Kaliardos for MAC
One thing I love about interviewing James Kaliardos is that he always has such great references for his looks. It's not just descriptors like fresh, beachy, gothic, etc. Those are fine and all James really drives his style of beauty home with specific imagery. For Ruffian he described the look as being, "like Marlene Dietrich in the Sahara, Lauren Hutton traveling to Africa. It's very World War II fighting for America as an ex-patriot. So it's kind of this idea of this woman leaving her own country and adapting the culture of a new country. Sort of nomadic, a voyager. Taking her glamour wherever she goes. Sandy, dune-y, gold-y." I mean, can you even? James says he sees gold being a big trend in makeup for spring.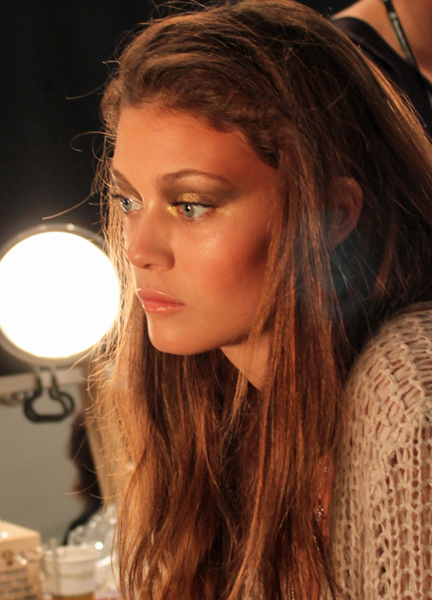 As we watched him place a set of lashes to his model someone asked for tips about applying false eyelashes. James laughed and said, "good luck" and then suggested using individual lashes. He marveled at the fact that women used to do a full face of makeup including lashes on the regular.  Honestly, I do too.  I have a hard enough time doing my makeup daily for Fashion Week.
For a full breakdown of the MAC products used for this look, check back.  I will update as soon as I get the list.
What do you think of this season's Ruffian manicure? Is it something you'll want to recreate? Do you like the moon manicure look? Who has some great tips for painting moons?