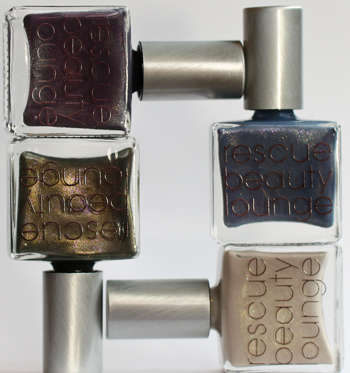 THE REAL HOUSEWIVES OF THE TUDOR DYNASTY INSPIRE A BROCADE-HUED NAIL POLISH COLLECTION FROM RESCUE BEAUTY.
The opulent fabrics, quiet luxury and return of ladylike fashions brought to mind the British Royal family to Rescue Beauty Lounge's Ji Baek. No, not the current resident of Buckingham Palace but the colorful (and often short-lived) wives of Henry the VIII.
Known for her flawless, full-coverage cremes, for Fall 2010 Ji Baek infused opulent multi-dimensional shimmer with rich, heavily pigmented hues. The result, a collection worthy of even the most royal of fingertips.
I'm personally not well schooled on the history of The House of Tudor, outside of my love for the Showtime series.  Though given the popularity of The Tudors and recent series finale, this collection, with its strong fashion driven edge, is very timely.

"I fell in love with the Tudor dynasty in the novel Wolf Hall by Hilary Mantel," says Baek. "The more I learned of the queens' wardrobes—the layers of embroidery, embellishments of pearls and fur and rich jewel toned fabrics—the more I saw a parallel with what's going on in fashion this fall."
Formula and Application: RBL is a 4-Free brand.  3-Free used to be the thing but now with so many people asking about Formaldehyde Resin as well, 4-Free really is the new 3-Free. The brush is round, of average length and on the thicker side.  It's a bit more flexible than most which makes application a breeze for me.
As one would expect from a Rescue polish, this collection is heavily pigmented.  With the exception of Jane, the polishes all applied perfectly in two coats.  I used three coats of Jane though I apply my polish thin so you may be able to get away with two.  Even though it took three coats, I was pleased to find that it applied smooth with no streaks in spite of being such a light color.
FYI: I typically don't wear top coat in my swatch pics but at Ji's suggestion I did with these.  All swatches are shown with a coat of CND Super Shiney.
Anne, named for Anne Boleyn, is a grayed olive green packed with old gold and bright pink shimmer.  The pink adds an unusual twist and in person it's even more prominent.  As you can see in the bottle pic above, the gold shimmer really captures the light but indoors it just adds a glow allowing the green come through.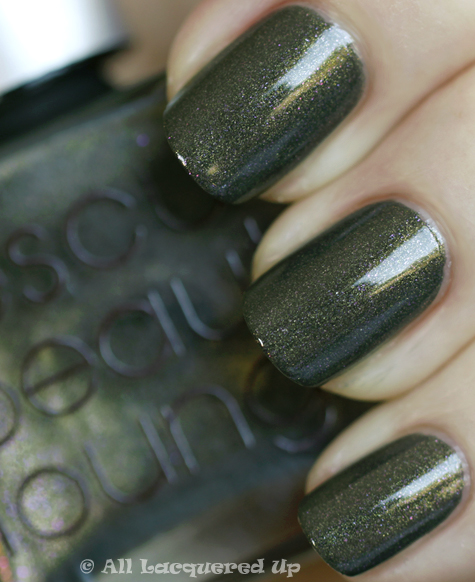 Sunlight
Catherine, named for Catherine of Aragon, is a smokey royal purple infused with pewter, bright blue and fuchsia shimmer.  On me, the shimmer isn't as prominent in Catherine as it is in Anne.  It could be that my skin picks up the gold shimmer more than the pewter.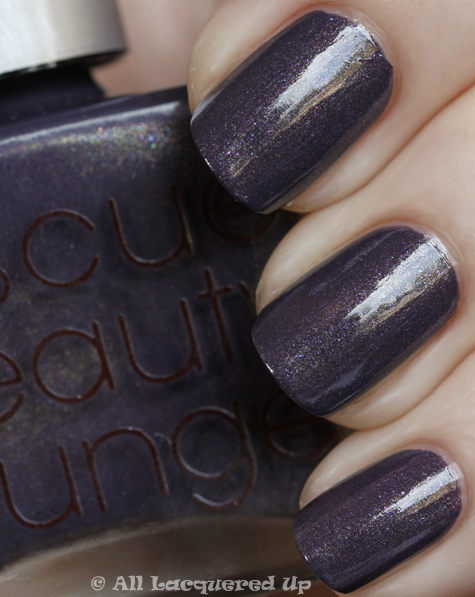 Sunlight
Catherine H, named for Catherine Howard, is described by Ji as a Wedgewood blue.  To me, it's that sky before a storm type of blue that I love.  The shimmer in this one is a combination of the old gold from Anne with the bright blue and fuchsia from Catherine.  Though what's odd is that I don't really see the colors unless I'm in bright sunlight.  Indoors it's almost like the polish has water spots which is very interesting and unique.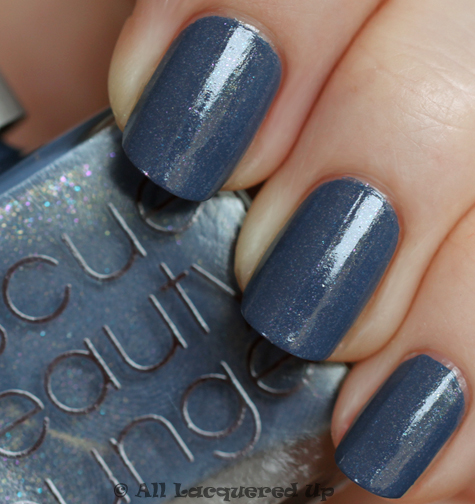 Sunlight
Jane, named for Jane Seymour, is an oyster hued creme with an injection of yellow gold, pale pink and light green shimmer.  The color is described as having lavender shimmer but I don't see it.  Though part of the reason for that could be that the shimmer is less apparent in Jane than the other three polishes.  It's really subtle, almost unnoticeable to the casual observer.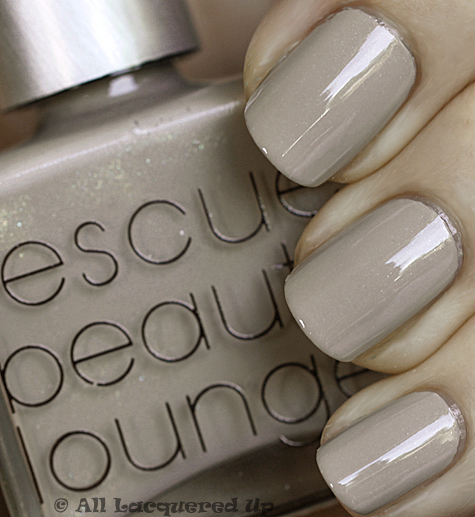 Sunlight
Bottom Line: My hands down favorite is Anne but not just because it's a green.  The shimmer is really unique and stands out the best in this polish.  The Catherines are a close second though.  Green, purple and blue are my favorite nail colors (in that order) so it's no surprise that I'm totally enamored with all three of them.  If I had to choose between those two… who am I kidding, I wouldn't!
Now I'm not a huge neutrals fan though they are pretty prominent for Fall so I see Jane selling well.  Finding a light colored creme with a bit of uniqueness that applies well is hard combo to come across so if that's what you're looking for, try Jane.
The Real Housewives of The Tudor Dynasty Fall collection from Rescue Beauty Lounge will go on pre-sale soon.  I don't have exact dates yet as Ji is still figuring that out herself.  I will be sure to update you once they go on sale.  Rescue polishes retail for $18/ea for a .4oz bottle.  Shipping is free on order over $100 ($200 for international).
Thoughts on these Tudor inspired colors?  Which is your favorite?  Will you be splurging on the whole line?  Don't forget to give me your comparison requests!
Disclosure: Product samples were furnished to me by Rescue Beauty Lounge. For more info view my Disclosure Policy.