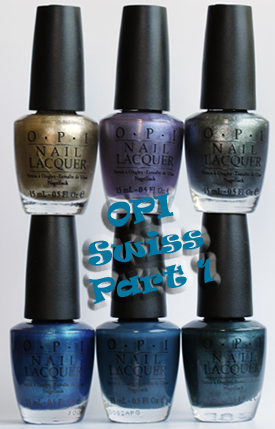 Outside of the movie Heidi, which has been remade way too many times, watches, banks and the Swiss Alps, I admittedly know very little about Switzerland. Which is why when I heard that OPI was releasing a collection based on the country I was skeptical as to what it would consist of.

Of course the OPI Swiss preview pics didn't do these colors justice.  Why the large bottle images continue to look like artist renderings is beyond me.  Clearly they have a decent photographer to take the display shots, they should being shooting the closeups as well.

Anywho, about the colors.  I will admit that I was a wee bit disappointed to find that half of the collection is in the red family but reds are still a big seller in spite of a growing number of Fanatics making the more unique shades mainstream.  At least OPI has been recognizing this and in the Swiss collection we have been appeased with six shades from the blue, green, purple and metallic color families and that's what I chose to focus on first.

Application and Formula: OPI is a 3-Free brand.  They made the switch to 3-Free in 2008.  You can identify an OPI with the 3-Free formula by the green lettering on the label.  Bottles with black lettering have the old formula.  Always check the labels to be sure.  The OPI Pro Wide brush is flat, wide and medium in length.  It's of an average stiffness and easily spreads out on the nail when pressed.  The only downside to the Pro Wide brush is that it can be too wide for slim fingers or little toes.
The application in this half of the collection was flawless.  They flowed like the old chemical-filled OPIs of years past.  I know you OPI vets will love that!  With the exception of the brush hitting the skin surrounding my little finger, I achieved a perfect three coat polish with each one.  Though there is a caveat; pigmentation.  With the exception of the one creme, all the polishes required three coats but it was close.  With two they looked okay but I could see VNL (visible nail line) so I threw on a third.  With a ridge filling base you may be able to get away with two coats.
Glitzerland is a foil finish gold metallic.  It's a cross between a traditional yellow gold and champagne.  The finish is very similar to the Orly Foil FX collection but I think the Orly's pack a bit more bling.  Though as a bonus, Glizterland leaves less sparkle behind on your skin to clean up.  This one reminds me a lot of one of my fave OPI holiday polishes, I Get A Kick Out Of Gold, so I may need to steal it back from ALU Mom in order to do comparisons.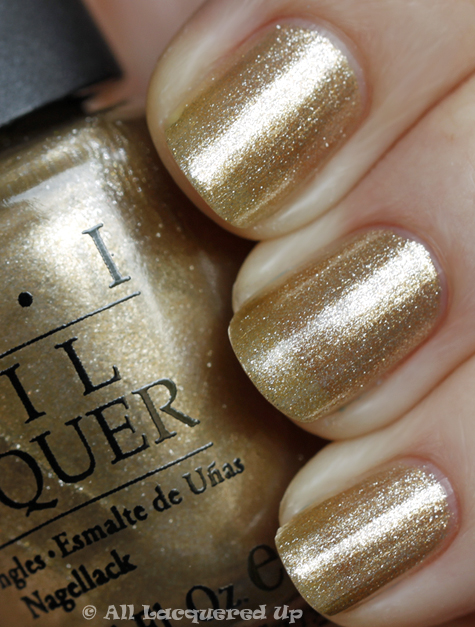 The Color To Watch is a murky lavender shimmer with a blue sheen.  It's the most sheer in the collection and even with three coats I can see VNL.  It's also a bit brush stroke-y and honestly not really my kind of color.  In fact, even with six more reds coming I have to say this is my least favorite of the collection.  It does nothing for me.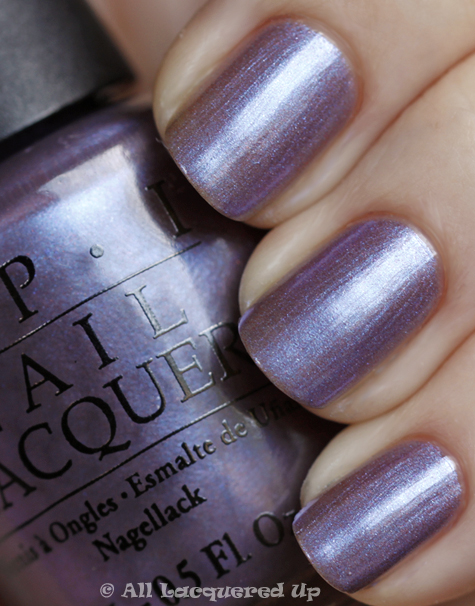 Lucerne-tainly Look Marvelous has the same finish and application as Glizterland.  They both go on semi-sheer but build up well.  This actually reminds me of the snow piles that collect in parking lots during the winter.  As the snow gets mixed with the bits of asphalt the plows churn up, it takes on this graphite appearance.  It's just not as sparkly in snow.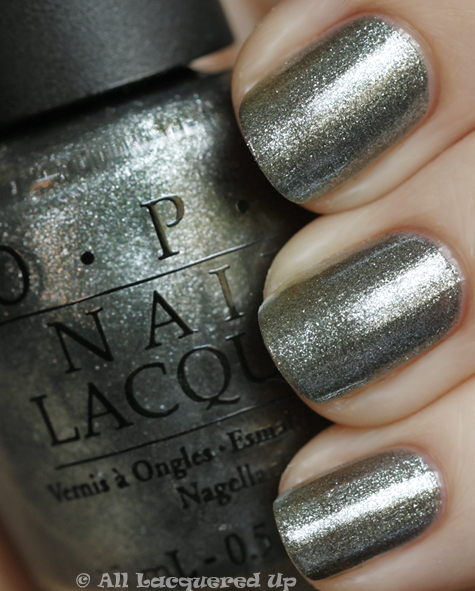 Yodel Me On My Cell is a royal blue shimmer with a tinge of green making it look more aqua.  But it's darker, like the Caribbean at night and the random specks of blue micro-glitter look like little stars reflecting on the water.  A nail tech commented on the ALU Facebook Page that to her this looks like a non-foil version of Catch Me In Your Net and while they are definitely similar, this is much more blue.  There's no green or gold flash to it.  But I see why she made the comparison.  If you missed out on CMIYN this may satisfy that lemming.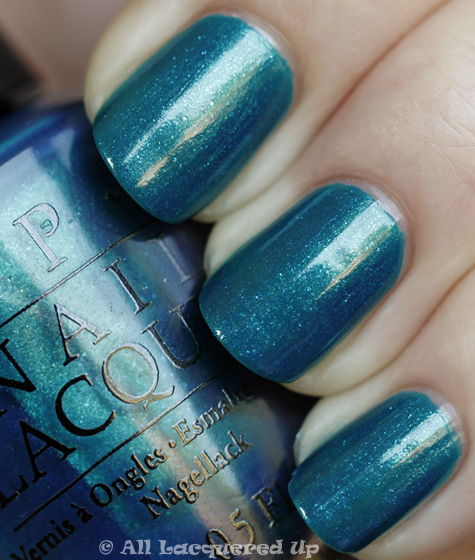 Ski Teal We Drop is a deep creamy teal.  It leans more blue than green and looks like a lighter version of Rescue Beauty Lounge Teal.  If RBL Teal was too dark for you, you're going to love this.  I'm thinking American Apparel Peacock may be a good match.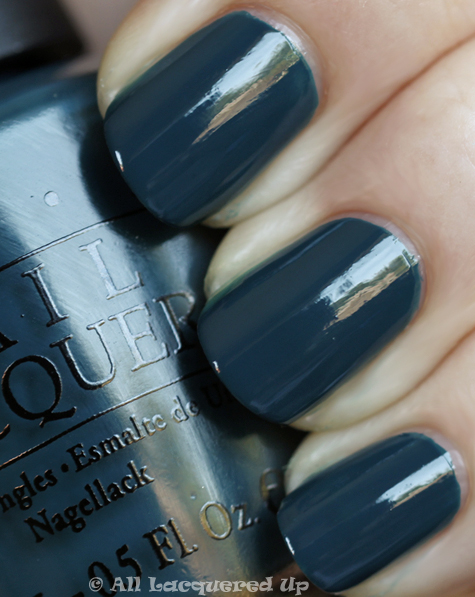 Cuckoo For This Color is aptly named as I still get giddy when I hear a new green is coming out.  Yes, even though I have drawers full of green polishes I never feel like I have enough.  But don't call Hoarders on me just yet, I can still function in my polish room.  Anyway, CFTC has a lot of blue in its base.  It's a pine green with shimmer and the same flecks of micro-glitter as Yodel.  What's bugging me, is that I feel like I've seen this before.  I keep picturing Zoya Suvi in my mind even though the finishes are a bit different.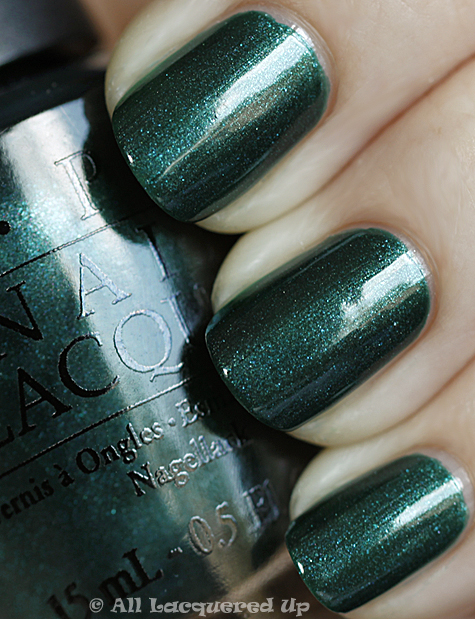 Bottom Line: The first half of the Swiss collection has a great range of color and Fanatics with smaller collections would be wise to add Cuckoo, Glitzerland and Yodel to their stashes.  For me, the only must-haves are Yodel, Lucerne-tainly and Cuckoo because, who are we kidding, even if it's a dupe I still won't part with a green.
The OPI Swiss Collection officially launches August 1, 2010 but I hear it's already popping up on shelves across the country.  OPI polishes retail for $8.50/ea for a .5oz bottle and can be purchased at salons nationwide including chains like Beauty First, JC Penney Salons, Regis, Trade Secret and ULTA.
What do we think of these Swiss collection colors?  Did they live up to your expectations or fall flat?  Which ones are on your shopping list?  If you already found them in your area, what colors did you buy?
Remember, let's hear those comparison requests. I'm working on your Vintage Vixen & RBL requests this week.
Disclosure: Product samples were furnished by OPI.  For more info view my Disclosure Policy.