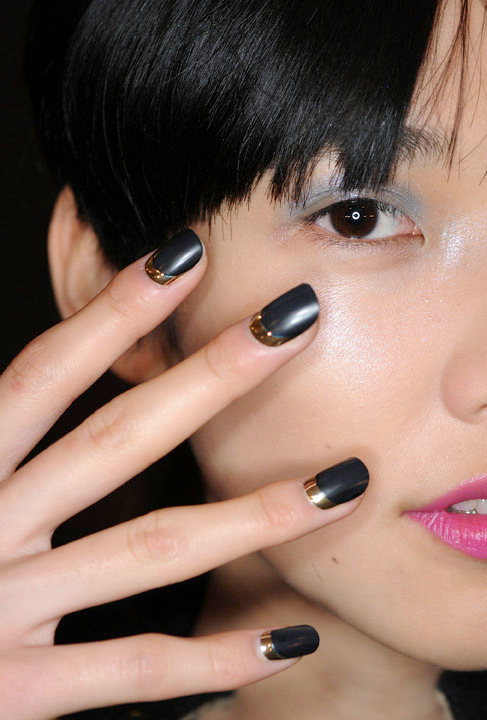 Brian Wolk and Claude Morais, the designers behind Ruffian, have declared the "moon manicure" their signature nail.  After two seasons of incorporating the moon mani into their runway look, the nail world went nuts for the crescent moon inspired design from their Fall '10 show (shown left).

Each season it's not just about a moon manicure it's about invoking a specific look or reference.  The Fall '09 ruby colored moon (below right) was inspired by a vintage Vogue cover while the Spring '09 raspberry and black art deco design (below left) was pulled from a tapestry.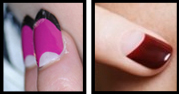 For Fall '10 the nail came together in a magical way. After meeting with the designers, CND's Jan Arnold was walking the Manhattan streets when she looked up to see a crescent moon glowing against the midnight blue sky. The moon had a golden cast to it and she was immediately inspired. When she spoke to the designers, they had also seen the moon and had the same thought to translate it onto a nail.

What makes this version of the moon manicure so unique is that instead of a half oval moon it has an upside down crescent shape.  It's as though your cuticles are smiling up at you.  That small sliver of gold really pops against the matte navy tip.  So how do you recreate this look at home?  Well it's easier than you think.  While I can't paint a traditional moon to save my life, my amateurish nail art skills were able to pull this off.
There are actually two ways you can recreate the Ruffian Manicure.  One is how CND actually did it and the other is their suggested at-home method.  If you watch the video below you'll see the way they created the runway nails using pre-made chrome tips, like the Dashing Diva Design Nails I told you about.
I recreated the look using the same Dashing Diva Gold Digger tips I posted about yesterday with Orly Blue Suede on top. I chose to use Blue Suede because it gives the same satin finish of the CND version without the need for two products. I'm all for simplification.
Application: I did each layer in 5 strokes.  Start with a minimal amount of polish in your brush.  Stroke 1 – Place brush in middle of nail about a 1/4 inch from the cuticle line.  Sweep in a curved motion to the side of your nail.  Stroke 2 – Sweep in the opposite direction. Stroke 3 – Fill in the middle.  Stroke 4 & 5 are optional.  I needed them to even out the surface.  Repeat with a second coat of polish.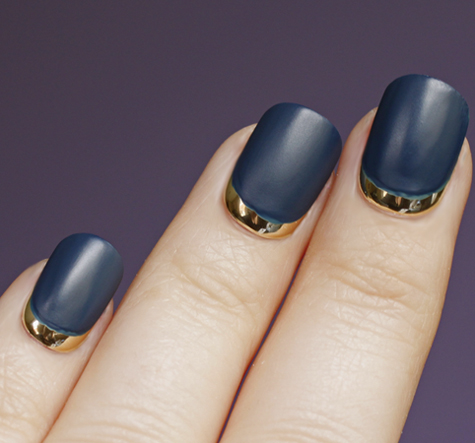 If you don't have chrome tips on hand try CND's DIY method.  They suggest using CND Gold Chrome, Inkwell and Super Matte Top Coat.  My bottle of Gold Chrome is M.I.A. so I used Milani My Network from their new Liquid Metal line.  This is the same application process as above only you put down a layer of the gold polish first.  Make sure it's dry before applying Inkwell so it doesn't pull any of the gold.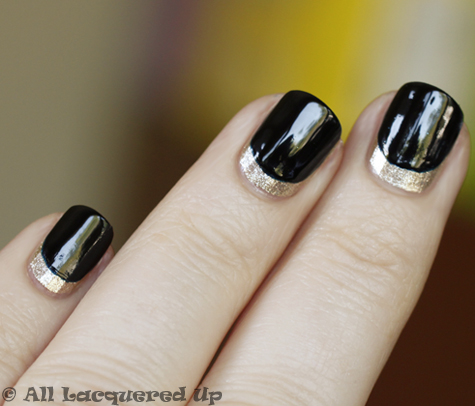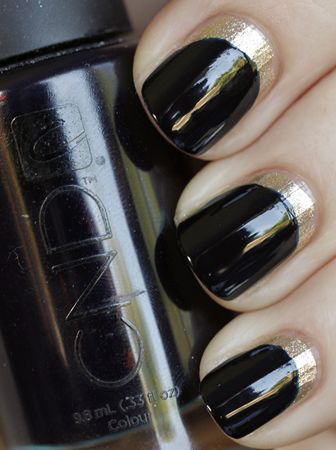 Add a layer of CND Super Matte for that satiny finish.  For some reason Super Matte dried somewhat uneven and milky over inkwell which is odd because it's been very smooth over other colors.  It could just be my application.  Alternate satin finish top coats include Barielle Matte-inée and Orly Nails For Males (their Satin is dc'd).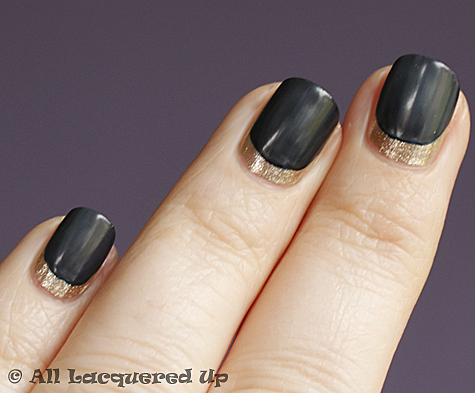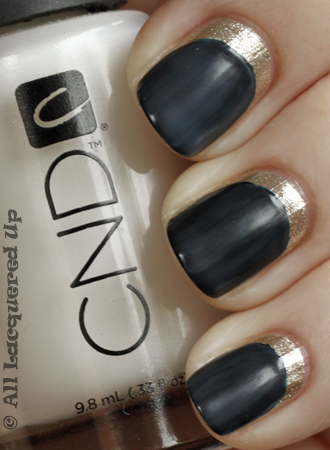 While I really loved this look on the models, I'm not digging it on my nail shape. It makes my tips look even shorter and fatter than they already are. I think if I had a more length or a rounded shape it would look better.
CND products can be purchased at salons and spas nationwide. Orly Blue Suede can be found at Head2ToeBeauty.com and Dashing Diva Gold Digger tips can be purchased on DashingDiva.com.
What do you think of the Ruffian Manicure? Have you tried it yourself? What variations on the look have you come up with? I'm thinking of trying a one color matte & glossy version.
Disclosure: Products from CND, Orly and Dashing Diva were furnished to me by the brands. I purchased Milani My Network. For more info view my Disclosure Policy.