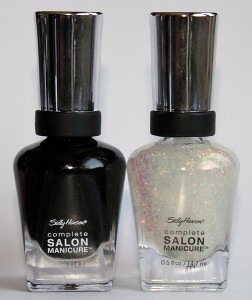 Last September during NYFW, Sally Hansen unveiled their new Complete Salon Manicure line and the Tracy Reese for Sally Hansen Spring 2010 Runway Collection.  Two of the shades, Midnight in NY and Hidden Treasure were layered to create the nail look for the show.

I've already beyond raved over the Complete Salon Manicure formula when I wore it during my NYFW NOTD Challenge so I'll spare you my gushing but wonky brush or not, this polish wears like iron.  And the combination of Midnight in NY and Hidden Treasure is not only gorgeous, it resembles a certain hard-to-find polish that many of you hunted for last fall.  See what I'm talking about after the jump!

Midnight in NY is a hidden treasure all its own.  This pure black lacquer is packed with multi-colored micro-glitter that is so subtle it doesn't really translate on camera.  In person, the glimmer is much more apparent and keeps the polish from being just another boring black creme.  I photographed it under artificial sunlight to show off its understated glamour.  My only complaint is the opacity.  The formula glides on perfectly but it took three coats to cover any bald spots created by the brush.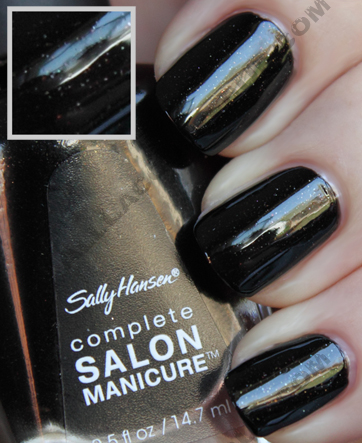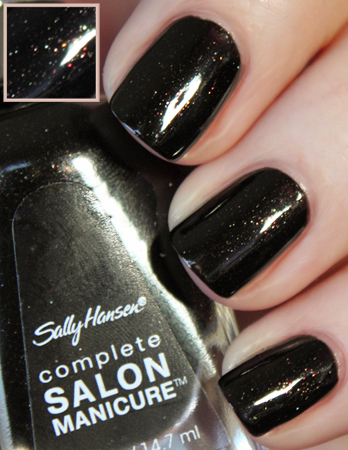 Adding a layer of Hidden Treasure turns this look into a full on glitter party.  In the bottle Hidden Treasure looks like fish scales and reflecting a rainbow of colors in the sunlight but over Midnight in NY it creates a burning embers effect.  The multi-sized, irregularly shaped particles take on a coppery hue that reminds me of China Glaze Fortune Teller, the sellout hit from last Halloween.  I only used one coat of Hidden Treasure here but with a second coat it becomes a perfect Fortune Teller substitute.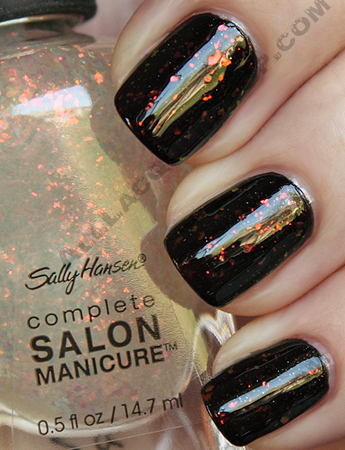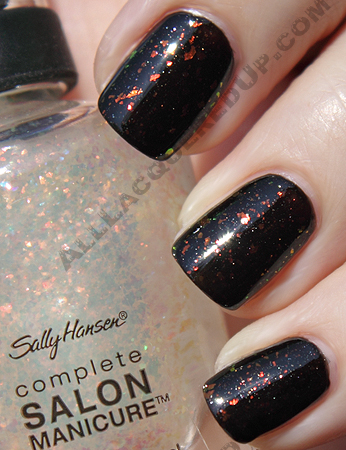 Bottom line: Hidden Treasure is the true star and gorgeous for layering. I threw it over some other colors on a nail art wheel and it's ridiculous over purple and over royal blue it's reminiscent of Barielle Falling Star. Midnight in NY's shimmer is very pretty but doesn't get it to "must have" territory for me.
The Tracy Reese for Sally Hansen Spring 2010 Runway color collection is limited edition and available now at drugstores nationwide. Tip: I've had great luck finding the Tracy Reese collections at Bed Bath & Beyond stores with expanded beauty sections.
Has anyone spotted this collection at their local drugstore/mass retailer?  What do you think of these colors?  Does the combo remind you of Fortune Teller or is it just me?
Disclosure: Product samples were furnished to me by Sally Hansen. For more info view my Disclosure Policy.