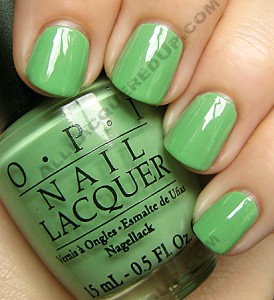 You heard me right people. Damone announced on his Twitter account that his gorgeous signature OPI nail polish, Damone Roberts 1968, is back for a limited time. So if you missed out on this minty green gem the first time, now is your chance to scoop it up.
You may recall that I recently used this beauty for my water marble manicure and there's a good reason for that, it applies flawlessly. For my full review including color comparisons, CLICK HERE.
Get your bottle now by calling 310-271-2100.  They officially go on sale tomorrow, May 1st, but you can pre-order today.  What are you waiting for??