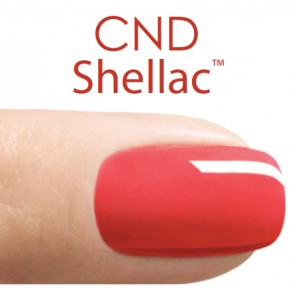 Exciting news Fanatics! On my last day in NYC I tweased (tweet teased) about a secret nail service I received. I randomly mentioned it here as well and now I can finally share it with you.
CND is launching a brand new product that will make you DIY manicurists seriously consider going back to the nail salon.  It's so amazingly different that if I didn't write this blog I would be a regular customer and that's saying a LOT.  I'm proud to introduce you to Shellac™!
CND (Creative Nail Design), the leader in professional nail, hand and foot beauty, is proud to introduce the first hybrid nail color after nearly five years of development in its state-of-the-art laboratory. Now you can say good-bye to chips, smudges, and dry time and say hello to Shellac™ Hybrid Nail Color! This revolutionary product applies like polish, wears flawlessly for 14 days of high gloss shine, and is removed in minutes.
If long lasting wear and polish-like application don't draw you in, the removal certainly will. Check out my experience with Shellac™ and learn more about this revolutionary product after the jump!

So here's my story. A few weeks ago I spotted a post on the Nails Magazine Blog about this "Top Secret Nail Color" from CND and because I'm the curious type I asked CND's Co-Founder Jan Arnold about it the first chance I got.  Much to my surprise and utter delight, Jan offered to arrange a preview of what she was calling the "magic secret."
Throughout the week I heard little hints about this top secret product.  Things like "no smell" "long-lasting wear" "will get women back in the salon" etc.  Being a long time DIY girl you can imagine how the skeptic in me reacted to that last statement.  I RARELY receive a salon manicure that wows me enough to go back, what could possible be so magical I'd even consider doing it on the regular?
Thoughts ran through my mind such as, "Is this just another soak-off gel polish?"  I mean, big whoop!  Been there, bitched about the removal.  Besides, would Jan really be all secretive and excited over a product that's already on the market?  If not gel then what kind of traditional polish could guarantee long lasting wear?  We've all heard those claims before.  Could she be planning a rival to Minx that actually lasts?  That doesn't have a chemical smell.  Well, when I finally got to the CND Suite to meet Roxanne Valinoti for my super secret magic service all my questions were put to bed.
Shellac™ truly is a hybrid of traditional nail polish and UV gel polish.  Unlike soak-off gels it comes in a polish bottle and unlike traditional polish it cures/dries under a UV lamp.  Though what I really liked is there is NO BUFFING.  There is absolutely no damage to the natural nail in the process.  So how does it work?
Shellac paints on like polish – base coat, color, top coat – and is cured in a UV light so there is zero dry time. The colors are hypo-allergenic, and "3-Free" – no formaldehyde, toluene or DBP. Shellac will launch in a range of 12 varieties of shades, from pretty French pinks and whites, to siren red and rich darks. The formula is thin and flexible like polish, so it not only looks natural, it provides strong natural nail protection with a resilient mirror finish that resists dullness and chipping, even during the most rigorous activities.
Just like your average manicure, Roxanne applied a base coat, two coats of polish and a top coat. The only difference is I placed my hands under a UV lamp in between coats.  The polish dries completely in only two minutes.  Say hello to winter pedicures that won't leave your feet freezing or your polish wrecked.  And because it's so pigmented and applies like a traditional polish you're not left with thick nails from coat after coat of gel.
I left the suite with a perfectly glossy, smudge and dent-free manicure in a fan fave from the old CND collection, Fedora.  The initial set of shades will include top sellers from the old core line.  To be honest, they're a little bland for my wild color taste but I've been assured that more "me" shades are on the horizon.
I flew home the day of my Shellac-ing so I didn't get a chance to take a pic on Day One but I couldn't stop staring at my nails.  I even ran into an editor backstage who complimented my color and it was hard to keep my trap shut.  I wanted to gush about how great my nails looked.  It is the BEST professional manicure I've ever received and I'll swear on my polish stash about that!
Since I came home with the Fashion Week Flu (thanks NYC!) the first time I was mobile enough to photograph my nails was on Day 5.  Will you look at that shine and flawless finish?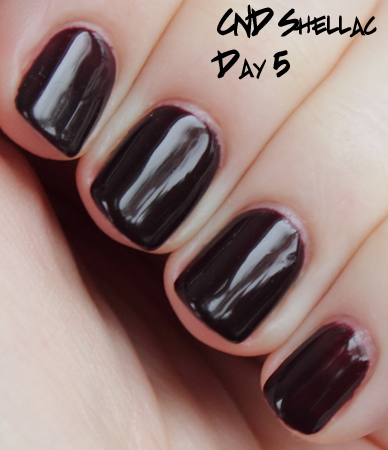 And because I wanted to swatch some polish, I ended up removing Shellac from three nails and just as Rox promised, the removal was a breeze. When they say it's a 10 minute removal, that's no joke! After just 10 minutes using the Shellac Remover Wraps the majority broke right off in pieces and what remained was easily pushed off with an orange wood stick.
As amazing as Shellac is on, removal is just as satisfying! No soaking, drilling or filing is necessary. Nails are wrapped in individual Shellac Remover Wraps -integrated cotton pads that limit finger and skin exposure to acetone by keeping it pinpointed on just the nail. Ten minutes of time in exchange for two weeks of perfect color is all it takes. Say good-bye to manicure frustration and hello to pure manicure satisfaction.
Here we are on Day 7 which is when I made this discovery.  I had to leave the house so I dug out my bottle of Fedora and was pleasantly surprised to find that Shellac Fedora actually matches Fedora.  What a concept!  Are you listening OPI Axxium?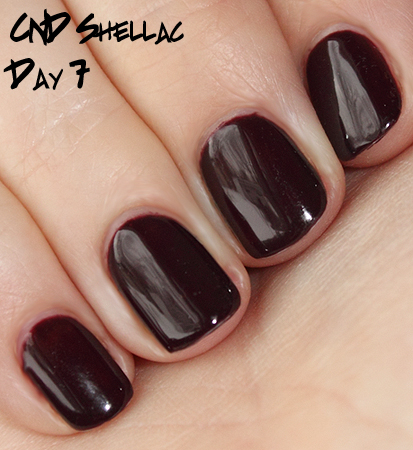 Today is Day 14 of my Shellac manicure and with the exception of my natural nail growth and extremely minimal tip wear, the finish is as glossy and perfect as Day 1.  Like you wouldn't know I didn't just get my nails done unless you held my free edge up to your face.  There are no scratches, no nicks, no wrinkling from my nails bending.  The flexibility and shine really do hold up.  Color me impressed!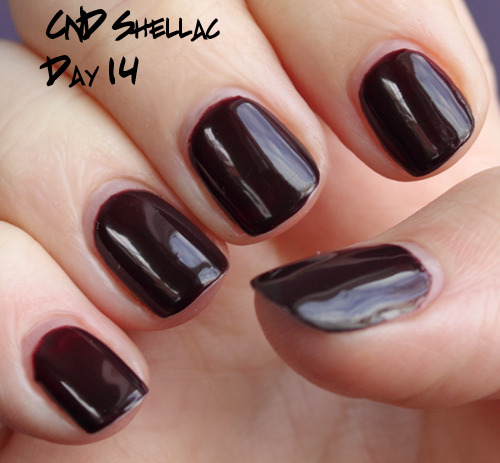 So I know you die hards are saying the only way you'll go to a salon is kicking and screaming.  That you love the concept but would rather do it at home.  That you'll never give up your hundreds (or thousands) of color choices.  Hey, I hear ya!  But for all those women who left the salon because their manicures chipped in a few days, Shellac will wow you.  Current salon clients will rejoice to reduce their appointments to once every two weeks.
Is Shellac for everyone? No, but it's truly unique and the best option for anyone who wants a long lasting manicure. Period!  I fully intend to get Shellac pedicures once they're available in my area and I would love to gift my mom a Shellac-ing since she sports chipped polish way too often.
Shellac™ by CND is a professional salon service launching globally in May 2010.  Pricing will be determined by salons but I anticipate it falling somewhere between a traditional manicure and enhancements.
So what do we think?  Anyone ready and willing to give Shellac a try?  What colors would you like to see included in the Shellac lineup?  Would you opt for a Shellac pedicure over a manicure?
***EDITED TO ADD – To find a Shellac salon near you, use the salon locator on the CND website.***

Disclosure: I was furnished with a service by CND for potential review.  For more info view my Disclosure Policy.