I told you all about my experience watching the Tracy Reese Fall 2010 collection walk the runways from the front of the house and now I'm taking you backstage to talk beauty.

Dana Caruso for Sally Hansen, Charlotte Willer for Maybelline and Jeanie Syfu for Tresemme were responsible for bringing together the hair, makeup and nails to create a "country meets city chic" look for the models. The hair was full of texture, the eye sparkled and the nails were all out cool as the lace nail made an appearance at NYFW.

Read on for the full details and a look at the Fall Tracy Reese for Sally Hansen collection.
Jeanie Syfu for TRESemmé coiffed a textured side ponytail that she described as having a "rustic country fair vibe." She shared that Tracy had shown her some tear sheets from the 70s to serve as inspiration for the texture. According to Syfu, "the texture makes it edgy but the style is soft and romantic."  She did this by creating a fluffy round shape around the head, "like an afro," and then gathering the hair into a side ponytail that "tapers into nothing."
TRESemmé products used: Thermal Creations Curl Activator Spray and 24 Hour Body Finishing Spray.
Technique: Rick rack set the hair using a 1/2 inch curling iron.  Basically, you make a "figure eight" as shown below.  It creates a ridge so the texture isn't too perfect. Finger through curls so hair looks loose and undone.  Loosely gather into a low pony.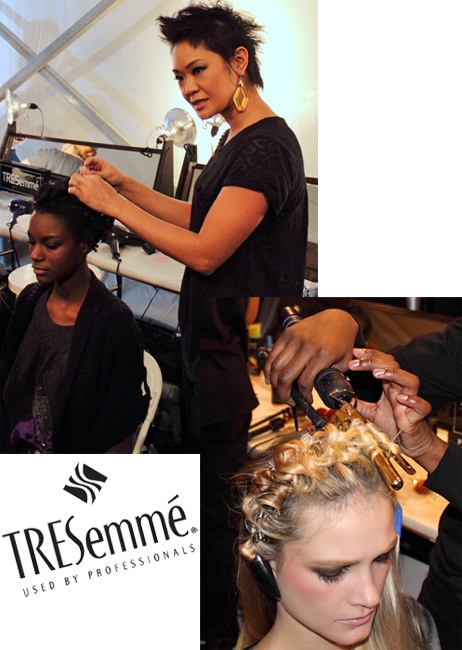 I talked nails with manicurist Dana Caruso who created the lace nail look for the show.  She applied the lace over one of the Fall Tracy Reese for Sally Hansen polishes, Wet Clay, which she describes as a "city chic shade with a country flare."  We've talked lace nails in the past and different techniques and now Dana shares her method with us.
Products used: Sally Hansen Complete Salon Manicure in Wet Clay, 5 Second Nail Glue and Leaver's Lace
Technique: Dana chose Lever's lace because it has no repeat so you can randomly apply it.  Also, because it's not too thick and has a matte sheen.  To create the nails, Dana applied two coats of Wet Clay, brushed on 5 Second Nail Glue, and carefully applied the lace. 
Tips: Dana says you should cut the lace prior to applying and then gently trim any excess with nail scissors.  To get the lace to adhere she shared an old school trick; hold a Ziploc bag over the nail and pull tight. It helps mold the lace to the nail and it doesn't stick.  For extended wear Dana suggests applying top coat to avoid fabric fray.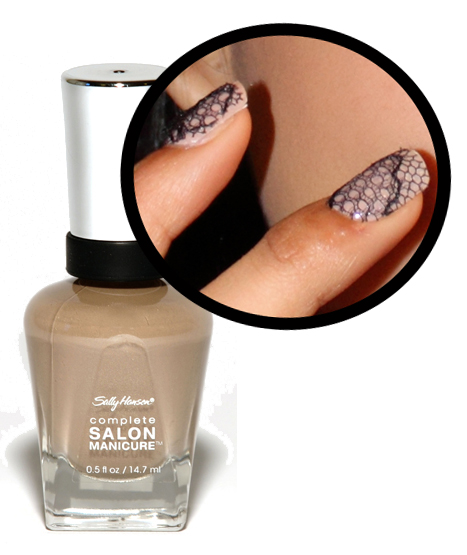 I spoke with Bill Boraczek, Senior VP of Cosmetics Marketing for Coty Beauty about the Fall collaboration with Tracy and the new Complete Salon Manicure formula.  I told him about my 10 Day Wear Test and raved about how great the finish looks even after ten days.  That's when Bill made a fun analogy saying the lacquer is built, "like a yodel. They roll Vitamin E in the formula so that it comes out in the polish over time."  Of course the word "yodel" threw me off for a hot second since I've always called them HoHos.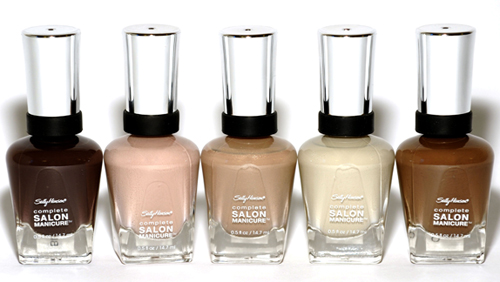 Bill showed me the new shades for Fall which he described as the "new neutrals."   Soft, cozy colors that infuse a "rustic country fare with sharp city bite."  Considering that my brown and nude polish drawers are the ones most lacking, I welcome some new chic cremes to round out my wardrobe.
Look for Evening Fog, Fedora, Wet Clay, Touch of Mink and Bittersweet to hit shelves this August/September for Fall.
What do you think of this movement towards neutrals for Fall?  Are you ready to move away from bold colors in favor of a more subdued nail look?  Is the lace nail best left to the runway or something you want to try at home?  Share your thoughts of the look at Tracy Reese!