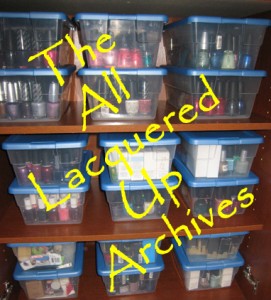 The ALU Archives focuses on older, beloved shades from the All Lacquered Up stash.It's time for another installment of the ALU Archives.  I've been reorganizing my stash, what a labor intensive project, and I came across a polish I've been meaning to share with you.  I've been on a greyed blue & green kick ever since I got my hands on the spring RBLs and there's a blue-green stunner from Models Own that I just adore.

Check out Slate Green from Models Own after the jump!

Slate Green is a really unique color in my collection.  It has a calm chicness to it.  Think of this washed out teal as a lighter version of Misa Dirty Sexy Money.  Oh and I'm happy to report that it's a close relative of Essie Greenport from the North Fork collection.  It's less vibrant but a great substitute if you missed out on that limited edition color.
The Slate Green formula is a bit thin and watery, perhaps a bit jelly-ish, and on the semi-sheer side.  It applies very smooth and even requiring three coats to achieve opacity.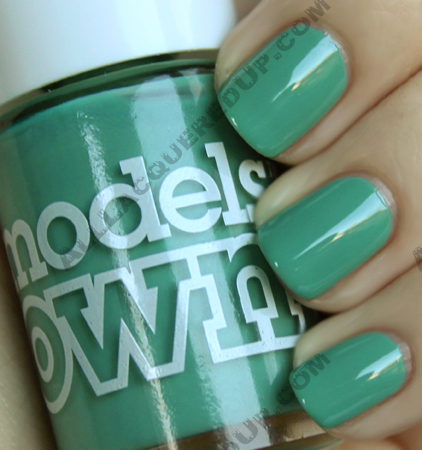 I wore Slate Green for five days to see how it holds up.  It's not the best wearing polish but it's adequate.  Using Nubar Foundation Base Coat and Olan Quick & Slick top coat, I ended up with two small chips and average tip wear.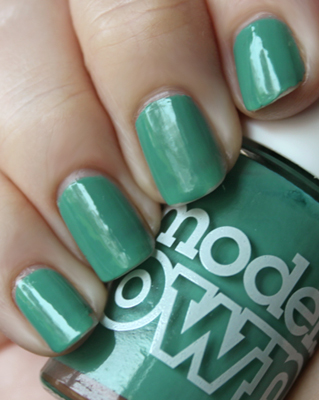 Models Own polishes can be purchased directly from the brand's website ModelsOwnIt.com or at ASOS.com for £5/ea.
Have any of you tried polishes from the Models Own line?  What do you think of them?  Any fave colors?  Have you discovered any great sites to purchase them from that I haven't mentioned?
Disclosure: A product sample was furnished to me by Models Own. For further information view my Disclosure Policy.