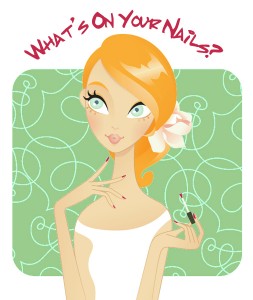 What's On Your Nails? is a series focusing on my fellow beauty bloggers and industry insiders, their favorite nail polish and other hot nail topics.Fanatics, I'm so excited to have multi-talented Heather Park as this week's WOYN subject.  She's seriously one of the coolest ladies I've ever met.  Without gushing too much, she's beautiful, has an amazing singing voice, a fun, edgy sense of style and is probably one of the biggest Twitter fanatics I know.  She is responsible for saving me from being a wandering fool backstage at my first fashion show, introducing me to the world of CalGel and connecting me with some of my favorite nail world people like Jin Soon.On top of all that, she's a total nail fanatic posting her latest CalGel designs on Twitter and her blog SeoulDiva.  Being the proponent of natural nails that I am, it was Heather's constant raves and CalGel posts that got me to dive head first into the world of Soak-off Gel nails.Check out some of Heather's favorite designs and learn about the inspiration behind them, after the jump!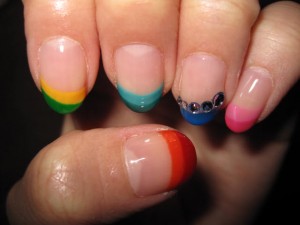 Introduce yourself to the ALU readers. Tell us a little about yourself.
By day, I work as a publicist for M•A•C Cosmetics. By night, I'm a singer (www.hearthepark.com). But I realized I needed another outlet for my obsession with food, my severe Asian pride, and to let my inner beauty junkie run free…so I also have a blog: www.seouldiva.com
What made you try CalGel and why do you prefer it over polish? Do you see yourself ever going back?
I've always kept SUPER short nails – I used to play classical piano for 11 years, so it's ingrained in my brain to have them painfully short. But every now & then, I get the mood to get crazy tips. I was doing some research on UV gel manis in NYC when I started reading about how great Sakura was with Calgel…so I had to investigate!
Now that I've gotten Calgels regularly for 1 year, I don't think I could ever go back. They are definitely an expensive habit, but I can NEVER go back to normal nails. To get your nails done and have them last for 3-4 weeks without chipping or breaking, through all the typing & texting we do…it's just WONDERFUL.
Of all your CalGel nail designs which one is your favorite? Why?
Because I have to wear all-black for work, I tend to go for the more Black & White nail designs. But I have to say that my favorite was one that was inspired by Sophy Robson's rainbow design (below). It was a double-French rainbow that went across all 5 fingers, and it was INGENIUS! The shape of the double French also made your fingers look long & lean!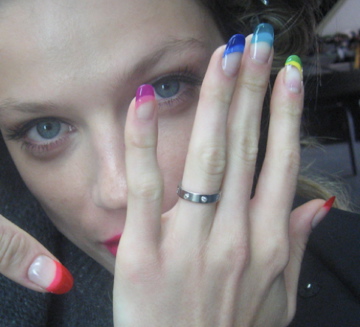 What design are you wearing now and what was the inspiration?
My current design is a little extreme. I had a music video shoot this past weekend, so I used it as a reason to get CRAZY blinged out nails. Katy Perry's VMA nails were the inspiration for the ring finger.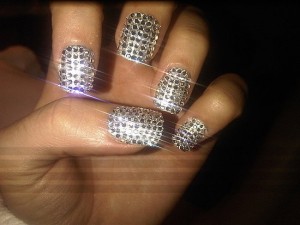 Then I was flipping through an issue of Nail Up Magazine (a popular Japanese nail art publication) and saw these:



So I got the inspiration for the rest of the hand.


I've also noticed that I've been going more and more towards a pointier nail shape. I used to be a squoval kinda gal, but now I'm oval all the way.
You have quite a party happening on your fingernails, how do you coordinate your toes?
If there's a party on my nails, it's just a boring Saturday night watching TV on my toes. But I lean towards silvers or dark blues & purples. I never really match.
In spite of your love for CalGel how many bottles of nail polish do you own? What's your favorite polish color?
I own a LOT of polish. I would say the most recent polish obsession has to be the M•A•C Style Black Nail Lacquer shades…especially Seriously Hip!
Do you have a favorite nail treatment you think my readers should know about? Why is it so fab?
My secret weapon top coat: Revlon Quick Dry Top Coat. We all know you're supposed to re-apply to prolong the life of your mani/pedi, and I've tried SEVERAL. This is my all-time FAVE for touchups. It has a nice, thin viscosity, dries SO quickly and it gives the most beautiful shine. LOVE.
What do you think is the big nail trend for the season?
I think Nail Art is THE big trend. With all the attention celebs are getting for stepping up their nail game, I think it's only natural that it trickles down to us commoners.   People are experimenting more and becoming fearless and playful with what they do. It's becoming as fashionable as makeup! I also think we'll see a variety of nail shapes.
What nail trend do you wish would go away?
I'm with you on the anti-French tips sentiment. Not to say that I don't think it's pretty, if done correctly…but I'm talking the long, square, super-white French tips. I think it's a little tired. Change is good – survival of the fashion fittest!
What is the biggest nail faux pas that women make?
I guess it's not so much a faux pas, but more of a "should do". I'm amazed at the difference MOISTURIZING makes! I've noticed if I do a good job applying hand cream or salve to my hands, with special attention to my cuticles, that my manicures last so much longer!
My thanks to Heather for sharing her nail love with all of us. Be sure to check out SeoulDiva on the regular for her latest CalGel looks, foodie reviews and more.
OK so who has tried CalGel or some version of soak-off gels? Have you found a salon near you that does nail art with it like Sakura?