Yellow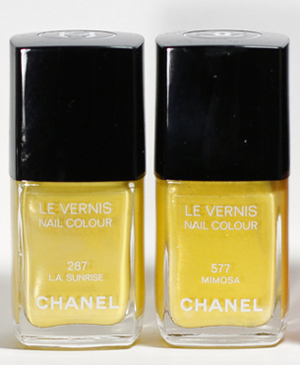 I thought 2009 was the year of Mimosa. At least according to Pantone it was. Yet here we are, two years later, with yellow nail polishes making a splash again.  What's funny is that so many Fanatics think yellow looks bad on them yet still go gaga when a new one hits the market.

Of course, when Chanel makes a yellow, everyone's eyes light up.  Remember the craze that Chanel L.A. Sunrise created in 2008 when the Robertson Boulevard collection launched?  This time around the buzz has been building over Chanel Mimosa from the Summer 2011 Les Fleurs d'Ete de Chanel collection.

Les Fleurs d'Ete or Flowers of Summer makes me say, in my best Miranda Priestly impression, "Florals? For spring? Ground breaking." Yes, we're talking summer and not spring but still.  Haven't we beaten that horse to the point that PETA is about to step in?  Then again, there must be a reason florals keep coming back. Let's see if Chanel can prove why.