Winter 2010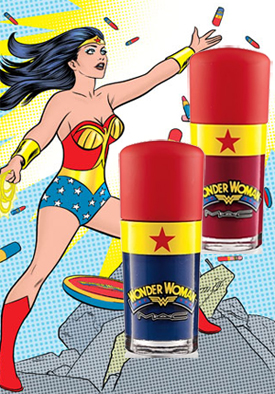 The recently launched MAC Wonder Woman collection brought out the little girl and "nail artist" in me.  That's right Fanatics, you didn't misread the title, I said "nail artist."  You can check my forehead for a fever all you like but I'm perfectly healthy AND loving my Wonder Woman themed foray into the nail art.

I'm sure my fellow Gen-Xers will happily stroll down memory lane with me to the days of Wonder Woman Underoos and raven haired beauty, Lynda Carter, flying into living rooms nationwide in her invisible airplane.  At just four years old my Wonder Woman doll was my most prized possession next to my Donny Osmond doll, purple socks and all, of course.  Way before my Barbie obsession took hold, I was imagining myself lassoing evildoers to confess their crimes.

The MAC Wonder Woman collection includes two new Nail Lacquers in WW's signature colors; red (Obey Me) and blue (Spirit of Truth).  As easy as it would be for me to just wear the colors as a mani/pedi combo or a multi-colored manicure I decided to take it one step further, inspired by one of my fave nail art lovers, Nail Art Junkie's Keri B.