Growing up, there were two absolute truths about the Mismas kitchen. There was always a bag of popcorn kernels in the pantry (Dad and I have a lifelong obsession with the stuff) and there was always ice cream in the freezer. It's a truth that holds up to this day in my home, and it's usually a chip flavor from Graeter's. They make THE BEST chip ice creams in the world, trust!
So you can only imagine the squee moment I had over the Deborah Lippmann, ice cream-themed, Staccato nail polish collection.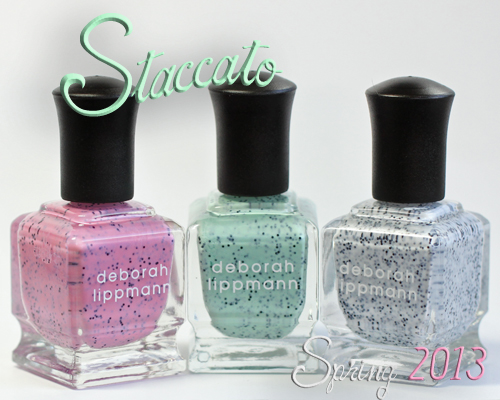 She created the nail polish equivalent of Strawberry Chip (I'm Not Edible), Mint Chocolate Chip (Rockin' Robin) and Cookies n Creme (Polka Dots & Moonbeams) ice cream! Combining soft pastels with shiny black glitter, Stacatto is a rocker take on pastel. Check them out!
Click here to view more pictures and read the rest of this story.