Turquoise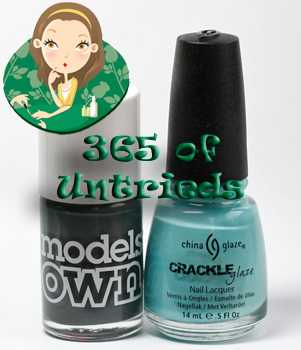 365 of Untrieds is my personal challenge to weed through the polishes in the ALU stash that I've been wanting to try but just haven't gotten around to.
Today's manicure was inspired by turquoise rings I saw on Tumblr. I know I'm so late to the Tumblr party but I'm really enjoying it. Anywho, when I saw those rings I reblogged the pic stating that if crackle nail polish could create veining like what appears on those rings, I would be more into it.
Now I've made it pretty clear that I'm on the fence when it comes to crackle. I've seen people use it in ways that look good, like Kellie Gonzo's manicure using OPI Silver Shatter, but for the most part I haven't been its biggest fan.
Today while attempting to replicate a turquoise ring using Models Own Moody Grey and China Glaze Crackle Glaze in Crushed Candy I may have leaned a bit more in crackle's favor. I wouldn't go printing me a Team Crackle tee shirt just yet but I "could" get there.