Turquoise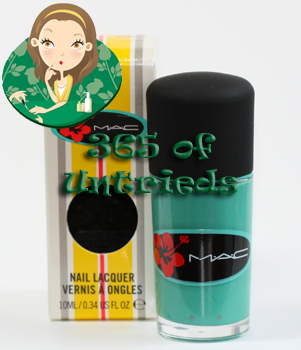 365 of Untrieds is my personal challenge to weed through the polishes in the ALU stash that I've been wanting to try but just haven't gotten around to.
This week marks the launch of the MAC Surf Baby collection. It is already for sale on MAC's website and releases in store this Thursday, May 26th.
Much like florals and pastels are heavily associated with Spring, beach themed collections go hand-in-hand with Summer. Summer 2007 brought the China Glaze Surf collection, 2008 the OPI Retro Fun In The Sun and 2010 saw RBL Surf's Up.
This year MAC is heading to the beach with one of their classic themed summer collections with packaging to match and they didn't leave the nail polish out of the fun. Surf Baby includes two new nail polish colors, Ocean Dip and Hangin' Loose and I have the former to share with you today.