Tan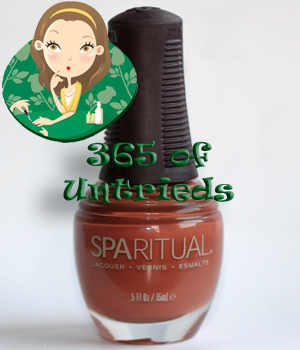 365 of Untrieds is my personal challenge to weed through the polishes in the ALU stash that I've been wanting to try but just haven't gotten around to.
Untried Day #120 – We had a visitor in our back yard and she inspired today's manicure. The boyfriend spotted a fawn grazing around the tree in the back corner of our property and when he went out on the deck, he was amazed how unfazed she was by his presence.
It's not like deer are that uncommon or anything but we are in a pretty urban area not far from downtown. Our neighborhood doesn't exactly provide lots of wooded places for deer to hide.
The fawn must be pretty adjusted to city life though because she napped under our tree for the entire day and night and her mom took up residence in our neighbor's yard. I wanted to go out to try and pet her but I kept reminding myself that I don't live in a Disney cartoon where humans and wild animals are friends.
I dedicate today's manicure to my little deer friend using Sparitual Inner Sanctum, the best shade I could find to match her gorgeous coat.