Summer 2011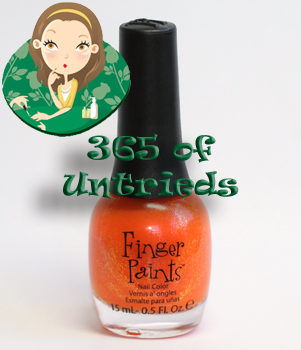 365 of Untrieds is my personal challenge to weed through the polishes in the ALU stash that I've been wanting to try but just haven't gotten around to.
Even though Summer doesn't technically start for a few more weeks, in the US, Memorial Day weekend is the unofficial kickoff to the season. It's one of my favorite times of the year. And not just because my birthday usually falls on that weekend but because it means the start of the boating season, trips to Put-In-Bay, cookouts etc. We spent yesterday touring the local wineries with our neighbors and, outside of a few drops of rain, the weather was absolute perfection.
Since orange is looking to be one of the big trends this summer I decided to pull out one of the new Fingerpaints Peace, Love & Color collection nail polishes, Outta Sight Orange.