NOTD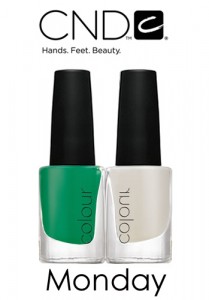 Welcome to CND Monday, a regular series here on ALU. Each week I'll be sharing a new layering combination from CND Colour & Effects to show you the versatility and creativity of the line.

With the exception of my unworn bottle of MAC Studded, the new matte polish from the Riveting collection, I actually completed my NYFW NOTD Challenge this season.  I ended up getting something top secret and very special applied to my nails on Day 6 so that nixed my planned MAC mani.  I'll tell you about soon but in the meantime let's talk about Day 5.

As I mentioned at the beginning of the challenge I planned out my color according to the brand I'd be seeing that day.  Since CND worked on 20+ shows throughout the week, every day could have been CND day but I chose Tuesday since they were working with The Blonds that night.  The Blonds are known for their outlandish designs and over-the-top nail looks so if there was a day that green polish was in order, it was Tuesday.

I could have just thrown on a couple of coats of Green Scene and called it a day but I wanted something a bit different.  I chose to create my own version of a Jade gemstone using Cream Washed.  Check out my look after the jump!