NOTD
That's right Fanatics.  I'm attempting my bi-annual NYFW NOTD Challenge.  I'm challenging myself to change my nail color every day of Fashion Week no matter how tired and worn out I am.
NOTD Challenge lesson learned… DON'T apply nail polish less than hour before you leave for the airport. Why? Because no matter how quick drying your top coat is, you're going to wreck yourself. Case in point, moi!
I have this travel ritual. I never sleep the night before a trip. I'm always up doing laundry, packing, clearing out the DVR, etc. Totally random stuff including giving myself a manicure. In a perfect world I would be more organized but I'm always so afraid I'll forget something that I stay up all night crossing every "t" and dotting every "i" on my packing list.
That pretty much sums up my Wednesday night as I prepared for my early morning flight to NYC. Usually I do my manicure way earlier in the evening so it's set and dry by the time I leave but this time, not so much. I thought an hour would be good enough but even using my beloved Olan Quick & Slick top coat I ended up eff'ing up my manicure with Rescue Beauty Lounge Anne before I even got to the airport. Picking up my bag, that barely weighed in under 50 lbs, I completely biffed the nails on my left hand. UGH! An entire day spent backstage and with other editors having them look at my janky nails. Good times!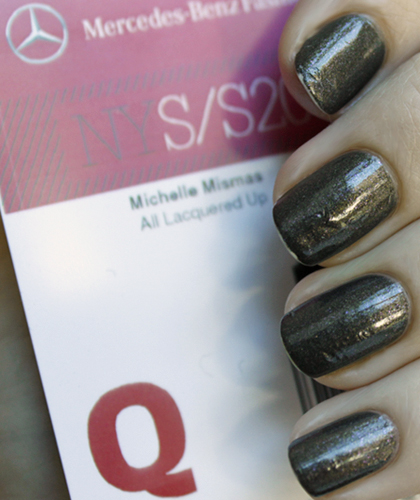 I mean, just look at that mess. Embarrassing! Fortunately I didn't have a ton on my plate yesterday. Just two shows, nothing major, and I hid my left hand from the world. The sucky part was that I wore Anne knowing I'd be seeing Ji from RBL and it's a good thing she sat to my right since that hand still looked flawless! All I can say is that I was very happy to come back to my room with an excuse for a polish change.
Rescue Beauty Lounge Anne goes on sale at RescueBeauty.com later this month for $18/bottle. Pre-orders will ship out then as well.
FYI, this shot isn't a great color representation. This is more for show & tell purposes. To see Anne in all her glory check out my RBL Fall 2010 review.