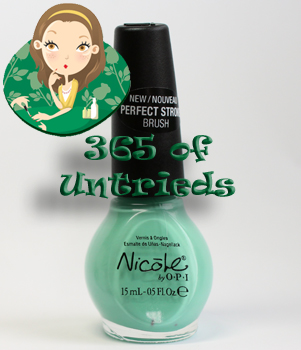 365 of Untrieds is my personal challenge to weed through the polishes in the ALU stash that I've been wanting to try but just haven't gotten around to.
You don't EVEN have to say it. I already know what you're thinking. But come on, you knew it would happen didn't you? That eventually one of those damn Justin Bieber polishes would suck me in. And if you didn't guess that it would be the green, it's like you don't even KNOW me.
The first set of Nicole by OPI Justin Bieber One Less Lonely Girl polishes had some cute shades but nothing that tempted me to twist off the cap. When I saw the bright minty green, My Lifesaver, I screamed, "UNCLE!"
Now what I didn't know when I first learned about the collection is that it was created to raise awareness and funds for Pencils of Promise which helps to build schools and increase educational opportunities in the developing world. How can I scoff at Nicole by OPI for partnering with the Biebs when it's for a good cause? His tween fans are a guaranteed sell-out audience so even though it seems odd for Justin to be associated with nail polish, at the end of the day I get it.
Click here to view more pictures and read the rest of this story.