Nails Inc.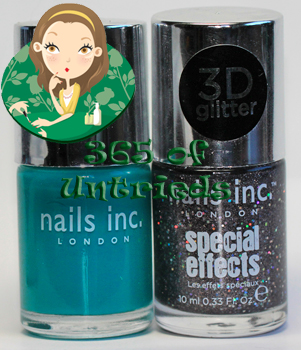 365 of Untrieds is my personal challenge to weed through the polishes in the ALU stash that I've been wanting to try but just haven't gotten around to.
Happy Hump Day Fanatics!  My nails were dying for a break and in need of some major TLC so while I am apologizing for the delay in posts my nails aren't. I made the switch to non-acetone remover a few months ago to help prevent drying and I obsessively apply cuticle oil but sometimes my little buddies just need a rest. btw, Nubar's Cucumber remover is the business.
So getting back to my untrieds, we're on Day #119 and I'm digging into my Nails Inc stash. I wanted something bright and fun but I was also curious about the 3D Glitters so I paired the creamy Warwick Way with Special Effects Sloane Square. Let's see how it turned out.