Milani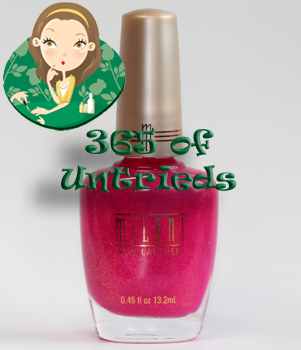 365 of Untrieds is my personal challenge to weed through the polishes in the ALU stash that I've been wanting to try but just haven't gotten around to.
Over the weekend I went to a party where quite a few of my blogger friends were in attendance. Of course I asked about my nail polish and I was curious to find out what they were wearing as well. Then the subject turned to my Untrieds series, specifically the "SHARE" polishes.
They were giving me a hard time about the fact that I keep STASHing my untrieds and sent a small percentage to the SHARE bin. The reasoning I shared is that, for the most part, I've been trying polishes based on my color mood rather than dig in to the pinks and reds where I know a lot of my SHAREs will come from.
Starting with today's untried, Milani Pink Out Loud, I vow to suck it up and start weeding through my pinks and reds, making sure I include at least one per week for the rest of the 365. I guess this means I'll have to organize them better. If there's anyone in the CLE with a good eye for color who wants to help, I sure could use it.