Milani
One of the first things I told the boyfriend about being with me is to keep the flower buying to a minimum (seems like a waste) and to NEVER EVER get me a Valentine's Day gift. Not to be all Debbie Downer about VDay but it's just not my thing. People put so much pressure on one day and I'd much rather get a surprise from my man because he wants to, not because Hallmark told him to.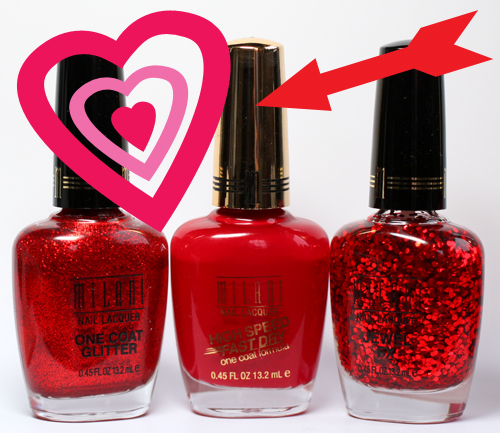 Even though we don't celebrate the holiday, like most men, the BF really loves the color red, especially on nails. As you know, the official colors for today, red and pink, aren't exactly faves of mine but I may as well indulge him, right? And Milani just happens to have perfect budget-friendly reds to get the job done.
New shades from the Milani High Speed Fast Dry and Jewel FX lines paired with a One Coat Glitter will send Cupid's arrow straight to your lover's heart. Or make you the envy of your BFFs when you go out to celebrate the joy of being single.
Side note: There is one thing I look forward to every VDay. My friend HisA sends out an annual email to her girlfriends on this day to share what the past year has taught her about life and love and loving herself as a woman, relationship or not. It's an amazing gift and something I encourage all of you to do.
Continue Reading »