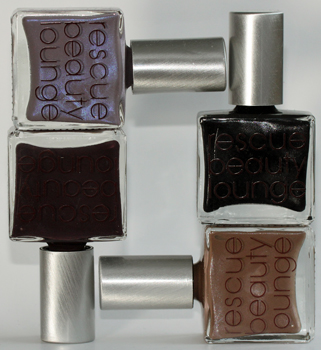 RESCUE BEAUTY'S Spring/11 POLISHES SUIT FASHION SCHIZOPHRENTICS
The variety of moods and personas shown on this Spring//Summer's runways was a tribute to the fashion schizophrentic in all of us.
This Spring, Rescue Beauty Lounge founder Ji Baek has created a collection that is a hodgepodge of her favorite trends from the Spring fashion collections.  It reflects the multiple fashion personalities seen on the runways and, for the first time, we're seeing a RBL collection without a cohesive theme.
Much like a typical woman's wardrobe, Iconic/Ironic is a mix & match cornucopia of color reflecting different trends and lifestyle needs.  From the office friendly neutral, Decorous, to the out-all-night, punk rock black, Iconoclast, this collection has something for everyone.
Click here to view more pictures and read the rest of this story.