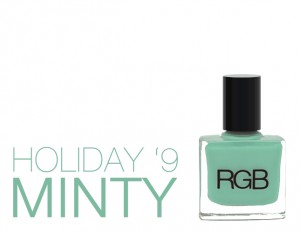 The mint green polish train isn't slowing, are you still on board? I know I am! Give me more, give me more!! RGB Cosmetics announced their holiday offering, Minty, today on their Twitter account which makes it a great time for me to introduce it to you.

If you recall, when I reviewed RGB's Fall collection I was a bit let down by the lack of uniqueness as compared to the Pre-Fall colors.  Well Minty certainly piqued my interest.  As if a green exciting me is news, what really gets me is that I have yet to find any true dupes among the ones I own.  You won't find me complaining about that.  Check out Minty along with its closest living polish relatives, after the jump!
Click here to view more pictures and read the rest of this story.