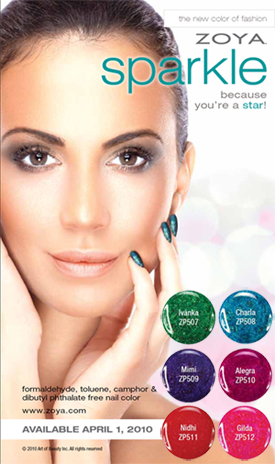 The Zoya Sparkle collection has completely wowed me.  I predicted when I saw the promo images that I would find some must-haves in the bunch but seriously they're all winners.  Even the reds and pinks which is so unlike me.

With this first of two Summer 2010 collections, Zoya has combined the twinkling beauty of the China Glaze glass flecked formula with the foil-like metallic glitter as seen in the Orly Foil FX collection.  Together they make for one killer combo of bling and glitz that will razzle dazzle you a la Chicago.  I want to break out the jazz hands and fan kicks just thinking about it.

Check out the girls, Ivanka, Charla, Mimi, Alegra, Nidhi and Gilda, after the jump!
Click here to view more pictures and read the rest of this story.