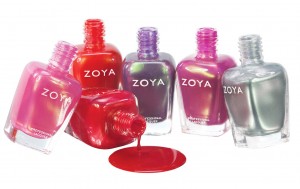 If there's one thing I'm certain of this Spring, there is no true theme for nail color.  We're seeing brights, nudes, holos, greens and with the launch of Zoya Reverie, metallics.

I have to admit, when I first saw the promo images I was intrigued by the duo-chrome look of Adina, but feeling unsure of the rest.  After having some time to play with the collection, I'm pleased to say there is more than one gem in this bunch.  Check them out after the jump!
Click here to view more pictures and read the rest of this story.