Chanel
When Fashion's Night Out was canceled in the US, I wondered what that meant in regards to the covet-able Chanel Fashion's Night Out collections (Les Khakis, Les Jeans, etc). Then I saw that, in spite of the US bailing on the concept, they released the Chanel Nuit Magique Collection overseas with two gorgeous Le Vernis shades, Chanel Cosmic & Magic. I was one sad panda!
So, to say that I was beyond thrilled to discover that Chanel is releasing both nail polishes in the States, would be an understatement. Coming exclusively to Chanel.com on December 2nd, Cosmic & Magic are sure to put a crimp in your Cyber Monday budget.
Continue Reading »
Some of my beauty blogging buddies started a group to share their Top Ten products on a regular basis and I decided to join in on the fun. The first topic is Top Ten Palettes which is so up my alley.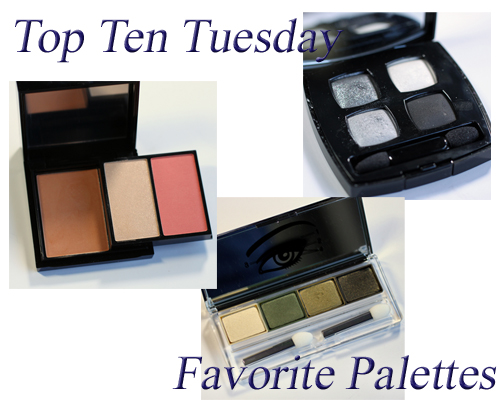 Affiliate Link|I Bought This|Press Sample
As much as I love makeup, pairing eye shadows is not my forte. I have a ton of single shadows in my arsenal but, more often than not, I gravitate towards palettes for my eye looks. I like that someone took the guesswork out of it for me and over the years I've amassed quite a selection of palettes.
Check out my faves and a few I'm lusting after for the upcoming holiday season.
Continue Reading »
Inspired by butterflies (Papillon in French), Chanel Makeup Artist Peter Philips created a summer makeup collection of gold, pink, aqua, blue and coral that has a touch of whimsy and fantasy. As part of L'Eté Papillon de Chanel, he has included three new shades of Le Vernis to tempt our wallets.
Maybe, like me, you're thinking, one of these things is not like the other. Pairing a creamy summer staple, coral, with two bold metallics in non-traditional hues seems unconventional for Chanel. Their nail color collections tend to be similar in finish and tonal range. Let's see how they work together.
Continue Reading »