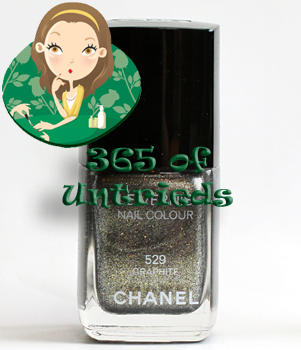 365 of Untrieds is my personal challenge to weed through the polishes in the ALU stash that I've been wanting to try but just haven't gotten around to.
My friend Nancy from Beauty 411 is what you might call a Chanel connoisseur. She knows the makeup line inside and out and every season she is first in line to take home her favorite pieces from the collection, especially the nail colors.
When pictures first surfaced of a silver metallic Chanel nail polish from backstage at Paris Fashion Week, Nance was the first person to ask me about it on Twitter. At the time, the images I saw didn't wow me. Another foil metallic, how original.
I told her I didn't expect Chanel Graphite to be anything special and even after I could see it in person I was feeling kind of "meh" about it. Well, now you get to watch me eat my words.
Click here to view more pictures and read the rest of this story.